These are the latest news for our project:
New team members
Last week Technetium joined us as storywriter. This week we've gained another 2 team members.
Navy-Seal will be in charge of programming while Dracowyr will be creating 3d assets and concept artwork to accompany written concepts by Technetium. Furthermore a server admin partly joined to help us along the way e.g. by setting up software like Redmine.
Redmine - Project management
This week we installed Redmine to the project's server which is accessible to all project members. Redmine is a project management software which helps us to keep track of all tasks and progress made by team members. Furthermore you can use it as a place to share information and files between developers.
General Decisions
We made a few decisions regarding the multiplayer part of the game. We are thinking about a multiplayer featuring 4-6 players. Since this game is comparable to a co-op FPS we took a look at released titles in this genre to figure out an appropriate number of players. The main problem: an insufficient player count makes the game boring while too many players cause complexity destroying the co-op feature. So we'll have to find an equilibrium.
Background Story
Technetium finished basic historic outlines for a few races featured in the game. He'll be focusing on finishing the documents for the remaining races in the next couple of days. The stories mainly serve as inspirational device for the project's artists and won't be released to the public. In the end they may spoil the game by giving too extensive information. We'll try to compose short summaries for each race so you can get an idea about them.
Interior Scenes - Mine Shaft
I have been trying to create a few basic dungeons tiles during this week. Since I haven't worked with interior scenes before I had and still have some problems with this. It took me some time to figure out a nice workflow to create different dungeon types.
This mine shaft is one of them. Consider this a work-in-progress (WIP). There's still a lot of work to be done.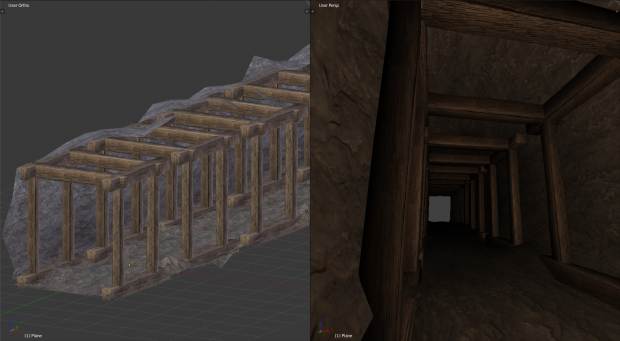 Recruiting
We have started a recruiting-thread on Indiedb.com in order to attract more developers, especially programmers and artists. If you're interested in joining this project just let us know. If you need further information about the project and your responsibilities take a look at the concept-documents available in the download section or join our IRC channel #survive at irc.freenode.net.
---
That's all for this week. If you've any questions feel free to ask them.
Furthermore any feedback is always appreciated.
Have a nice day
Neovertex