And thus, 2013 was over.
It has been about one year since we released the first demo of CrossCode. And boy, lots of stuff has happened since then. Some of you are probably curious about the current state of the game. In that case, you can look forward to next week, when we plan to release a recap video summarizing all changes in the game since the first TechDemo. This video will include plenty of in-game footage, maybe some commentary wiz ze German accent and also a little surprise!
As for today, we will present all the work we did over the holidays, which includes advanced lightning effects and milestone planning.
New dynamic light engine
---
As you know, we have some kind of lighting in CrossCode with some parts of the map being slightly less illuminated. All this really has an impact on the whole atmosphere, but also the drawback that it's a bit hard to see all the small details in the dark spots on a map: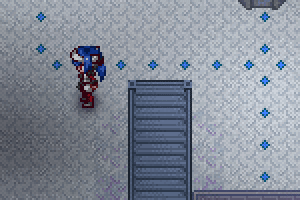 You can see how the ball loses contrast inside the darker areas and becomes difficult to spot. That's why we extended our "lighting engine" (if you can call it like that) to dynamically brighten up around important entities like balls: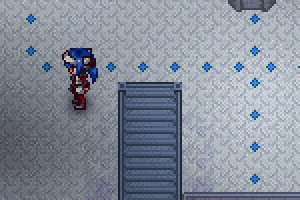 We also illuminate the area around any kind of hit effect including those of close-combat attacks:
That way you can see all these effects with bright colors, even inside dark spots.
Neutral Talent Tree Planning and progress with cutscenes
---
GFlügel was planning out the detailed layout of the neutral talent tree. It has quite a lot of talents: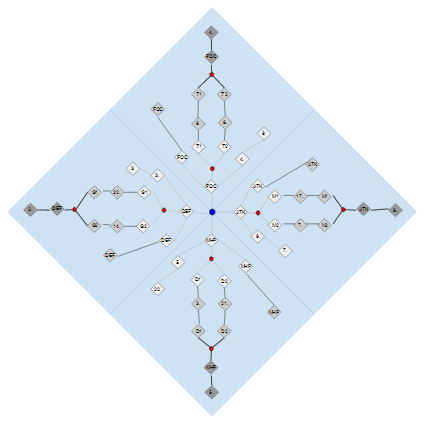 Nope, we won't provide any higher resolution for now. :P
It's just a first draft, anyway.Other than that, we made slight progress with cut scenes and the cargo ship scenario. We added a few more NPCs, also with special poses:

Wrapping up 2013 and going for a new milestone
---
We had our milestone for 2013 and we managed to fulfill it… mostly. Now it's time to wrap up 2013 and plan a new milestone for spring 2014.Our next milestone will be all about the talent tree and boss battles.
Here a list of what we plan to achieve:
Advance the plot to a first (tutorial) boss battle
Further advance the plot to the first boss battle
Implement the talent tree menu entry
Further engine optimizations
Also, since progress slowed down a bit during the last milestone we created a new system to manage our task and coordinate work, hopefully increasing productivity. Let's see how it works out!
New team members!
---
Okay, it's really about time to properly present to you two team members that have been around for… quite a long time. Better late than never!Incoming two sprite artists:
---
Thomas 'T-Free' Fröse

Always struggling to improve in arts and animation, I have become a quite sophisticated spriter and artist in the course of many years. In CrossCode, I'm responsible for helping out creating and breathing life into characters and making battle animations and explosions flash and flicker. Get ready for some eye-candy!
---
Daniel 'The_question' Tillmann

As a musician with a passion for cooking, I am doing some graphics for CrossCode.
Confused? Yeah, me too! Like Martina I'm more of an environmental designer, as I'm rage-quitting every animation I'm starting. Aside from that, I'm the head of the radiation protection division in some big hospital.
---
And that's all for this update!
Now it's time to work on that recap for next week…
Until then!