Another week, another update!
This week we only have a couple of new images to show, so I'll be focusing more on what we're doing on the game in general.
We're getting close to having all of the weapons modeled that we want in the initial alpha release. We have one more that hasn't been started yet, a bolt action rifle, and several others that are getting close to finished - like the Recurve bow and the M4A1. Here is the list of weapons (and throwable items) we plan to have in the initial test release:
12-gauge Shotgun* (image at bottom of post)
9mm Handgun
Baseball bat
Binoculars
Bolt action rifle
Chemlights
Fists (yes, you can punch people!)
Flashbang grenade
Flashlight
Frag grenade
Hatchet
Hunting knife
M4A1 (image at bottom of post)
Recurve bow
Smoke grenades
There are still a lot of animations we need to finish for the various weapons, but each week we are making progress on those. As they get polished we'll release some demos of those for everyone to see.
As many of you may know, we had a poll on our forums asking for everyone's feedback (thank you!) on a weapon degradation and repair system. As a result of that poll, we've started to implement a gun jamming system into the game now. In addition to the gun jamming, we've also discussed adding other issues to the game for weapons that haven't been taken care of or repaired - issues such as reduced damage, reduced range, greater bullet spread, and many more. We hope to have several of those ready for the alpha testing phase as well, so we can collect your feedback on what you like or dislike. As long as a player takes care of their weapons, none of these issues will affect them - it's just for those who choose to neglect their weapons.
Progress is still coming along for the new player character model and for additional mutants. For the initial release we will just have a single male character to play, but we will add more after that including a female character and more varieties of look to each of them.
The new inventory system is also progressing nicely. I was hoping to show some images of it this week, but we want to polish it a little more first, so hopefully next week you'll finally get to see what it looks like. Don't expect anything huge and flashy though as we're focusing on keeping it simple and intuitive.
* the 12-gauge shotgun was originally based off of the great tutorial by Hans "Nillenia" Palm. It was then further improved and textured for our use.
AT-12 Shotgun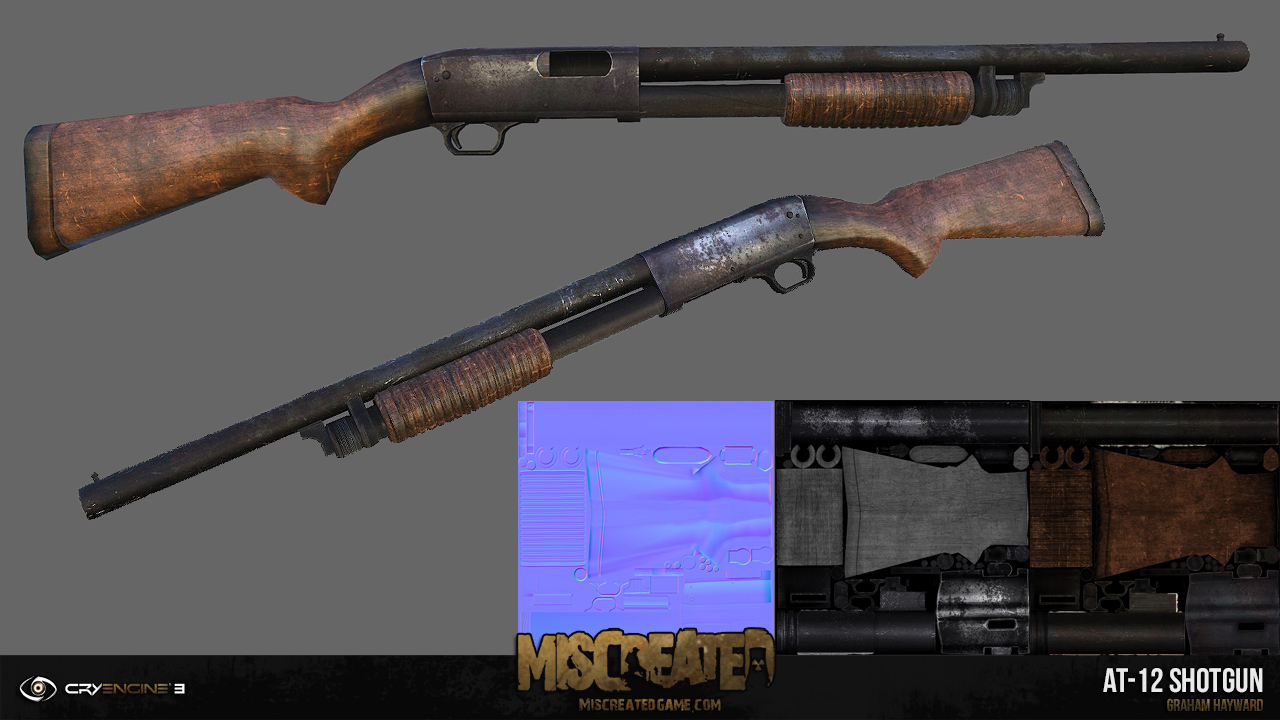 M4A1