Another week has passed and as promised I've done some work at designing our first character.
First Character
First of all, I'm a perfectionist and a bit of a neatness freak. I really like clean mechanic modelling where everything is straight and perfect. As you can guess, this trait isn't really helpful while creating humanoid characters (or organic models). So I had a really hard time with this girl, she still keeps me awake at night or haunts my dreams.
In order to get this done I read and followed a lot of tutorials about designing characters with Blender and now I'm finally satisfied with the model and the topology.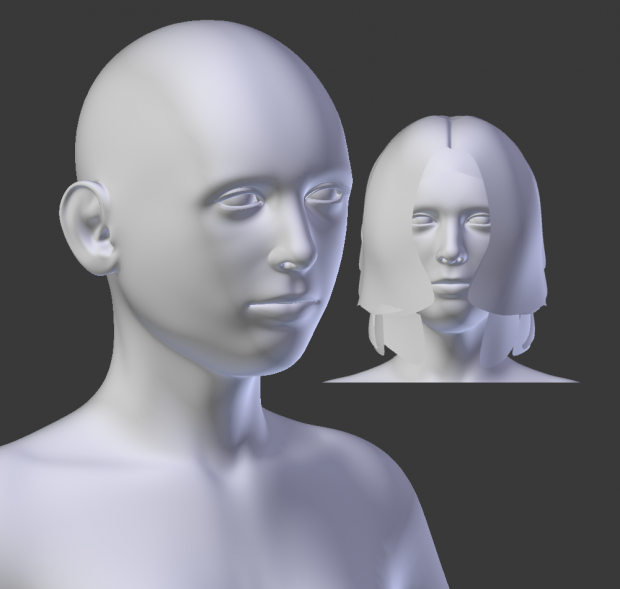 Right now I'm working on her texture and skinning. The rigging process was somehow the easiest part thanks to an awesome tutorial by Lee Salvemini. Concerning animations I just ordered a book at the blender store in order to gain some basic knowledge.
First Weapon
Due to the loss of my sanity while working on this evil female monster up there, a good friend advised me to create something easier from time to time to cheer up my motivation. So I created this straight and clean looking sword.

It's still not textured yet and definetly needs a normalmap for more detail.
Game Design Document
Furthermore I've put some time into our internal GDD. It now features most of our ideas and how to implement them on about 100 sides. The document will be available for everyone interested in joining this project.
Upcoming
For now I'll focus on finishing the female character. I already have a male character in the modelling pipeline but it needs some work on its topology because I want him to look more muscular. Meanwhile I'll create some easy models so I don't completly loose my mind.
That's all for this week. If you're interested in the project just leave us a comment, shot me a PM or send me a pigeon. You may also join our IRC channel #survive at (irc.freenode.net) if you don't have a pigeon at your disposal.
Cheers
Neovertex