Earlier this month the INT Project was displayed at RavenCon. The entire team worked around the clock before and during the Con to showcase our game project. Below there will be several screenshots from the team and content we displayed at RavenCon. In addition, we have a new Rogue Space episode for you that was recorded live during the Con and a Lore Panel that we recorded at the Con.
Anyway, with that major piece of news out of the way, let's jump into the deep end of this week's article!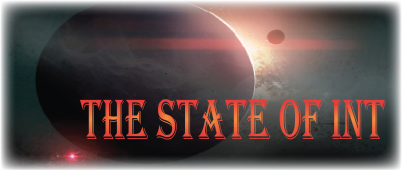 This month we are going to recap the RavenCon event. It is a rare thing for a remote, international team to meet up in person at a localized Con, but we did and here are several pictures of our event and project members: Dave, Justin, Mark, Hannah, and Kellen.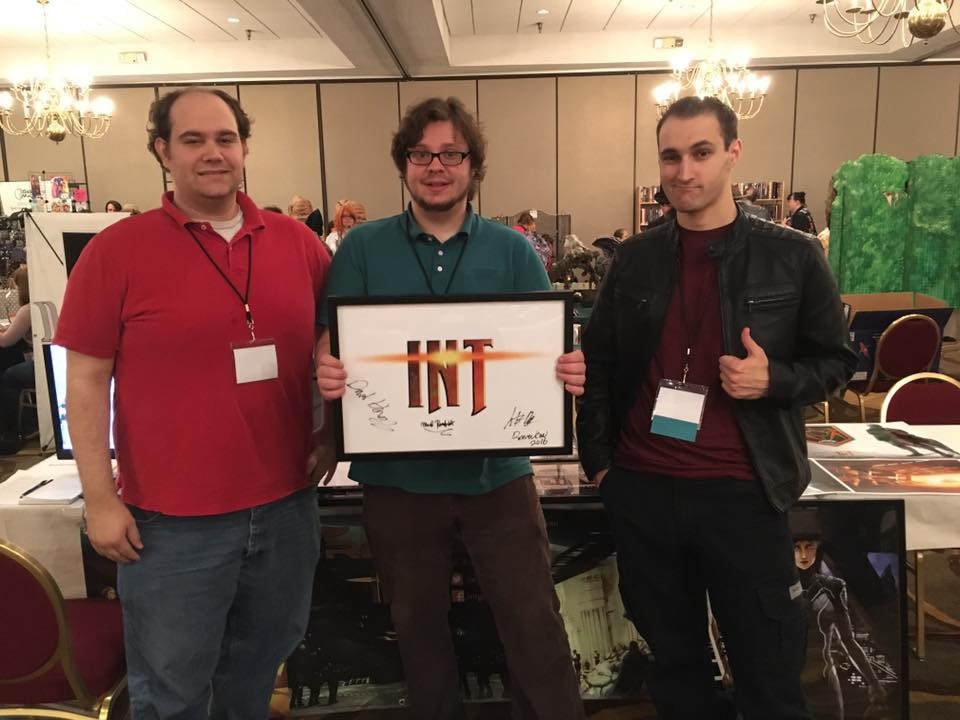 With RavenCon behind us we are now concentrating on implementing constructive feedback gathered at the Con and pushing forward toward our project timeline and goals. The level that we displayed at RavenCon is the "Apartment" level, and we're happy to share some screenshots compiled by our Lead Coder, Jango.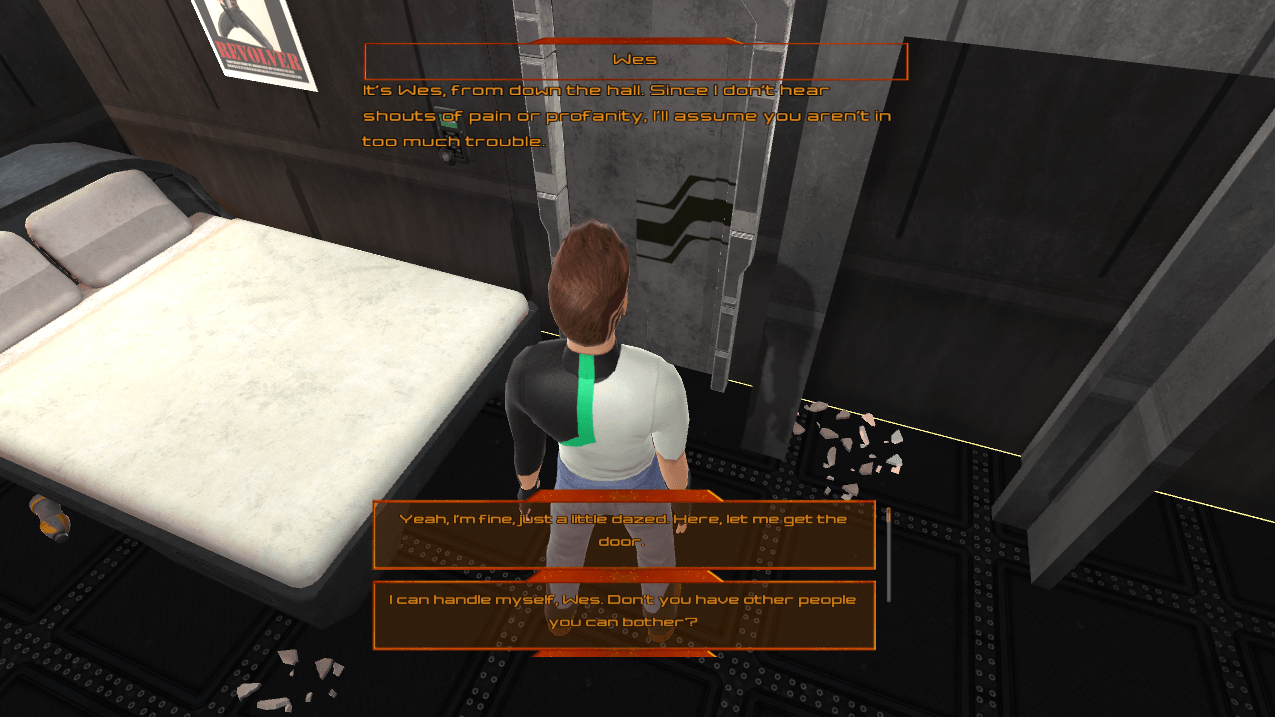 This screenshot displays the player character's starting area, their room, and should give you a good idea of the environmental assets of the level, as well as dialogue UI and conversation choices.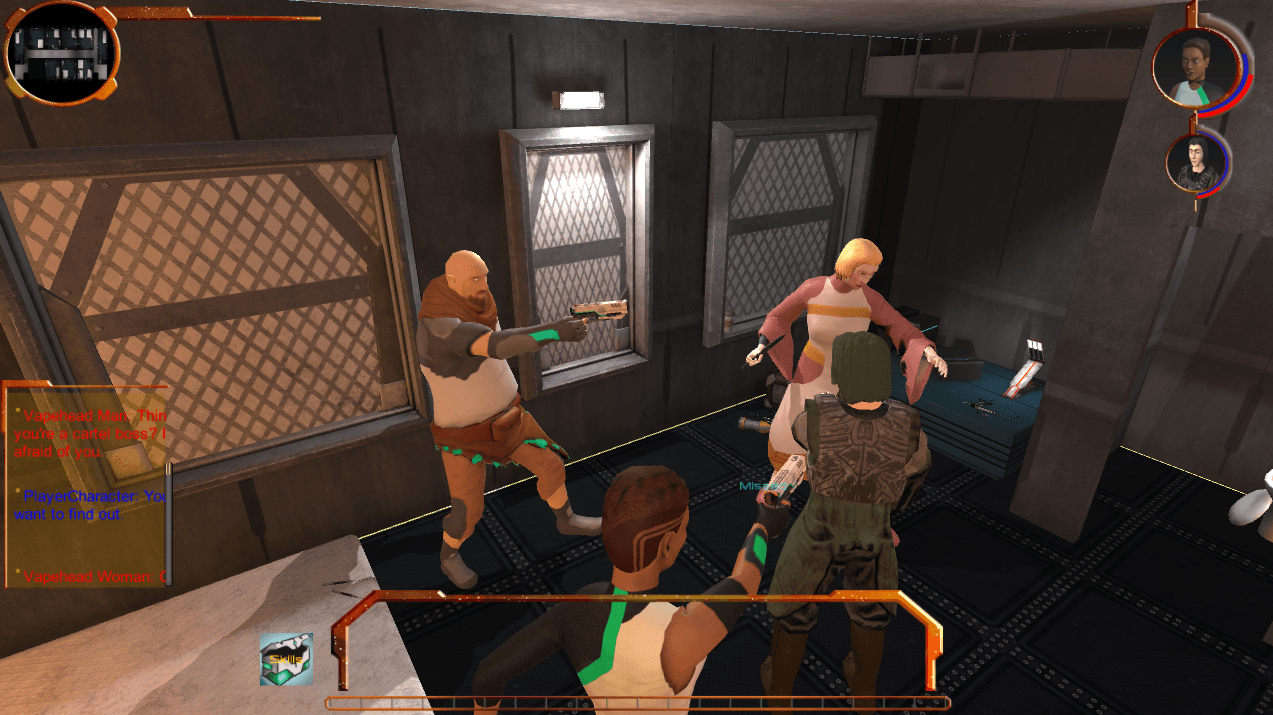 The second screenshot displays a quest encounter in the apartment level where the player character and their first companion Wes encounters two vagabonds attempting to steal from one of your neighbours. This encounter inspires you to make tough choices on how you want to proceed, clearly on this play through the player chose to fight.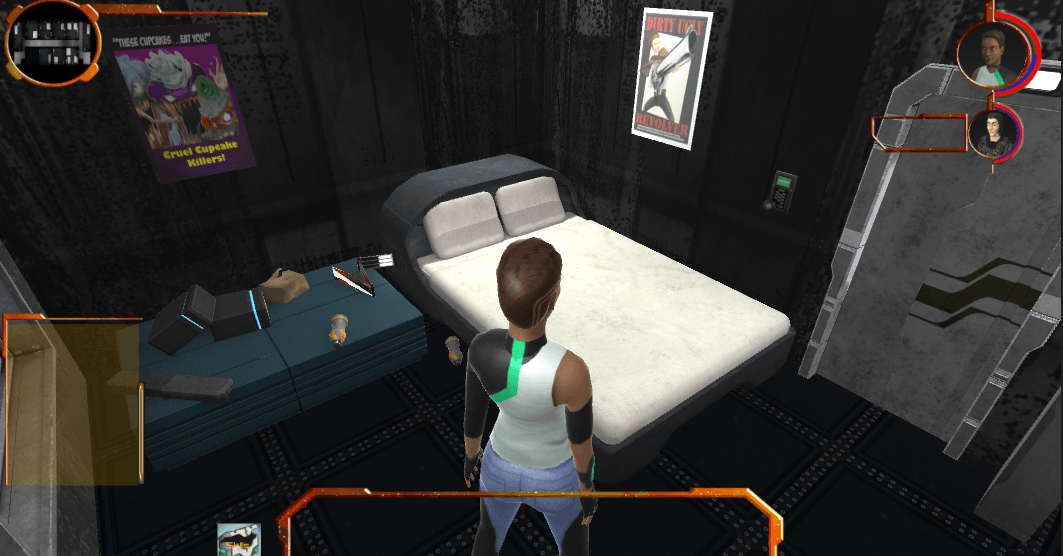 This screenshot displays some of our working UI pieces including the inventory and a container.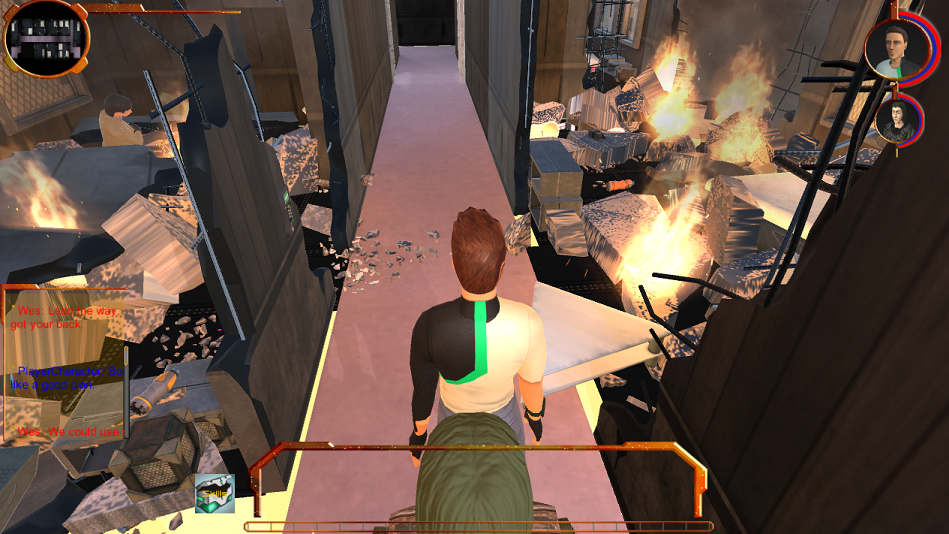 This screenshot is an excellent example of the apartment level's destroyed environment. At the beginning of the game the level is hit by a massive bombing run, and we can see the effects of this attack throughout the zone.
The final two screenshots display a puzzle encounter in which the player must solve a puzzle or face a ceiling mounted turret.
I hope you enjoyed the screenshots from our live play through of the Apartment level at RavenCon and the members of our international team that could attend the convention. We will have more details and media to share from the game as we roll forward as we are currently working on implementing new features and building off a solid, working game foundation.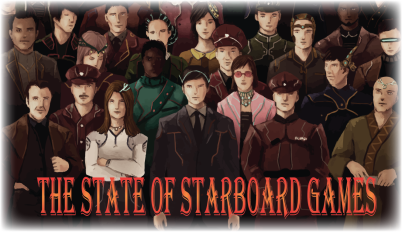 This week we have a Rogue Space recording. The recording can be found here:
Also (for missing the past few weeks), we have a lore panel discussion as well which can be found here:
In addition, we will have a new Rogue Space recording in the next few weeks and possibly some additional content in the form of "INT Plays D&D," if we can all find a time in our busy schedules to record another D&D session.
Finally, we are on the hunt for a new PR Representative and potentially a UI artist. Please apply here: 'johnhr@int-game.net' or at 'http://www.int-game.net/careers/' for immediate consideration.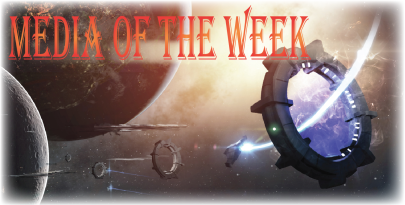 I wanted to share a "hero" piece from the Street level. This will be a heavily armored enemy (ACP faction) combatant that you will find on the street level. Be wary!