Hello long-time fans and new comers to INT by Starboard Games LLC. Welcome to our great "Weekly Update" #15!
Luggage, check! Snack, check! Awesome stuff to show fans and convert non-believers, check! Oh that's right, we are getting ready for Ravencon mi amigos! The RavenCon 2016 will be held in Williamsburg, VA, from April 29 to May 1, 2016.
To people who will be visiting the RavenCon this year, we would thrilled to meet you and answer any questions you may have. To people who will not be attending for whatever reason, we will be making a recap of the event so that you do not miss out on the highlights of our time at RavenCon2016.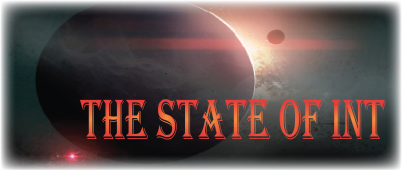 This week we would like to briefly touch upon QA, short for Quality Assurance. Similar to QA procedures performed on physical goods such as a chair, where various parts are examined according to manufacturing specifications, QA procedures performed during game development entail picking apart its various aspects to see if any part of it would break when being used.
Game development QA requires a tremendous amount of repeated plays through the game while paying attention to a comprehensive checklist of various game aspects for testers to record their findings during game play. For each problem found, it needs to be recorded in detail as to what exactly happened, how to replicate that problem, as well as the "threat level" of that particular problem. At the end of each QA round, the development team will swoop in to try pin-point the cause of all recorded problems, and try to eliminate them starting from high level threats.
Let us demonstrate this process with a simple example here. Take a set of doorways, which is designed to be places within a wall, and opens when clicked upon.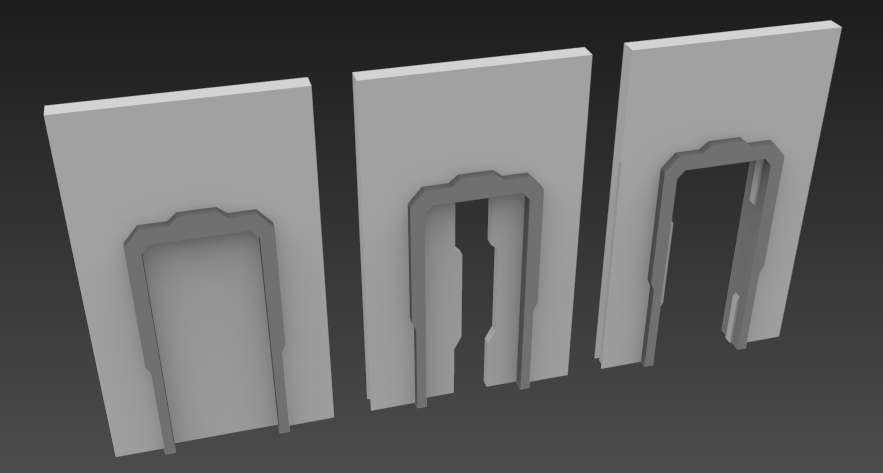 Simple enough as far as in-game assets go. Yet problems may arise in various ways, and a set of doorways malfunctioning unintentionally is almost always a high level threat.
"QA is...an arduous process...game developers endure because we care."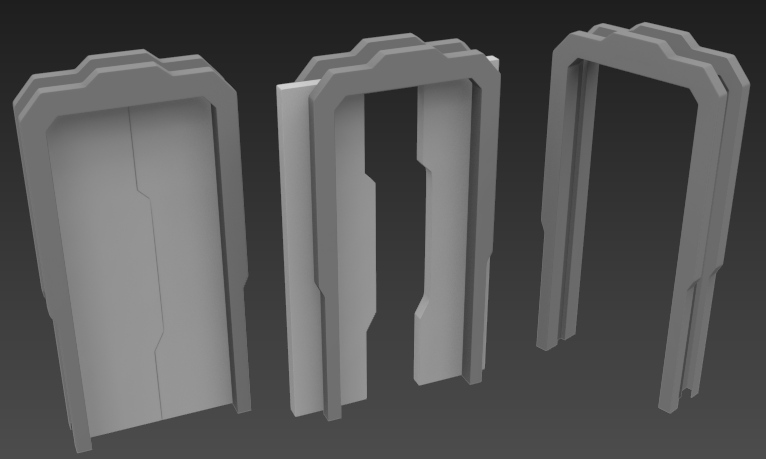 Problems may arise in both visible and non-visible forms. Visually, testers will easily be able to identify misplaced doorways, and it is also rather easy for the development team to fix such a problem. However things may become complicated if there were programming errors preventing correctly placed doorways from functioning. Due to the role of QA testers acting as actual players, it is often unlikely that they see the programming behind various game mechanics, therefore it is essential for problems to be documented in a comprehensive manner to allow effective elimination. QA is an on-going process even after a game's release to ensure players' enjoyment, it is an arduous process, yet a necessary evil all great game developers endure because we care.
Please believe us when we say "We have done numerous internal tastings of our demo", because we honestly have! Whenever a new build is released internally, we jump in and leave no stone unturned. Whatever bugs or glitches found gets beaten, stomped, and swept into the virtual trash can as the coding team prepares the next build; then we rinse and repeat! Hence while the presented convention build might still contain a few bug and glitches, it is the accumulation of the entire team's efforts to date. We sincerely hope you enjoy what you see, and thank you in advance for your understanding!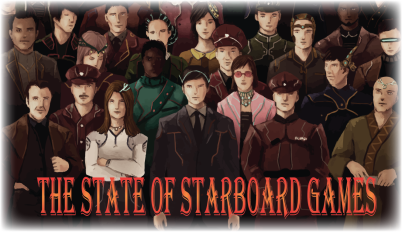 "In seeking your fortune in the Ozymandius Stones system in Wild Space, you've found yourself trapped in a decommissioned space port with damaged ship in need of immediate repairs. You're not the only one here, however, and not the only one with a damaged ship. The space port appears to have been abandoned in haste, fortunately, and a fair amount of resources have been left behind. Why not explore the space port, collecting valuables while locating the various components you need to fix your ship."
I am of course, talking about the Starboard Card Game! Long-time followers of Starboard Games may remember that besides our main project INT the game, we also have Tens Day the comic and a card game as tie-in projects. We are very excited to announce that the card game is now complete!
While not bathed in as much spotlight as INT, both the Tens Day and the card game have been progressing quietly and steadily. When our Margaret "Panda" Ralston announced that she has mostly completed the card game and has play-tested it in private, we were excited to join the fun!
The card game was quite an enormous undertaking, and Panda has for the most part, been working on the card game alone. The final game contains four types of cards, all working intricately to assist or hamper a player's progress during each round, and each round results in a amusing story sure to be the talking point for some time to come.
Here is a sample story from one of our recent play-tests,
"Dane Kar, a renowned Bounty Hunter fines himself trapped in a decommissioned space port with a damaged ship. His keen career-tuned human sensing immediately alerted him to the presence of Pan Sarro (Plutonian for "Flaming Dish") the Enforcer and an un-named Smuggler.
The three decided to band together to search for parts to repair their ships and leave the space port. The Smuggler, somehow through sheer luck, finds all the components and quickly fled the port, leaving Dane and Pan to their fates.
Dane eventually finds a curious room and decides to rummage through it, hoping for a ship-part. His keen human-sense could not save him however, when he triggers an EMP bomb and locks himself in the room.
Meanwhile, Pan decided to turn rogue and hunt down Dane. Knowing an EMP bomb is ticking down, Pan has very little time to track him down and dodge the blast. Just moments before the explosion, Dane finds Lola Har the Hacker in a nearby closet...
...and the rest is history."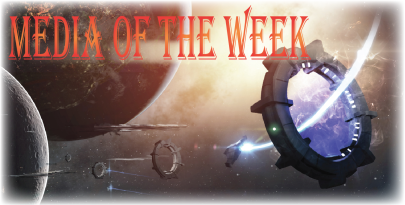 There are still some tweaking and fine-tuning to be performed on the card game. In memorial of the unlucky bounty hunter Dane Karr, we have managed to track down one of his portraits.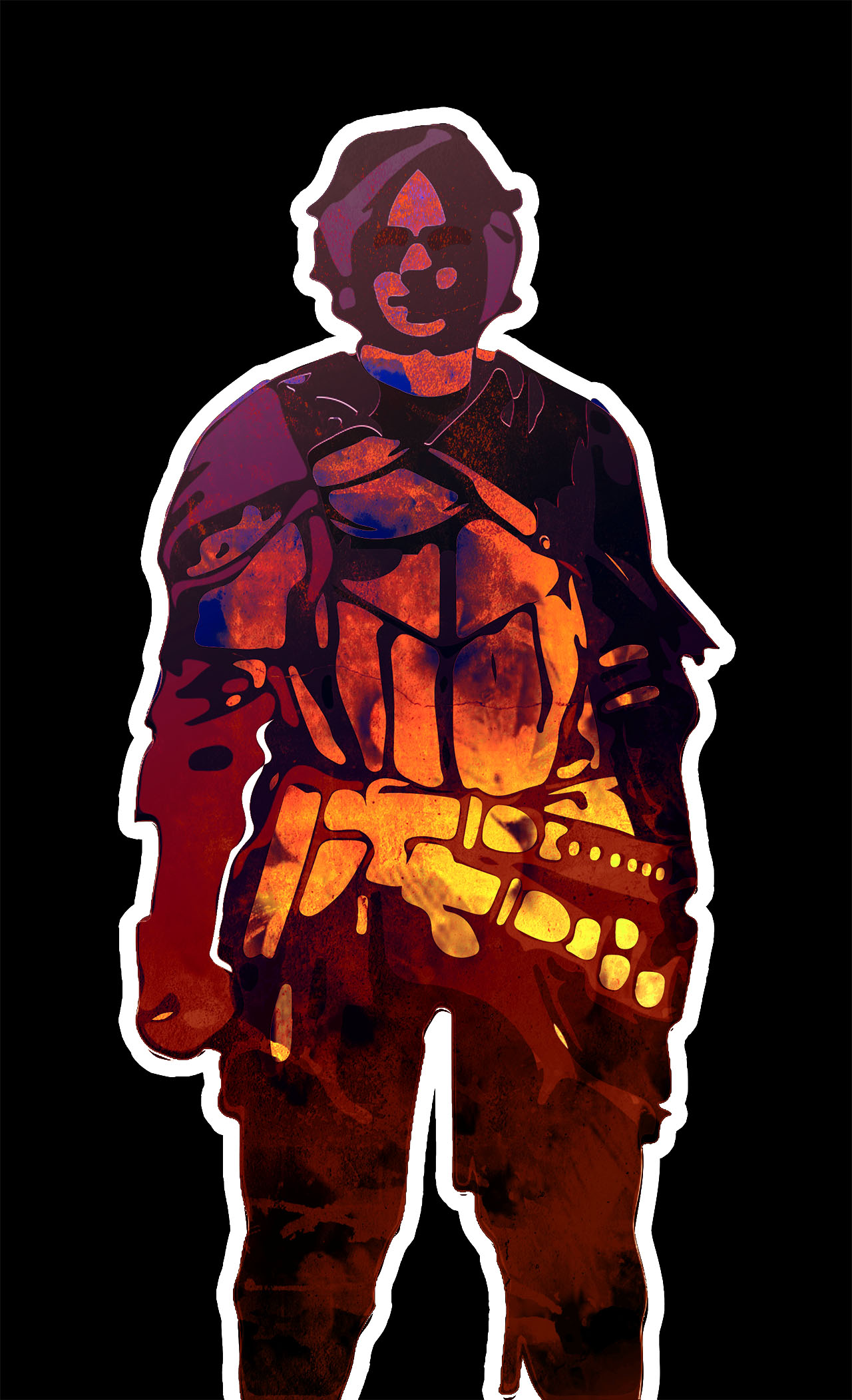 Guess which member of the Starboard Games team this guy's good looks are based on? ;D
Here is also an highlight video of another card game play-test's recording. Language and behaviour warnings though, as all excitable card games tend to cause, things went mildly wild toward the end!