Here is (as promised) the weekly news update. First of all we got the LeMat revolver which is part revolver (nine-chambered cylinder) and part shotgun (16 gauge). It will serve us good for the fight against the undead ;)
Next we got the FNP-9 from last week, fully skinned. Additionally the render includes a silencer not shown before.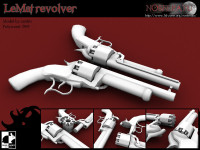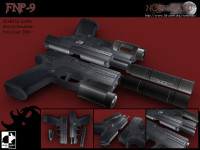 But wait theres more ! We compiled the FNP-9 as a Mk23,Dual Beretta or FiveSeven replacement for the specialists mod (halflife).
This gives you the chance to see what the weapon looks like in an engine like halflife.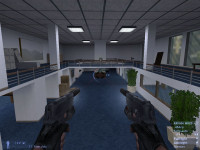 NOTE: This shot is not a nosferatu ingame shot. Its only the weaponmodel compiled for the specialists mod (halflife)
Be sure to check the boards for discussing stuff like the Lemat's reloading mechanism.
the specialists thread about the fnp-9
FNP-9 as Mk23 replacement
FNP-9 as Dual Berettas replacement
FNP-9 as FiveSeven replacement
Edit:
Monkeh converted it to Counterstrike:Source. As you can see the old Halflife Engine didnt do the skin any good, although this doesnt apply at all to halflife2 !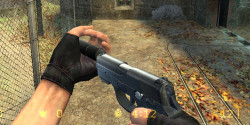 grab your CS:S version here
and the related board thread here
And as a little teaser, expect some ingame shots in one of the next updates :)