As the Summer Games and the Dr. Evil's Summer Sabotage event draws to a close, Natalie is in search of a Gold Medal. To help her, we're buffing five Crusaders from today until Monday, August 22 at Noon PDT.

For the duration of the weekend, five Crusaders will be receiving massive buffs to their abilities.

Jim, Natalie, Sarah, Merci and Larry all get a limited time buff applied automatically this weekend. Plus, there's a unique chest featuring gear just for those five Crusaders!
Jim the Lumberjack - Sharpen Party +200%
Natalie Dragon - Gold Find +100%
Sarah, the Collector - Self DPS +400%
Merci, the Mad Wizard - All DPS +100%
Larry the Leprechaun - Subtle Magics +200%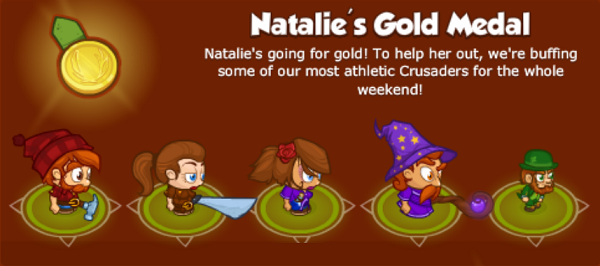 Also, check out the limited-time Gold Medal Jeweled Chests that contain equipment for the five Crusaders above! (Please note: The chest will only contain gear for Larry if you've unlocked him.)