Summary
Today's patch mainly fixes card related bugs. (Thank you very much to all the people who have been submitting card bugs. It's really helping improve the quality of the game.) Below there is an explanation about what is going on with rewards and Casual mode matchmaking, as well as a guide for what cards are unlocked when you level your heroes and bosses.
Unless we find some other major bugs that we determine require patching, this will be the last patch until the next major update.
Bug Fixes
Lava and scorching claws interaction with molten birth
Rush of wind interaction with hovering hounds
Spare parts trap summoning discount
Spectral escort summoning ghostlings
Anvil of elements tick reducing result
Backstabber with no amps
Unreleased boss cards showing up in packs/collections
War chant and prayer of might stacking
Draw out with tenacity
Force pull with tenacity
Ancestors tears from non-card kills
Ghosbite summoning thralls on structure kills
Text on incarnation of fire
Text on ghostbite
Text on balance of life
Text on aim
Text on magnetic shield buff on card inspection
Text on furious style buff on card inspection

Design Revisions
Shieldrunner model and card art
Tutorial 2 boss nerfed to have fewer minion summons
Matchmaking & Rewards
As many of you have discovered, you may not get XP and Gold rewards after a Casual encounter and your bosses may not get XP and Stardust rewards even if you get a notification from Steam that it has been raided. It may seem like your boss is not getting raided at all. These are known problems that we are very concerned about and have spent quite a bit of time and effort examining. Now that we have a better understanding of the problems, we would like to take explain what is happening.
The new matchmaking algorithm we introduced on September 23 seems to be working as intended for the people who are getting matched. That is, heroes are being matched against bosses of a similar level. The chart for data collected over the last weekend, shown below, demonstrates this.
The size of the bubbles show the relative number of times players with those levels have been matched. The blue represents successful matches from the standard algorithm. The red represents successful matches where the standard algorithm failed to find a similar level matched player and fell back to matching with a Level 1 player. This happens because there are actually more 11-13 level players who want to raid a 10-14 level player than are available at the moment they requested a raid. (Falling back to a Level 1 player isn't necessarily a great match, but that is how this version of the algorithm was designed to work.) The algorithm also favors players who play a lot. So the more you raid with your heroes, the more your bosses get raided. The players who play a lot also tend to be high level, so that is why you see bigger blue bubbles at the higher levels.
If that is working so well, why am I not getting raided? The answer is below.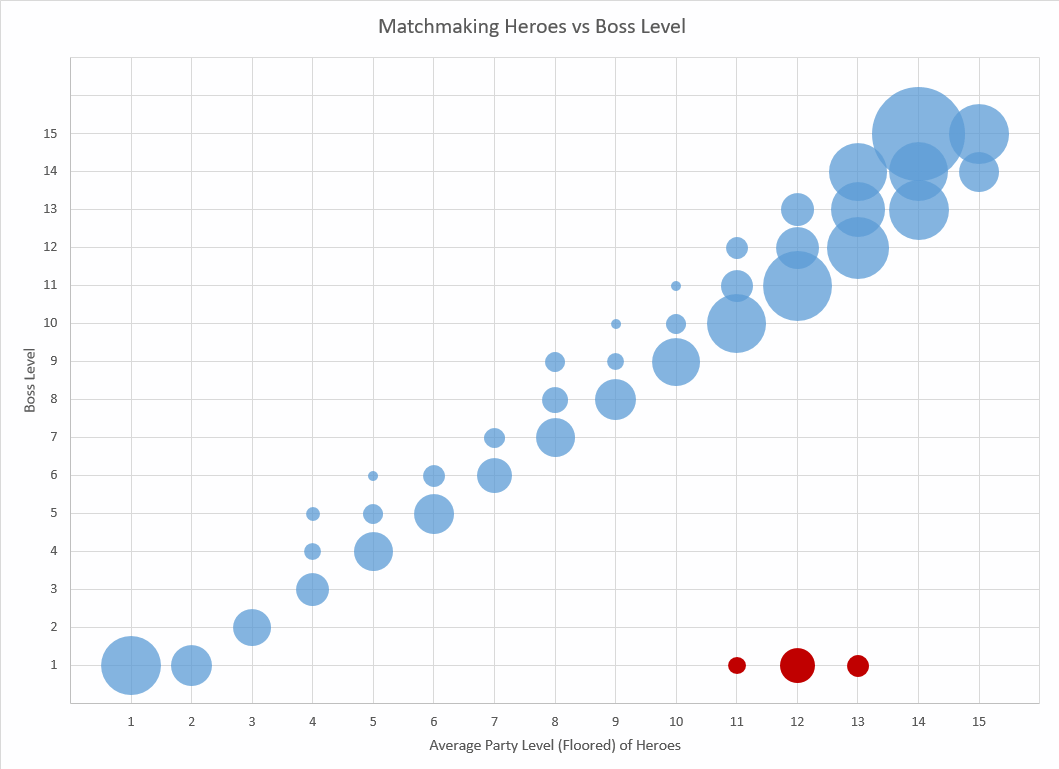 The graph above only shows the players who have been successfully matched over the weekend and does not show all the players who added bosses to the queue to be attacked since September 23. The graph below shows everyone's bosses in the queue and how many times they have been matched.
Each dot in the graph below represents one player's boss at a given level. There are hundreds of players in the dataset, so many of the dots overlap, particularly for Level 1 bosses.
Looking at the graph below, most bosses have indeed been attacked several times. The problem is that rewards are not getting through, so bosses are not getting XP. This is a particularly bad situation for low level bosses (circled in red). Since they do not get XP, they cannot level up, and cannot move up the matchmaking queue to be matched with other players who are playing a lot. They end up competing for limited raids and keep getting thrown to the back of the queue.
It is the lack of XP rewards that is blocking players from getting matched. This problem is keeping half the bosses at level 1. (There is no reason a level 1 boss should remain at level 1 after 6 raids!)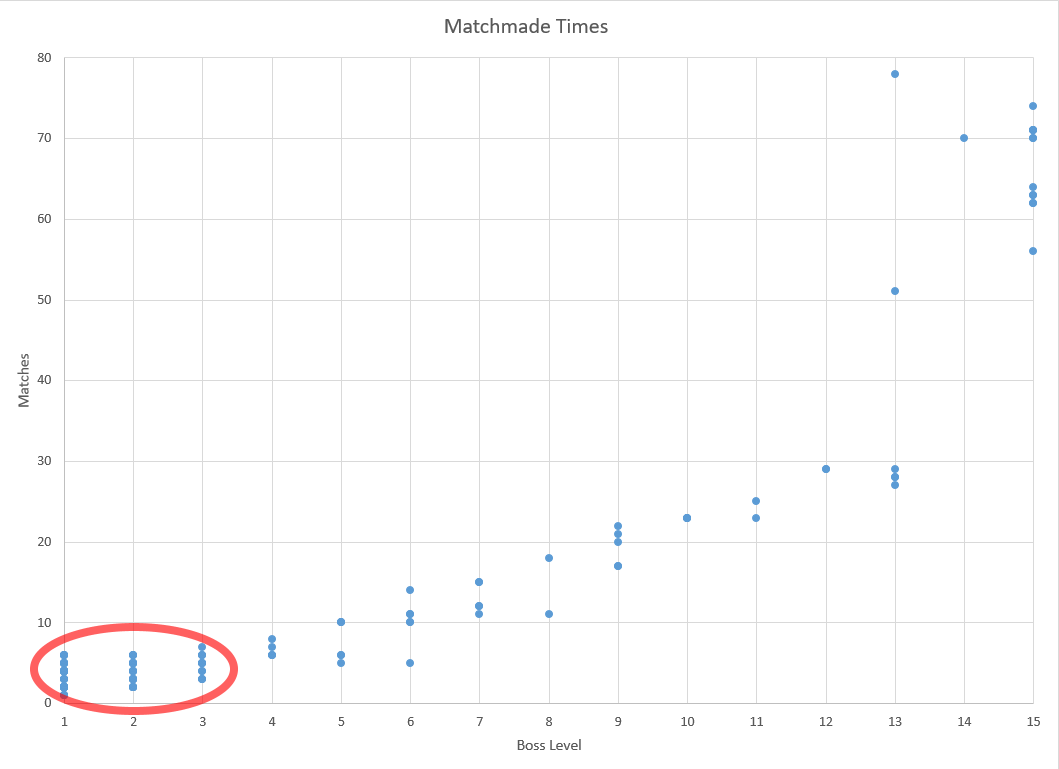 There are 4-6 bugs that we have identified that are keeping players from getting their rewards. The two most major bugs require extensive changes to how we handle encounter data and the interaction between client and server. For the next major update we are moving more of the functions that relate to encounters from the client to the server to improve security. This changes will naturally get rid of the bugs that are in the current live version. However, you will have to wait until the next major update which will be approximately a month away. We will try our best to fix this problem, but because the change in code is going to be so extensive, there is a chance that you may see new bugs that stop rewards from appearing at that time.
If you have a Level 15 heroes and bosses, please move them to Ranked play until the next update. This may relieve some pressure on the queue and give those below rank 15 priority, allowing them to level up faster. It remains to be seen if any improvement trickles down to Level 1 players.
Card Leveling Guide
Below is a helpful guide to let you know when your heroes and bosses get new cards!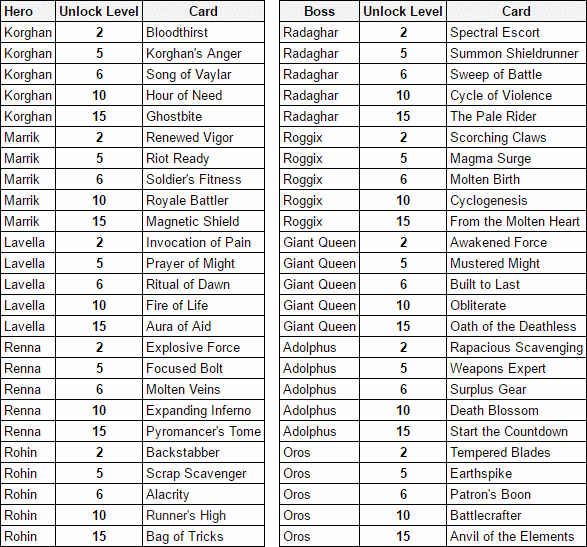 Development
Over the last week our team has been hard at work creating new and amazing content for the future of Labyrinth.
[list]
The Engineering Team worked on the Quest system; Matchmaking analytics; Ai vs AI testing; Defense Campaign.
The Design Team worked on Design revisions.
The Art Team worked on Giantess Hall Props; Defense Screen 3D scene; Frost summons second pass; Sorceress spellcast, ranged attack; Structure concepts; Celestial armor textures; Earth summons; Sorcerer death animation; Endurance textures; Charging Rhino; Embiggener modeled.
The Audio Team worked on Thief VO tweaking; movement tuning; ambiance fading.