Progression Build Update
We are postponing the "Progression Build" to the first week of July, most likely releasing sometime between July 5-8. This is because we added a lot of inter-related systems to Labyrinth to make progression and leveling possible and we have had more conflicting problems than we anticipated.
After a week of testing and quite a few late nights, we are not in a more stable place with the game than we found ourselves last Wednesday. Disabling the interconnected progression systems so we can release what we have now would add too much time to the schedule. So we just need to move forward with development and release this update later.
We are also doing a holistic overhaul of all the cards for elegance, symmetry, and to emphasize the strengths and weaknesses of hero disciplines and boss types. The current in-between state we have now is confusing. So yet another reason to release later.
While we will add a few features from next milestone into this one, the focus for the next few weeks will be on stability of the current features and testing all the systems surrounding leveling heroes and bosses.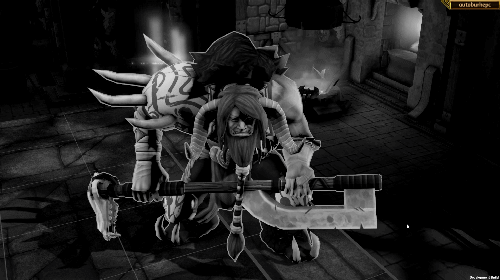 Development
The Engineering Team worked on Leveling rewards; staging match making; matchmaking by boss complete; raid flow; HUD user experience; server stability; level dialogs.
The Design Team worked on Beast cards; Hero decks; Star cost rules; default decks; start speed fixes; Amp spending; default boss decks; new hero cards; mechanical cards; stealth change.
The Art Team worked on Centurion attack, spell casting, and hit animations; Temple Oracle clothes; Mechascorpion; Defense screen integration; rewards.
The Audio Team worked on UI sounds; Celestial Giant model; various buttons; UI sounds.