These are previews of our first webcomics. Frankly we don't know what came first, the game or webcomic, but it doesn't matter I guess.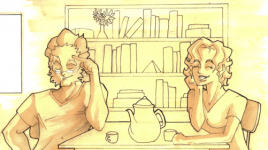 Le Doc N Guys is the story of a scientist and his travels with his loyal assistants, Guys. They will be trekking through the space-time continuum encountering all kind of new species, and dangerous but exciting situations.
The 1st part "Escaping Kronos" will tell how the Doctor became Le Doc, in what way the Doctor met Guys, and by what means he coped with Emmy's death.
In the 2nd part "Darwin's Awakening", Le Doc N Guys travel to the 1800's to meet Le Doc's favorite scientist, Charles Darwin.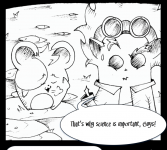 Each webcomic has its own game under the same name.
Chronicles of Le Doc N Guys is just a webcomic in no chronological order (which makes no sense with the title, but what the heck!). In this webcomic, we tell small stories that are not so relevant to the timeline of Le Doc N Guys.
All webcomics are full of dark comedy and drama, just like real life. The idea is to show how a sentient being struggles in his/her/its lifetime.
The webcomics are hosted in Comic Panda, our favorite open platform for aspiring artists and indie publishers.