Hey guys!
Thx for all the comments and those who suggested weapons. The weapons still needs to be textures and normal mapped, so I need a texture artist who can, in the mean while ill be taking 2 days off to sharpen my texturing skills, in case I don't find someone.
If you are a skilled texture artist please PM me your details and proof of work, ill also answer any question you might have, thx.
Here they are from top to bottom...
The Gladius
-As suggested by LivingDeAd to be in v0.01 of the game.
-So many different types of these, so I modelled the most distinctive one from my list the Mainz Gladius.
-526polys
The Khopesh
-As suggested by Yugman to be in V0.01 of the game.
This is one mean looking blade.
-1025polys
The Trident
-As suggested by Rossroxx to be in V0.01 of the game
-118polys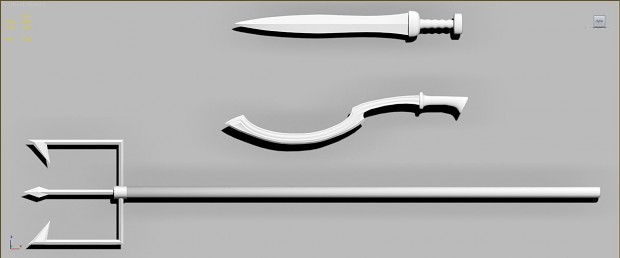 Keep up the awesomeness!
-Christo Gordon Oosthuizen