Howdy Assault Knights Fans!
Well, we have done it. Thanks to Space Combat Kit and Space Graphics Toolkit we now are on our way to making space a reality! The following pic shows the player in action with the dropship model in view.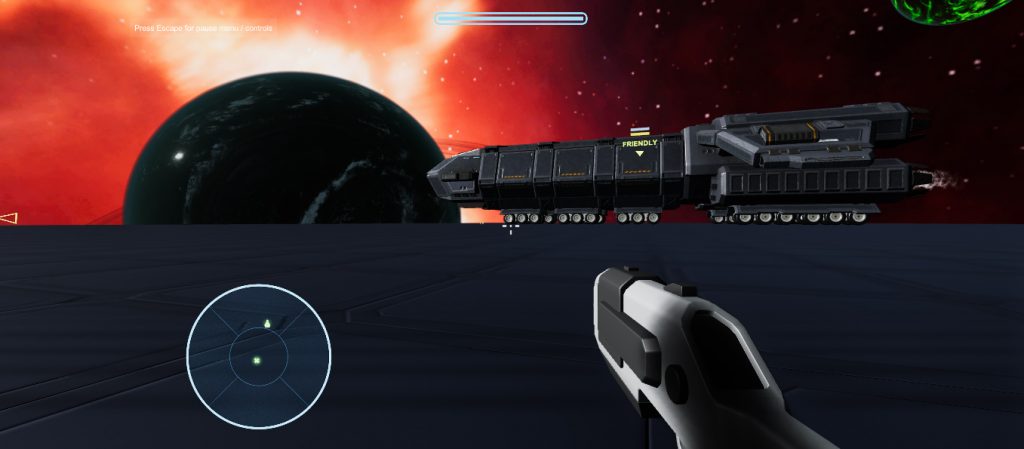 You can walk up to the spaceship and enter it. That is the same ship you have seen in previous pics. Now it has a purpose and you can fly it around! As seen in the pics below.
Utilizing Space Combat Kit's Floating Origin system, everything you see on the map you will be able to fly to, including the sun, black hole, and every planet in this small solar system demo. This means we will, later on, have a whole set of solar systems to be able to explore. The planets are terrain and the way we are going to set it up, you will be able to fly all the way down to it. Then you will have an option to land and choose missions. The game will then lead you into one of several handcrafted maps, where you can fight, and complete the assigned objectives, allowing you to take on many types of awesome missions.
Also for people who are still thinking about joining our Patreon page, right now would be a good time to do so, because I am going to post a patreon only video showing what we currently have in action. You will only be able to see it there. Also if things go well and I can fix a few bugs, I am going to make a small space demo this month that is going to be for Patreon members only! So if you join, you will be able to at least play the space part of AK2 soon. It is going to have some combat, and maybe some space stations for you to explore, along with both the dropship and maybe even the mothership! So if you join now, you will get access to our first demo hopefully by the 25th of this month. So please go on over there soon and Join one of our tiers.
Also check out Space Combat kit! You can find it here. Assetstore.unity.com
Support the Developer too VSXGames is awesome and they could use some love!
Also if you want to help us by donating. Here is the link like always. Paypal.me
We could use your support now more than ever! The more support we have, the better AK2 will be!
Anyway, stay tuned. This is the beginning of space month for AK2 and we are just getting started! I hope yall enjoy this update and the future updates as well!
Thanks so Much!
Night Hawk.
Edited by: obliviondoll
Assault Knights 2 Main Website.: Ak2.assaultknights.biz
AK2 ModDB: Indiedb.com
Facebook: Facebook.com
My Twitter: Twitter.com
Littlerebel's Twitter: Twitter.com
Patreon: Patreon.com
Team Members Page: Ak2.assaultknights.biz
Game Overview: Ak2.assaultknights.biz
Instagram: Instagram.com
DRGS Discord Discord.gg
AK2 Discord Discord.gg