The old message system was built around sharing player-messeges in the RymdResa space. Messages that other player could see if they were at the same coordinates as the person who sent the message. But we also wanted to share these space-messages on twitter.
There were several problems with this approach. First of it broke the emersion.RymdResa is a lonely experience and we want to keep it that way.Sending all player-messages to twitter didn't really workout either. During a test we sent all the messages to a unified Twitter account, but it would be much better if we could share them directly to the players own twitter feeds, but then we would need to build authentication/login and handle all that on or server.
Previous flow was: user send msg -> server - other players screen/ twitter-> homepage.
Players could choose to send a message into space. This message was shown on the screen of those players that were on the same coordinates as the player who sent it. The message also displayed how long the player who sent it had survived and what ship they had.
New flow is: user send msg -> server - > other players -> create message pod ingame
user dies - server -other players -> create dead ship.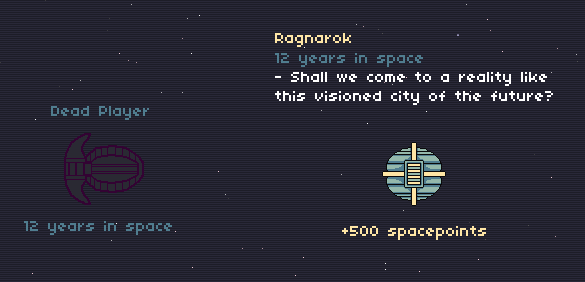 Players can choose to drop a message pod at their current position, this will cost some spacepoints.If another player finds a message pod they can get some spacepoints and read the message.
When a player dies in space, a dead ship will be left in that position. Other players can go there and see how long the player survived and have a small chance to find an item.
The new message system takes more consideration of making message a part of the game universe, integrating them directly into the game. Tweets are fun but didn't really serve any value to the gameplay. Adding dead players helps creating more depth to the universe of RymdResa.
You can of course turn of this feature in the game options and choose to play offline. This message system will be used in the iPad, PC, Mac and Linux versions of the game.