Hello Everyone
It has been a long time since we posted any news here at indie db, or on any social network as far I know.... anyway, we are back developing in-house games. First, I would like to give you a brief status on each of our projects that we had left hanging before I write another article about the new projects we are working on.
Super Zombie Desperation is frozen because the game is simply "dated", but frozen doesn't mean that it has been cancelled like some of our past titles. The music, graphics, sound effects, voice acting, everything is there, however we don't have the resources to pay for its programming right now. We don't think that the mobile market is a good place for it either(right now), even so, we would like to finish it ASAP simply because it is a cool game and it would be a shame for it to never see the light. Horror fans will love the experience.
Slaughter Maze, this one is also "dated", but unlike SZD, it might never see the light due to 3 reasons
None of the developers of the game are working at Ominous Entertainment anymore
The latest build of the game was built with UDK, which got replaced by UE4. We might have to build everything from scratch if we were to continue with the game.
Some of the graphics were lost when some of the developers left
For short, resuming with the development of the game would be pretty hard. It might be easier to "reboot" the game, but that won't happen anytime soon $. Even so, we won't abandon the concepts, we might build something with them in the future.
And so, with this we part ways with the negative stuff and we'll start introducing you to our new projects, but not today. Here is a gif from one of the upcoming projects.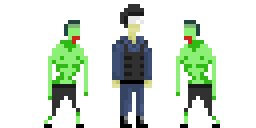 Expect to read from us pretty soon.
As always, thanks for reading.