Greetings to all,

It's time to dive into the most common areas of the game on your road of vengeance. Today we talk about the arenas of Warlander where Bruce will spill the blood of his enemies but might also have the opportunity to do different things that may help him bring down the Techno Order.

There are several different types of arenas, each representing different areas of the Warlander's world. In each of them, a certain number of enemies will spawn and your mission is to kill them all. How are you going to do it? It's completely up to you. The game offers you several ways to deal with the enemies. You have the "Old School Way" - where you take the battle to them and use your sword to cut through the waves of enemies. That way you utilize our unique take on the tactical combat - aiming and real-time mesh slicing - in order to kill enemies effectively. Also, you can take "the Forest way", where you can use the druidic powers you unlocked and obtained through the run in order to kill your enemies in all kinds of special ways. Using powers like the Vine that can grapple opponents and throw them around, or the Stake that you can fire from a distance and kill an opponent or remove part of their armor is one of many possibilities. Or, you can try the "Timber falls" way, where you use the interactive parts of the environment in order to kill Techno forces. See those logs that are supported by that fragile-looking pillar? It would be a shame if you could throw your sword, cut it and make the logs fall on Techno heads… Or would it?

Of course, all those ways of killing enemies can be combined, so you can shoot the exploding barrels with the Stake and destroy several enemies at once. Or you can aim and throw your sword to decapitate an opponent and kill him instantly. This way, it's up to you to test and try different strategies and explore different ways of fighting every opponent you meet. It also offers you the possibility to adapt and change your style of combat in order to kill some tough or rare opponents.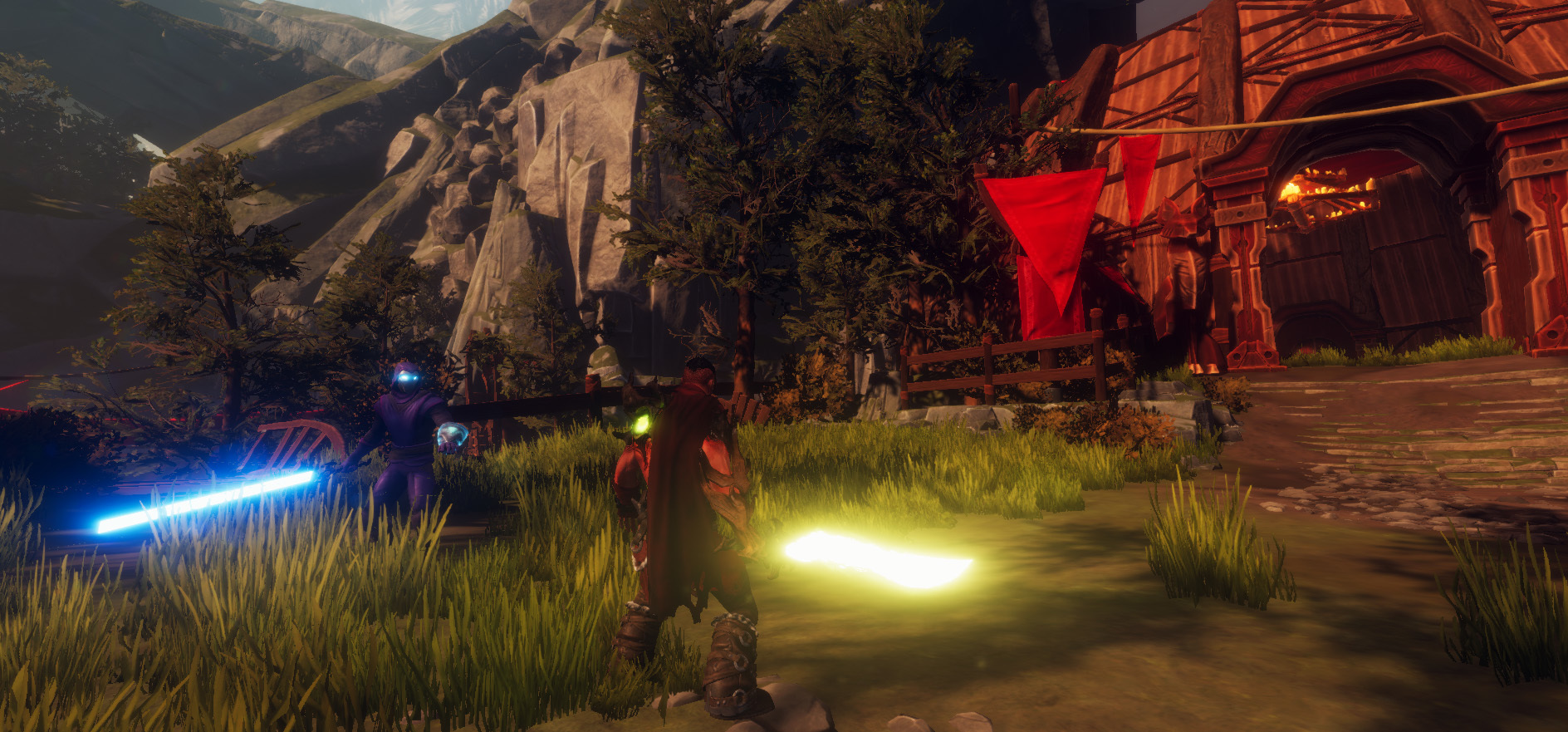 Some of the arenas will have a special encounter - a boss fight. These enemies are quite rare, and going against them is going to be quite challenging. Every boss is different, has different abilities and it's up to the player to develop strategies in order to kill them. Of course, if you die, your journey begins again, and the path of vengeance is again upon you.

Clearing the arena means that you can continue your journey and progress to the next point on the map. After some combat encounters, players will be able to explore the arenas and find different lore notes. Each of these individual notes is actually a small part of a whole - we cannot reveal much more than that for now. Some areas will also have points of interest that will spark a dialogue between the protagonist and his sword (yes, the sword is alive, but that's another story altogether).

As you can see, we managed to keep the main feature of the Warlander - tactical combat with real-time mesh slicing - and to fuse it with roguelike progression. We believe that this approach plays at the strengths of our unique take on tactical combat as each arena will provide you with different challenges always keeping your mind, reflexes and yes, your sword, sharp; while the roguelike progression offers the unpredictability and the sense of going into and against unknown dangers with each run.

That's it for this blog post! You can continue the discussion in the comments below or on Discord or Facebook. Don't forget to wishlist us on Steam and follow us on Twitter and Youtube!

Until next time,

CDG Team