What are War Supplies
War Supplies are Tools, Weapons, Armour, Ammunition, Medical Supplies and Vehicles. War Supplies are finite resources and can be gained from capturing and holding regions for extended periods of time. The longer a Region and its Supply Lines are controlled the more War Supplies are rewarded, up to a maximum predefined number. War Supplies are stored inside of a War Supply Depots, located inside of an HQ.
War Supplies are unique to each region, meaning that it is possible for Region A to have a plentiful supply of resources, but Region B could be completely void of supplies.
Supplies must be managed by each individual team member, and should be used sparingly to gain a tactical advantage. A player is limited to the amount of supplies he can carry on his person at any given one time.
Days of Valor has a classless based system, the items a player has equipped define what role he will be best at.
War Supply Depot
The War Supply Depot is room located inside of a "HQ Tactical Location" where war supplies are stored. War supplies are finite, but periodically resupplied if the region is connected to a Supply Line.
The main purpose of this room is to allow players to visually see what equipment is available. For example Armour, Weapons, Ammunition and Tools. This room must be big enough for twelve to thirty two (depending on map size) players to be inside at once. It should have a wide open area in the centre maybe with a table or equipment dividing the room. Equipment can be changed at any time in game by simply going to a War Supply Depot and interacting with the different pieces of equipment stored within.
Clarissa Scott (work in progress)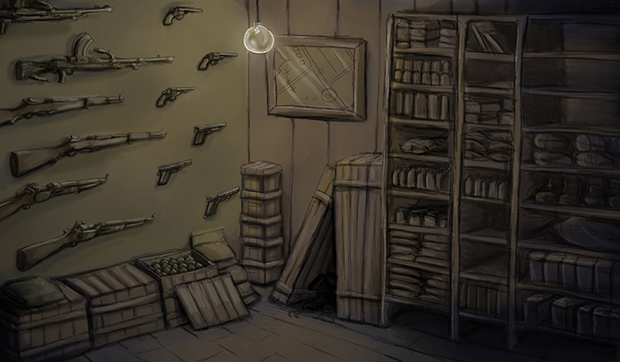 Tools:
Tools are items in the game that help accomplish a given tasks. For example, an axe can be used to chop down trees. Which can be used to block roads. Or to rig explosives to trigger when a player opens/uses a door/light-switch.
Medical Supplies:
Used to increase a player health points up to a maximum predefined figure, or to revive a player who is temporally incapacitated. This resource can also be used to counter certain weather based effects such as Frostbite or Heatstroke. We are looking into how healing can be more interactive and team based.
Armour:
Everything from a player's uniform, to the type of armour he wears to protect himself, such as a helmet.
Weapons:
Weapons are the items used in the game, that can reduce a player health points. Some weapons such as guns require ammo in order to deal damage, other weapons such as grenades are one time use but require no additional items to use them. Some items such as knives require no additional items to be used (Do they wear down or break?).
Ammunition:
Ammunition refers to a finite amount of stored energy (mechanical, chemical, or electromagnetic) that can be used in conjunction with weapons in the game to deal damage (remove health points) to an object or player in the game.
Vehicles:
Refers to an object in the game that can be driven by a player, see "Tank Warfare Mechanics" for more details.
We Need You:
Concept Artist: Hard or Soft Surfaces, Free hand or Digital Pen.
Web Designer: General Layout, Buttons, Menus, Logos (no coding skills required)
3D Modeller: Hard or Soft Surfaces
Email: press@kilroygames.com
GamerKnight
Days of Valor: Indiedb.com
Blog: Gamerknight.wordpress.com
Twiter: Twitter.com