We had some great motivational boosts in our team during the past few weeks. One of them was being featured on awesome online sites like:
PixelProspector: Pixelprospector.com
Indie Games: Indiegames.com
Kotaku: Kotaku.com
Rock, Paper, Shotgun: Rockpapershotgun.com
Most people complained about the very mediocre visuals. And they were right, visuals sucked. We just completed our internal project to find THE visual style for Son of Nor and we began creating the first assets in that style. Our concept artist Krystian came up with this really cool hand-painted texture style.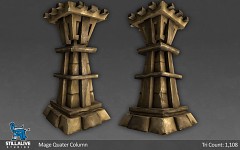 But ... it's not easy coordinating an international team and there's still lots to be done for the game. If you'd like to take part in this endeavor or know somebody who would like to contribute to an ambitious project, WE'RE LOOKING FOR ADDITIONAL HANDS.
More specifically, we're looking for:
Unity FX Artist
Unity Level Designer
3D Animator
Programmer
Go here to learn everything about it: Stillalive-studios.com