Processor machines to transform goods into other goods

Conveyor machines to move goods around factory

Grid system for factory floor placement

GUI for machine selection for placement

Tile-based factory graphics

Designated areas for adding and removing goods from factory

GUI for selecting which input goods to purchase for factory

Player AI for single-player play

Procedural generation of factory floors

Diverse collection of raw materials and finished goods from across industries (as opposed to a single industry)

Maximum utility consumption to act as "pop cap" on factory machinery

Multiple recipes for selection per processor machine

Multiple factory buildings per player, ability to buy and sell factory buildings

Stock-trading minigame to earn money for investment in factories

Expense management (labor, cost of goods, taxes, etc.) as important factor in avoiding bankruptcy lose-condition

Ability to "buy out" competing (human or AI) players

Labor as resource for factory operation

Mitigator machines to reduce utility consumption and danger levels

Ability to deactivate machines to save on utility/maintenance costs

Maintenance system where machines must be maintained or will break down over time

For-fun office themed "factory" as company headquarters (headquarters mode)

Stocks pay dividends to players who own them for a period of time

Ability to unlock company bonuses through placement of office furniture "machines" in headquarters

Ability to "overclock" machine for greater production at cost of utility/labor consumption

Players have their own stocks that other players can purchase

Ability to issue more stock in company when in trouble or looking to expand

Ability to borrow money when in trouble or looking to expand

Workforce management (hiring/firing workers, setting shifts, pay, etc.)

Machinery based on real-world examples with distinct, well-defined functionality (as opposed to more generic "processor" machines)

Graphical representation of workers on factory floor

Three-tier processor machine system

Company reports for detailed viewing of company activity

Players can purchase stock in resource-producing NPC companies to work out special deals for input goods

Different game modes (story, timed, career, etc.)

Prices of goods bought and sold based on global economy (as opposed to being fixed)

Prices of goods bought and sold based on market capture (ability to command a premium if only one company producing a kind of good)

Stock prices based on company conditions (as opposed to random factors)

Company initiatives that cost money but provide player-wide bonuses

Lawsuit resolution system (throw more money than other party at trial to win)

Reputation management system

Political "donations" and ability to influence government policy (rules affecting all players)
We are Recruiting!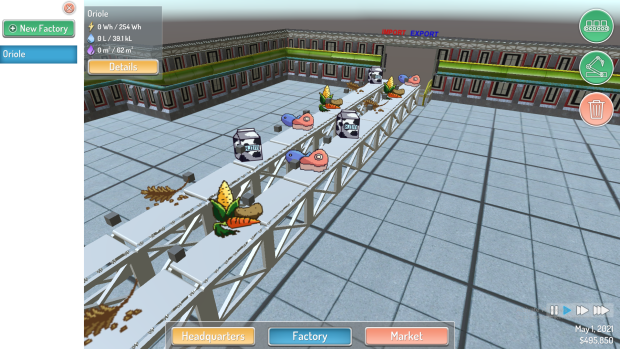 Please look at our jobs tab to see if your interested and able to help out. If you do not see an opening, but you want to help out, send in an application anyways.