Budget Cuts is a first-person stealth game designed for the HTC Vive by Neat Corporation. The above trailer shows the player sneaking through office spaces and avoiding robotic enemies as they rummage through physics objects searching for their objective.
Equipped with only low-tech weapons, such as a crossbow and throwing knives which require an actual throwing motion with the Vive's motion controller, the player must outwit enemies rather than confront them directly. To do so, they are equipped with a secondary tool which resembles the Portal gun. Firing it at the ground emits a beacon, which you can use view that space through a portal on the item itself.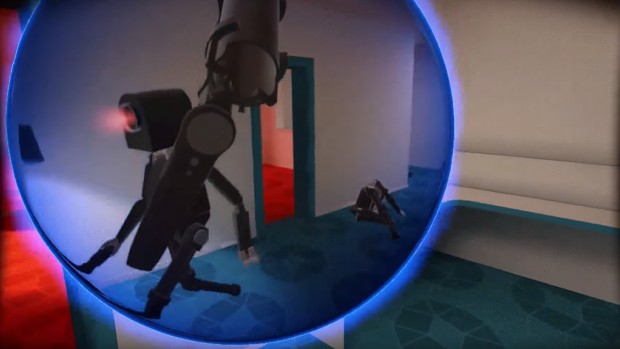 The item's second function actually teleports the player to that beacon. It's a smart gameplay mechanic, because not only does it provide the player with a way to escape enemies, but it solves the issue of how to allow players to move around a space larger than the Vive's room-scale tracking allows. Players can teleport to a point on the ground, and freely move anywhere around that point within the room tracking - and when they need to go further, they simply teleport again.
Combined with the stealth game scenario in Budget Cuts, this portal/teleporter gun looks incredibly fun to use. Neat Corporation doesn't yet have a release date, stating the game will be coming "soon" to Steam VR, the trailer does feature a call to action to help get their hands on an Oculus Touch developer model, so the game could potentially support more than the Vive's motion controllers.