The latest updated to Vox includes many new features and bug fixes that make it more playable for all players. The previous crash bug and graphical glitches have been fixed and the game now runs a lot smoother.
There is a new landscape generation algorithm that will produce much nicer landscapes when you create a world. This includes vast mountains, valleys and better grassy areas with tress, flowers and grass.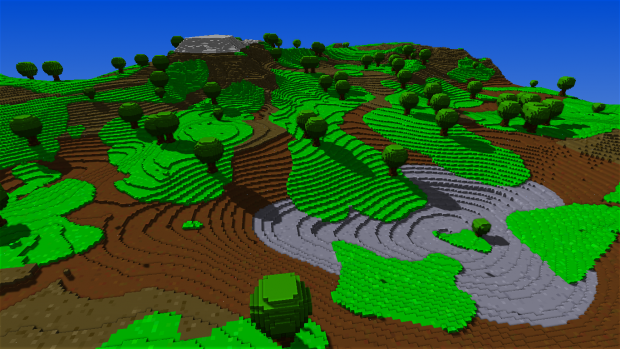 Better landscape generation
The improved landscape algorithm also includes cave generation.
The new patch also includes several new monsters that are both deadly and fun to fight against. Watch out for the new slime varieties and also the mimics that are cunning and sneaky, hiding away as ordinary treasure chests. There are also ghosts that come out at night time that like to spook and scare you...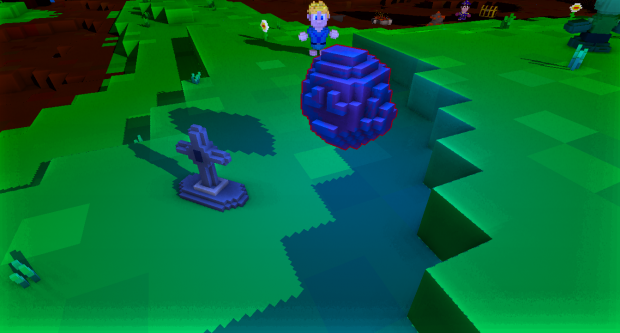 New ghosts
Crafting has also been improved and there are now many more ore varieties scattered throughout the world. Copper, Iron, Silver and Gold are all just waiting to be found and refined.
There are also many new items to be found in the world and treasure chests will contain random loot. What will you find on your adventures?
There is also a lot of other cool stuff that has also been included in the new update, but I don't want to give you a running commentary of everything, else that will spoil some of the surprises... You should play the latest version and see what you can find for yourself.
Here are the full patch notes:
New Features:
Fix it so that world sizes of medium, large and infinite work as intended.
More block types - snow, rocks - change some block colour variations.
Improvements to the landscape/world generation.
Add grassy patches to the landscape generation algorithm.
Make spell shots from wand also have a light and create a fading light when exploding.
New block types - underground, stone, magma, etc...
Improve the underground chunk generation.
Allow underground chunks that don't contribute to the above ground landscape generation.
Add colour and occlusion toggles to the options menu.
Block colour variation, world geometry and world scenery are now properties of the world.
Add cave generation toggle to world creation options.
Create world screen has more options to select.
Changes to the multiplayer popup box.
Fade out background colour when we have a popup box.
New GUI graphics and improvements to common button components.
Update all in-game GUI to use now common buttons.
New inventory and character stats icons.
Add Iron, Silver and Gold deposits.
Monster slime audio.
Audio effect on the fireball cast and explode, from the fire wand.
Better Scythe boomerang - thrown straight forwards, no arc-swing.
Fireball staff now uses mana to cast.
Random Loot system. Treasure chests now contain random loot from the world
Use a weighted random loot generator that favours random loot items that have not yet been found.
Add mimics and ghosts to random monster quests generation.
New rare magical item - Rocket boots!
New rare magical item - Icarus wings - Allows double jump.
Frontend mode ALWAYS has block colour variation enabled.
Modify the intro sequence and tweak camera angles/positions.
Bugfixes:
Fix for player collision getting stuck sometimes when items fall out of the world.
Only do item collisions when we are within collision distance to the player.
Only do item collisions if we are visible in the draw distance and not frustum culled.
Enemy spawning and NPC quests on other worlds, not just 1 and 2.
Quieter player footsteps and jumping sound effects.
Return item pointer when adding loot to chests.
Be sure to set the scale and offset when adding items.
Make sure Left and right values are set by loot items.
Stay tuned for more Vox updates and be sure to stop by the forums to post your suggestions, and any cool screenshots that you have taken or fun items you have made!