The new update for Vox is now available for download on Desura and IndieDB. This is a major performance and optimization update. The way that internal voxel blocks and chunk management was being handled has been re-written and now the lag should play without any lag for all players.
The framerate of the game can be modified by turning down the draw distance in the option menu, and disabling other graphical options such as the shadows and noise filters.
This update also includes tombstones when the player dies:
There is also a surprise when you die, in the form of a new monster type that you will need to battle during your travels in Vox... Ghosts!
A Doppelganger ghost will spawn whenever you die and haunt your tombstone, waiting to enact revenge on anyone who comes nearby.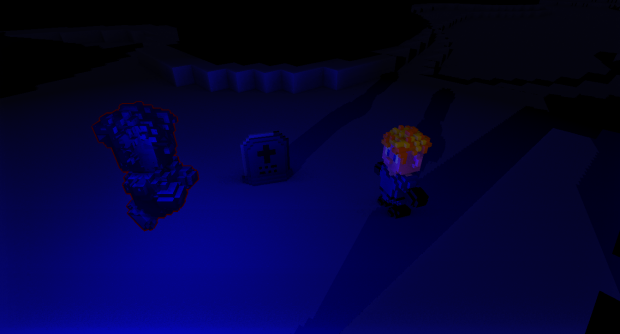 Be careful though, as ghosts can make quite formidable opponents and you wouldn't want yourself to get into too much trouble, as more deaths equals more ghosts. You might find yourself in quite a pickle...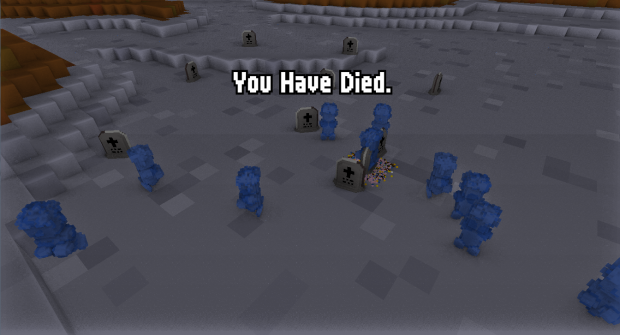 Here is the full patch notes for Vox v0.25:
New Features:
Infinite map support!

Much better performance with chunk/block organising.

Modified how chunks are loaded and setup during the landscape generation phase.

Seperate 64-bit and 32-bit executables. Better for players with a 64-bit operating system.

Enemy spawning is now based off the players position, to keep enemies in range of player.

TombStone object spawns when the player dies, used to indicate player death, reason and time of death.

TombStones can be interacted with, much like the signposts.

Slightly modify the fade up text effect, add a bounce scale animation.

Streaming support for audio files.

Background music is streamed when played.
Bugfixes:
Remove static jpg lib and replace with buildable jpeg library.

Remove noise DLL dependencies and replace with linkable .lib file.

Don't always create block sprites when the player explodes. (Random chance)

Fix dynamic light removing - Make sure to set light index to -1.

Fix uninitialized player torch light ID.

Remove old DLL files from the executable folder (libnoise and irrKlang).

Add flag to control main menu skipping. Dont allow skip once animations have all finished.
Stay tuned for more exciting Vox updates soon!