Hi IndieDB Members,
I'm Martin Franke the CEO of NEONFIVE and I'm proud to introduce our world's first UNITY3D advertisement technology.
VisualTAP helps you to monetize and promote your games in a unique and absolutely user-friendly way.


www.visualtap.com
OVERVIEW
VisualTAP provides advertisements on 3D Billboards in thousands of apps worldwide.
EASY UNITY INTEGRATION
Simply import the VisualTAP UnityPackage, place the 3D AD Screens into your game scenes and maximize the revenue of your fantastic app. Let your users discover other apps in a natural and non-harassing way additionally to all other ad-networks you're already using.
We were talking to developers and advertisers on GAMESCOM 2013 leaving stunning faces about the mind-blowing opportunities of VisualTAP.
Be part of the 3D ad-revolution and pre-register your account on www.visualtap.com
Join the official Beta in Q4 2013!
CHECK OUT THE WEBPLAYER DEMO BELOW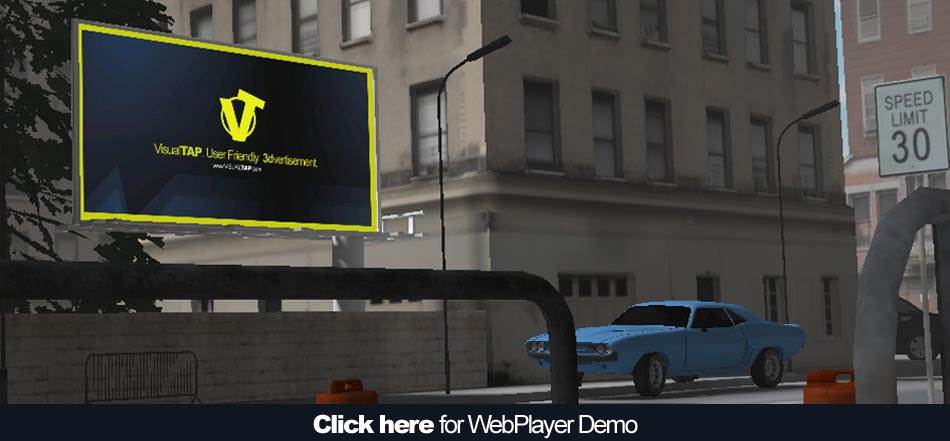 COLUMNS OF VisualTAP:
1. MONETIZE
Let your users discover other apps in a natural and non-harassing way.
VisualTAP is designed to maximize the revenue of your app additionally to all the other ad networks you are using.
It will work without the necessity of game-breaking Pop-Ups to ensure a nonstop game experience of your users.
2. ADVERTISE
You want promote your app in a unique way to boost it to the front of the app stores?
Easy!
Promote your apps across our network and acquire millions of high quality users!
With the use of specialised audience-targeted campaigns VisualTAP will provide you exactly the kind of users you were looking for.
CPM, CPC and CPI are possible. Target your audience by genre, age, gender and country!
We support iOS Appstore, Google Play, Amazon Store, Samsung Store and many more. You can also promote web-player applications and non-apps like websites or brands!
3. CROSS PROMOTE
You have more then one app and you're thinking of Cross-promoting these?
Fantastic - we give you the opportunity to cross- promote your own apps for free.
Show your users the variety of your apps and make them love your brand!
WE WANT YOU AS AN EXCLUSIVE LAUNCH PARTNER!
We partnered already with major developers and we also want you as an exclusive launch partner.
NEXT STEPS!
If you are interested in VisualTAP you can pre-register an account at www.visualtap.com and we will contact you for an exclusive beta access.

If you have any question feel free to leave a comment or contact me.
Best,
Martin Franke
Copyright © 2013 NEONFIVE . VisualTAP is a trademark of NEONFIVE . All rights reserved.