Welcome back to Mind your Mind!

This week we will talk about the creative process behind the visual ideas, mechanics, puzzle concepts and even some narrative. So buckle up!

As a brief introduction, "Mind your Mind" is a 3D single player puzzle platformer game that focuses on mental health.
As a start, we would like to introduce you to the visualisation of the whole game with some simple mood boards to represent different aspects.
The first one is the main character's mood board. Alex (work in progress), is the name of our character. In the game he is going to be seen both in his child and adult form. For context, his child form is the playable version of him.
In the visual idea we have in mind a child with a small form and a non proportional body. As an adult he is going to be tall and slim, adapting a bit of the "Tim Burton" iconic style.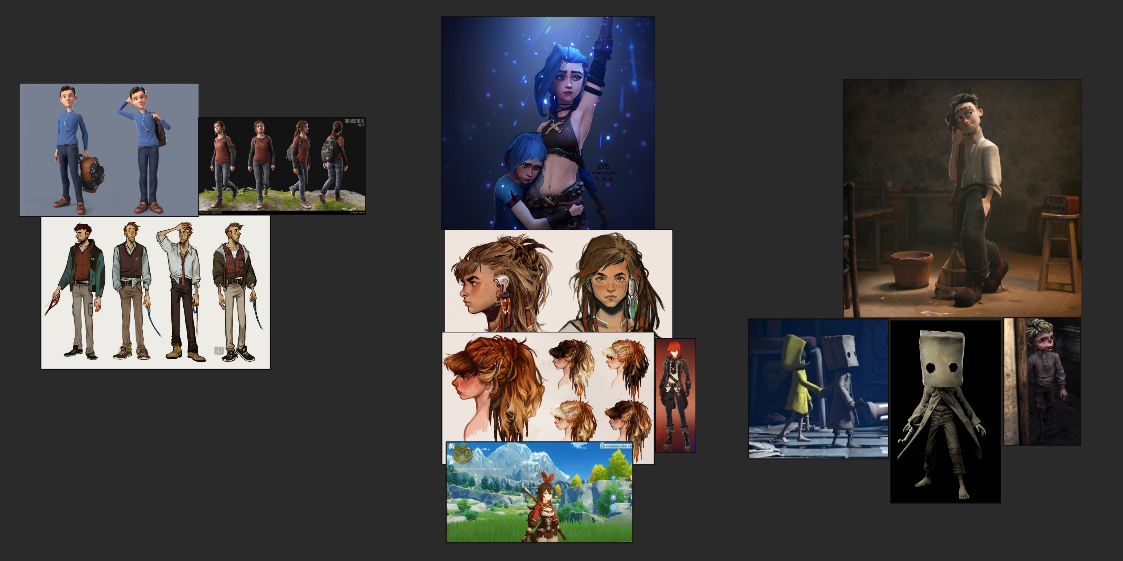 Apart from the main character we are also going to have 3 additional characters which are going to have a ghost like form. They are going to represent 3 different emotions: Solitude, Anger and Anxiety. Each one of them is going to have different types of masks and colour schemes in each mask.
We were thinking of something like this: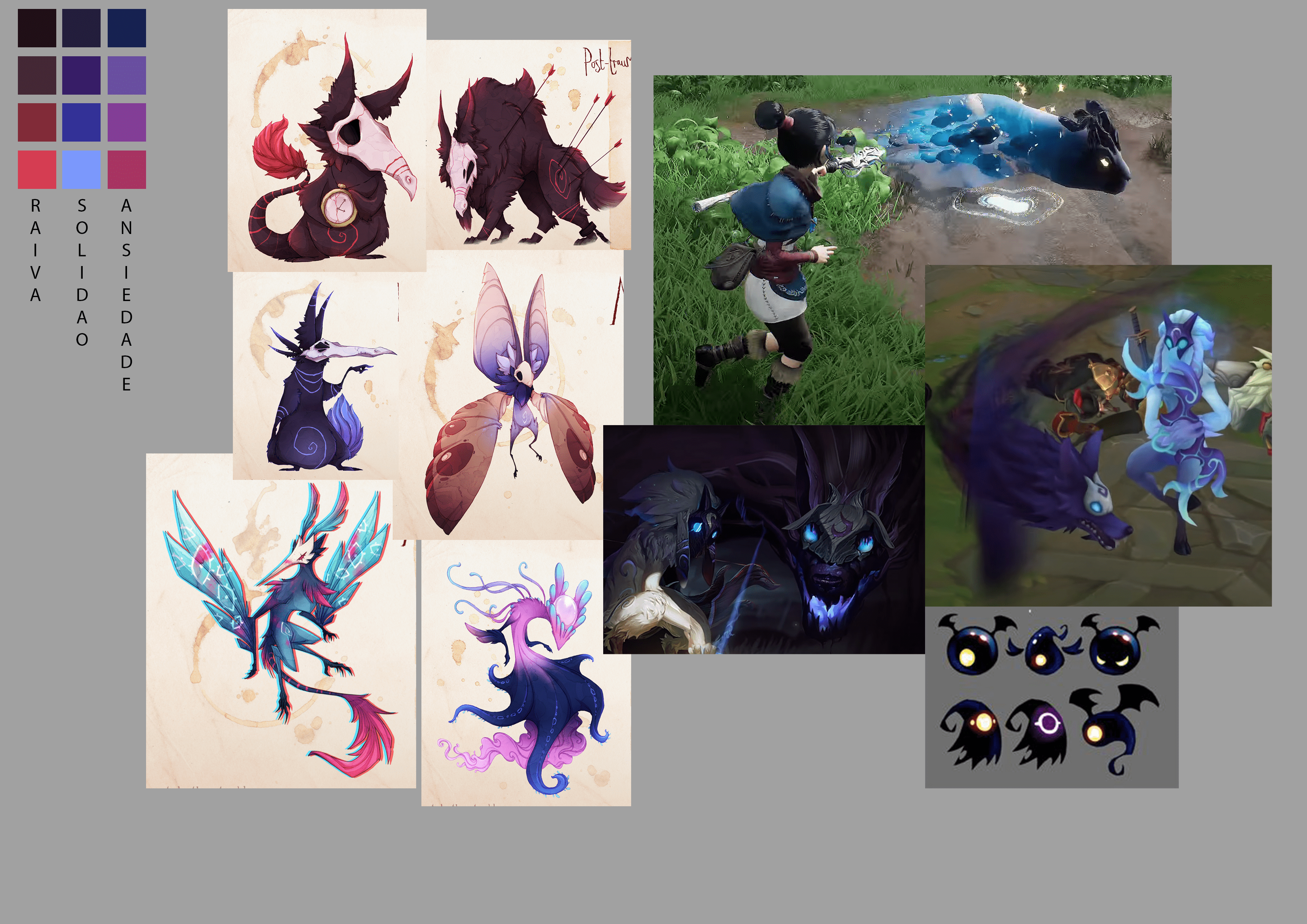 As for environments, we were thinking of something like a Carpenter's workshop with a stylized creepy vibe, since all of these visual concepts are related to the type of narrative.
The models are to be kept simple and low poly and the texturing process is planned to be done via texture layering via normal and noise maps. This is a direct contrast to the more realistic light that intends on having an impact on the way the colours of the models work.
Each level will have a thematic environment related to the emotion and state of life "Alex" was at that moment, having oversized props and level design. The camera work is also something we took into consideration when creating this mood board since it impacts how the player perceives the world.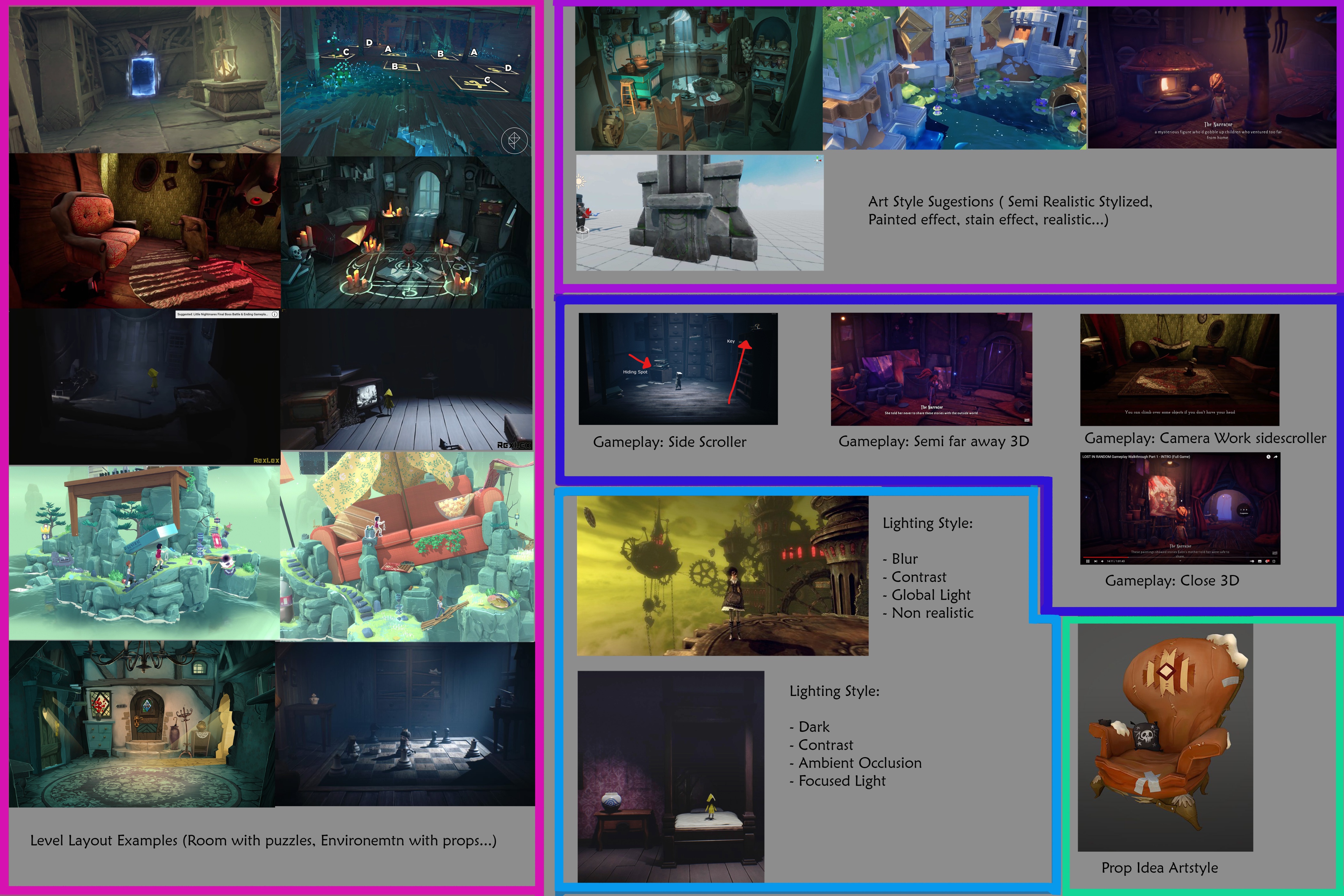 As for mechanics, the player will explore each room from Alex's perspective. As a child, Alex's actions are limited as he is quite small compared to the world around him. Consequently, he has to interact with different elements of the environment to create a way to move forward and be able to collect the missing carriages hidden in each room.
Alex must pay close attention to its surroundings since there are levers, valves and cranks which can aid him on his journey, sometimes even unlocking or displaying certain objects which Alex can move according to his needs.
In some cases, he will need to interact with specific objects that reflect light to manipulate a ray's direction and make it intersect buttons to trigger them.
While Alex explores the environments, he will be able to save some collectibles which will trigger memories from his childhood.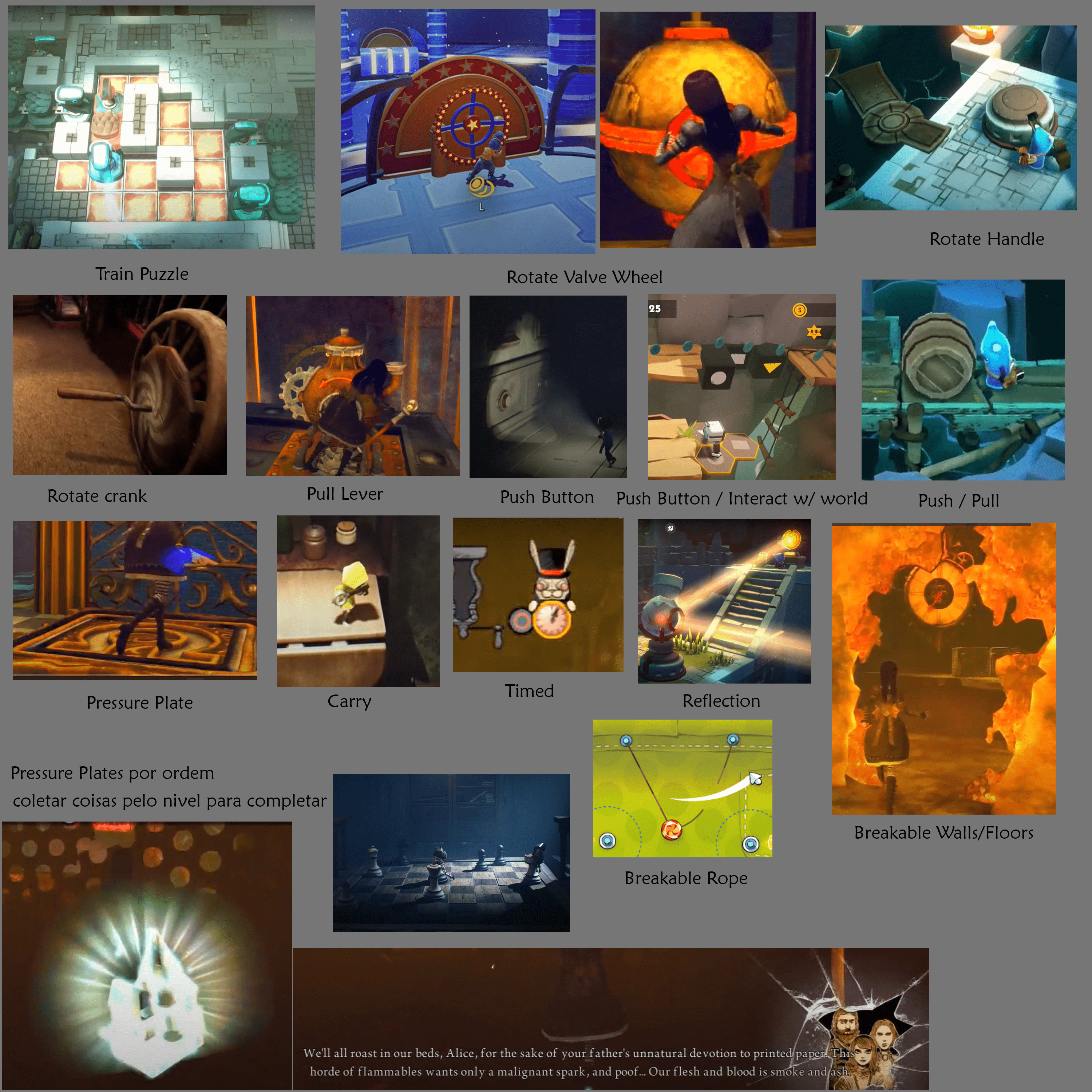 None of the images are in-game images and are from other games such as "League of Legends", "Kena and the bridge of spirits", "Genshin Impact", "The last campfire", "The gardens between", "Lost in random", "Tamed: The unseen show", "Little nightmares I", "Little Nightmares II", "Alice Madness Returns", "Brothers: A tale of two sons", "It takes two", "Biped", "Cut the Rope".
We also used some other references by several artists found on the internet.
Jumping into narrative, this one can be resumed by this chronology:
Childhood happiness

Grandfather gets sick

Separation

Grandfather's death

Growing up development (Gameplay)
Here is the full narrative (Still on the works)
In "Mind your Mind" our main character goes through a traumatic event leading to his mental downfall.
Ever since he was young, Alex has been living with his grandfather in his small town house, separated from his parents who lived and worked in the city, being unable to take care and spend time with him. It was just him and his grandpa, creating a strong bond between the both of them, unlike the one he lacked with his parents.
His granddad was a carpenter, and little Alex used to help him in his workshop everyday, being their favourite activity together. Alex used to get little toys made out of wood as a gift.
One day his grandfather got sick and had to be taken to the hospital to be taken care under constant vigilance. Not being able to be with his grandpa, he had to move back to the city with his parents, being taken away from his best friend.
Alex didn't know, but his grandfather's condition worsened everyday making his outcome more obvious. All of this was kept secret from Alex, who was completely unaware of this situation, being told by his parents that grandpa was sick and he would be able to go back to his place once he was feeling better.
Everyday they call each other and talk about how their days were going.Suddenly for Alex, his grandfather passed away, and him, not understanding what it meant, was taken by shock and a feeling of loneliness and abandonment by his grandpa. When he went to his grandpa's house with his parents he started to purposely avoid the workshop, due to its sentimental value to both of them. Due to all of this lack of awareness, Alex starts developing anger towards all of this and due to feeling abandoned.
Today, Alex is a young man, dealing with mental problems related to loneliness, anger and anxiety, and it is up to him and his mind to try and understand everything he has gone through from the times he was his best self up until the present day.
That's a wrap!! Thank you for reading and have a great time! See you next week (: