This is a big day in the history of Vinland: Arctic Assault, certainly as big as Leif Erikson stepping off that ship in around 1000AD, and being the first European to set foot on American soil (ok, maybe not quite that important, but still big!)
Firstly I am really happy to announce that Vinland: Arctic Assault is now available on Desura. I know a number of you commented that you were interested in purchasing the game from more recognisable sources, and that option is now available! We are also hoping that the extra exposure that we get from being listed with this great distributor means that we will soon be welcoming more people to the Zatobo community. Vinland: Arctic Assault is after all the first of a series of games that we are planning, and we have already begun work on our next project, more to follow soon...
Secondly we have the new website; as I am sure many of you are aware, we were impacted by a malicious code fragment, such that we elected to take the site down for an extended length of time to ensure such events did not happen again. Since then, I have conscripted a professional web developer who has produced this rather sweet new one, and better yet, it has none of the amateur loop holes made by me, the novice coder. We have a couple of weeks worth of content planned and under production, so stay tuned to the website, as we will be unveiling some new stuff shortly!

Zatobo.com
Thirdly, we are releasing our v1.1 update. We have improved a number of things including an overhaul on how we handle the graphics, namely that we now use lightmaps together with spec and normal maps... read stuff looks cooler. This has the effect of adding shadows, and making the visuals more arctic, less like glass. Icebergs are now blemished and show that they have been in the ocean a long, long time. Well until a bunch of burly Vikings came across them anyway.
We have also included a brand new campaign map, and completely overhauled the main menu system. Gone is our vague trace of the world, replaced by a properly rendered map of the Northern Atlantic, complete with unique icons representing the missions!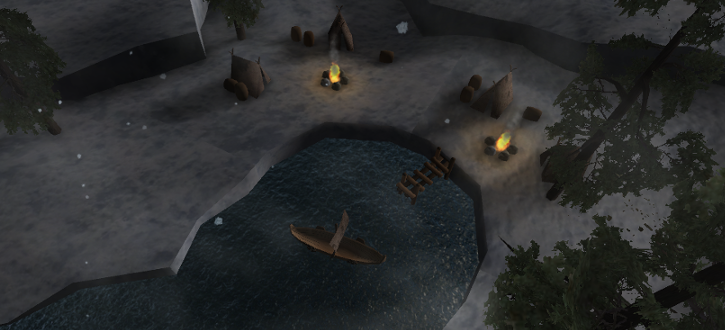 As an added bonus, all those who had previously bought the game will automatically receive a patch for the new content update as a big thank you from Zatobo for having supported us so early on!