Vigilantes is a crime themed, turn based tactical RPG by Timeslip Softworks.
Two weeks into the Kickstarter and Greenlight campaigns, we figured it would be a good time to post an update, and talk a little about our experiences to date. Also Olga has recently finished a character illustration for Cuda, an arms dealer, who provides weapons and equipment to your team.
Kickstarter
This is our first Kickstarter campaign, so despite doing a lot of research, we weren't quite sure what to expect. Preparation for the Kickstarter and Greenlight took a considerable amount of time, in the region of several weeks. Here's the project video:
We had been talking about Vigilantes on IndieDB and in various forums for some time prior to launch, so a fair few people knew about Vigilantes and wanted to support us. This proved to be an incredible help to the campaign. Thank you! As is typical with Kickstarter campaigns, a lot of pledges came in over the first few days, with the number of pledges slowing down over after the initial burst of activity.
Right now, 64% of our €5,000 goal has been funded with 25 days to go. So, we're in with a good shot of reaching our modest funding goal. Our most popular reward includes a Steam key, standalone download, early access and exclusive wallpapers for €8, an almost 50% reduction on the expected release price. Further updates to the demo are unlikely, and this is likely to be the lowest price for the next 18 months, so if you'd like to get a great deal on a Vigilantes, and support a hard working indie team, you can find our Kickstarter here.
Greenlight
This is our second Greenlight campaign, so we had a better idea of what to expect. The initial burst of traffic, over the first few days, gave us an average of 54% yes votes, later increasing to 56%. Many games report around 30% yes votes, so this is a fairly good result. After the initial burst of traffic, it becomes much more difficult to get votes on Steam, largely because voting from a browser requires authentication, which discourages many. We've set up and hosted a simple PHP script to make voting easier. This will launch Steam, and bring you straight to the Vigilantes Greenlight page. It's here if you'd like to cast a vote, and if you are already logged in on your browser, you can find us here. At this point a small number of votes would be a big help to us, as Steam may Greenlight a new batch of games any day. Thank you!
Cuda
Ever wonder how Sam gets his weapons and equipment? We'd like to introduce Cuda, a wild card arms dealer and international fugitive with a dubious history. Of all the individuals Sam will encounter, both friend and foe, Cuda is the most shadowy and likely the most dangerous. Here's his character illustration, created by Olga.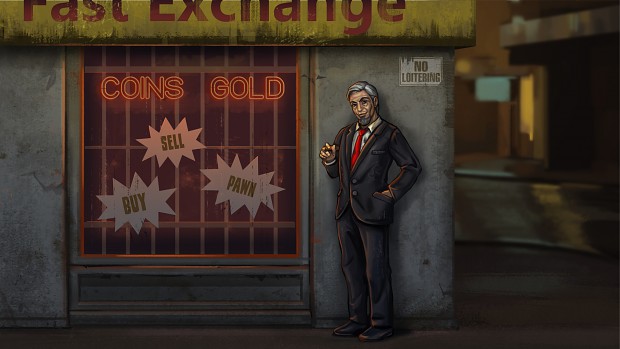 We are currently auditioning for a voice actor to play this role, and we hope to have to character introduction video for our next update. Stay tuned!
Thanks for reading and watching. See you next time! If you have any comments or questions, I'd be happy to talk to you!