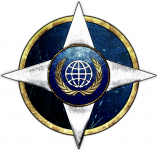 Comrades! Today is marked as Victory Day, and we have some information to reveal concerning one of our playable factions: the United Nations.
The United Nations is a single inter-governmental organisation, formed on April 4th, 1949, following the devastating African Campaign of the late 1940s by the United Kingdom and France with the intention of creating a joint defence program for Europe. With the detonation of an atomic weapon by the USSR in 1948, and the Pacific War of 1946-1947, the United States decided that it could pursue no other course of action than joining the organisation too. Now, the UN represents the most important economic cooperative organisation in history.
On the peripheries of power lie the second tier governments within the UN, including Spain, Sweden, Switzerland, Norway, Portugal, Ireland, Greece, and members of the British Commonwealth. These nations have less of a final say in matters in the World Council, but nonetheless provide a great deal of the economic and industrial backbone for the UN.
The Core nations, Britain, France and the US, represent the highest official echelons of power within the UN, having the final veto in almost all matters of state. They also hold more rights, the US, for example retains its' own borders, essentially being an independent nation rather than another district of the UN, while Britain and France continue to hold influence on their colonies, giving them a greater total say in the World Council.
Nonetheless, despite these greater rights, friction remains within these nations, with some politicians arguing that membership alone erodes national identity. Many Factions also exist within higher circles of power that are hidden from the view of all but a few paranoid conspiracy theorists and possibly each other, each with their own agenda and methods. Their role is more difficult to determine than that of nations, but more sinister by far...
In terms of Gameplay, the UN player will take control of the forces of the core nations of the UN. From Britain, the Rifles Regiment, King's Royal Hussars Regiment and Royal Artillery will provide the player with some of the finest armor, artillery and light infantry in the world, let alone the might of support from the Royal Navy and RAF. From France, the Regiment du Genie, Regiment Special du Terre and Regiment du Defense will provide the player with unbeatable defences, and the tools required to counter similar defences, along with some of the finest special forces soldiers in the world. From the USA, expect the 82nd and 101st Airborne Divisions, Marine Corps and Rangers to bring the muscle of the UN forces, with excellent mechanised infantry, airborne support and amphibious forces capable of surprising and routing your foes.
Expect a similar reveal for the Pact faction shortly!