Client Version 1.5.4
Last Friday we had a big release and we found a couple of issues we wanted to get patched up so we're releasing a new version today.
This version is mainly a fix release, but we did add in one new helpful feature to the minimap.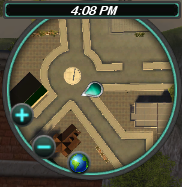 The minimap player icon now shows which direction your avatar is facing. This is a minor update, but this will be very helpful with our upcoming treasure hunting hobby.

Release Notes
[Updates]
- When in Tutorial Island or Sunset Isle player direction is now indicated on minimap
- Various tutorials in Tutorial Island updated so that they're accurate to some of the interface changes we've made recently
[Fixes]
- Microphone and Mute Voice chat options removed from audio settings until voice chat returns
- Server connection now properly closed when exiting client
- Saved Media list in Media Manager no longer visibly cut off at bottom.
- Fixed issue with item buttons/graphcs not loading correctly on newly added Destinations, Market and Inventory on some systems.