Update January 4th, 2014
Happy New Year everyone! Just in time for Christmas, Swipe Tap Smash version 1.2 was released for Windows Phone late last month. It includes a ton of new features; a few of the big ones I will highlight here.
The update is free to anyone who owns the game!

Trailer
Trick Attack Mode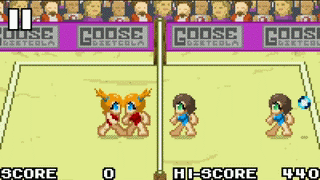 As shown in the trailer, the biggest new addition to the game is a Trick Attack Mode. This is kind of like Tony Hawk's Pro Skater, meets Volleyball. It sounds strange, but its quite fun for the more advanced players. You essentially try to do as many moves (jump, spike, off the net, etc) in a single point as possible (ignoring some volleyball rules like double hits). Each move is given a point value, and bonus points are awarded for variety.
Free Trial
Another big addition to the game is the addition of a Free Trial Mode. Simply click the "Try" button on the Windows Phone store. So far it has drastically increased downloads, but has not increased sales. Hopefully I can share a detailed breakdown of how things went once the Free Trial has been available a little longer.