Hello!
This entry will be rather short, as I'm battling the cold of the decade.Next weekend, the 0.17 version of the game will go live.
This version mixes optimization, bug fixes and new features. Primarily it features a finalization of the base set of policies (more will be added later on, but there are now enough for continued development). This means, there is now a foundation on which to build the implementation of edge cases that I have advertised earlier. When policy has been pushed far enough in one direction, it will allow players to enable specific political ideologies that come with some bonuses and penalties and will offer up new playing styles.The newly added policy features a bunch of family life and social policies: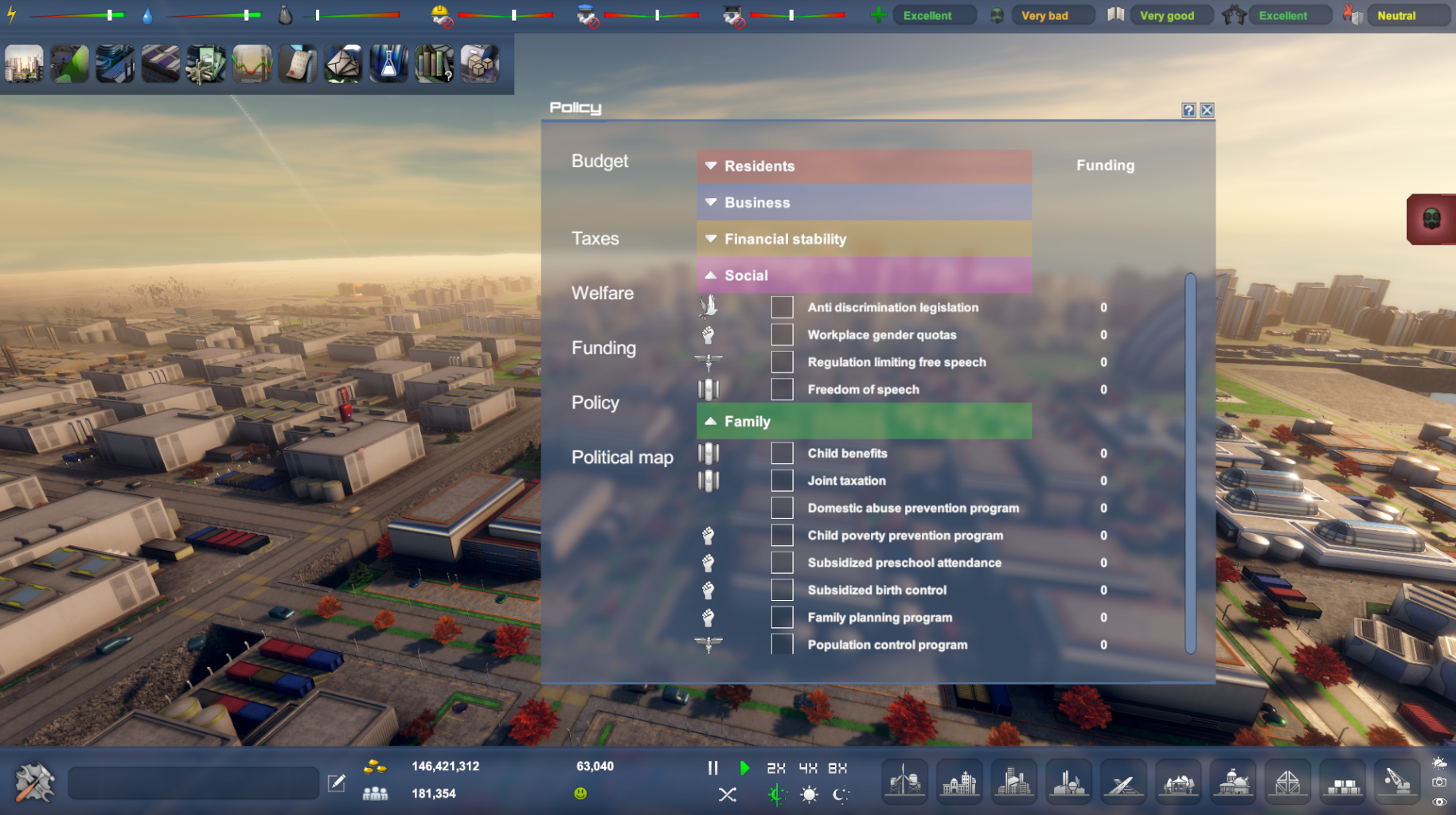 To illustrate where a political ideology can be adopted, here is where enough progressive policy has been enacted to (once it's implemented) enable socialism: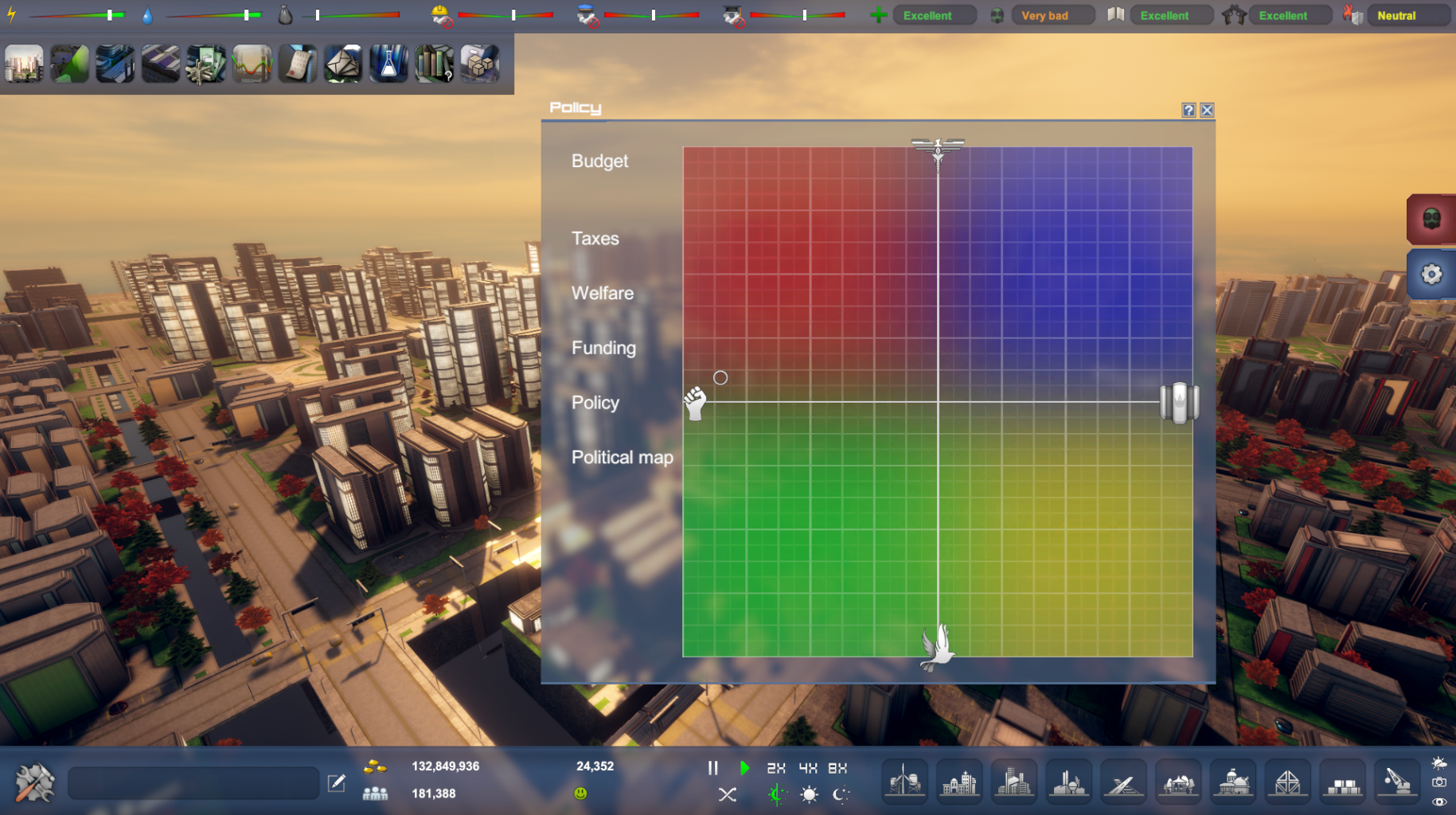 Implementing the ideologies will take quite a lot of time, since they affect base systems quite a bit and will require specific balancing, but I'm hoping at least one or two (ie, communism and laissez faire capitalism) will make it in this year.This version will also feature a lot of tweaking of production, costs and consumtion. Resource demand has been tweaked, and goods ticket costs are now much lower, making them more viable to gain rewards. The customs house now also enables not only long term trade items, but also increases the maximum amount of concurrent trades (currently set to 30, but will be 10 without customs house and 100 with).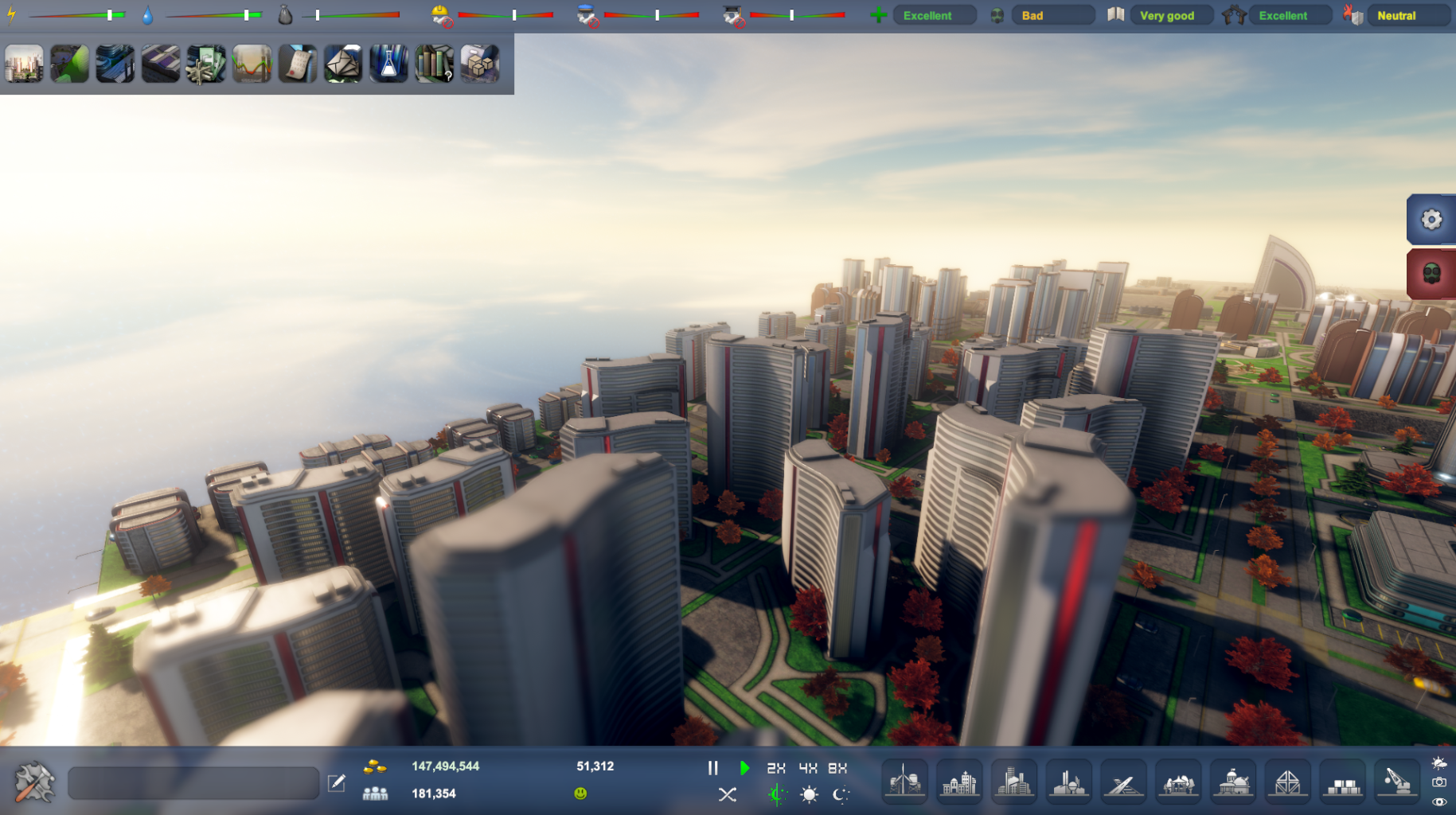 There have been some sporadic issues with buildings not properly registering/deregistering when a nearby good/bad building has been demolished. This is now fixed. Also fixed is building roads under bridges. Vehicle behaviour is now less erratic when demolishing roads and vehicles properly reset to home position when they are out of view.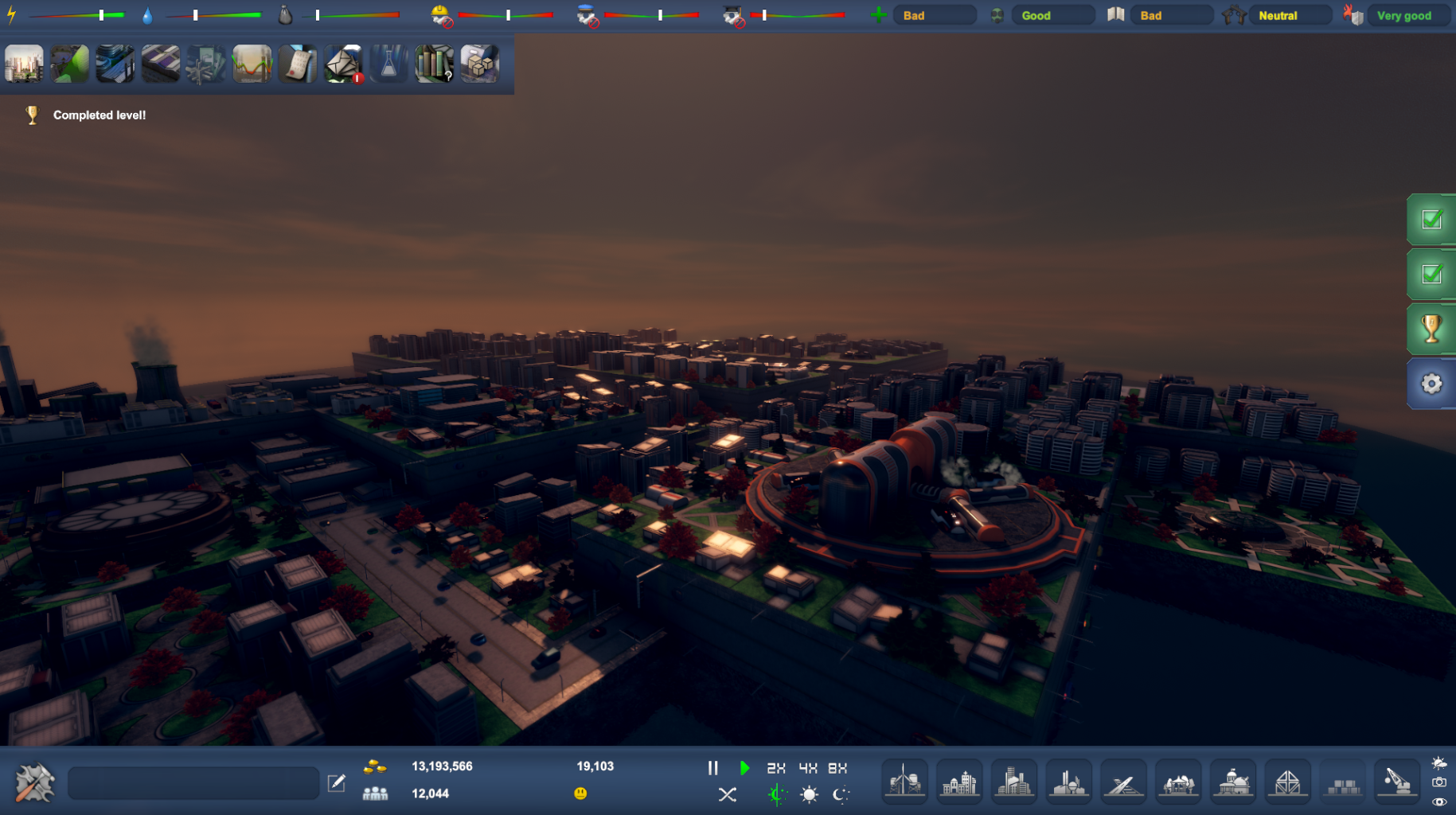 Challenges are being added in as well. In this version, there will be 10 challenges. This also marks the last challenges added for quite a while. I will hold off on adding more until policies have been expanded further, to allow for challenges that make use of these features.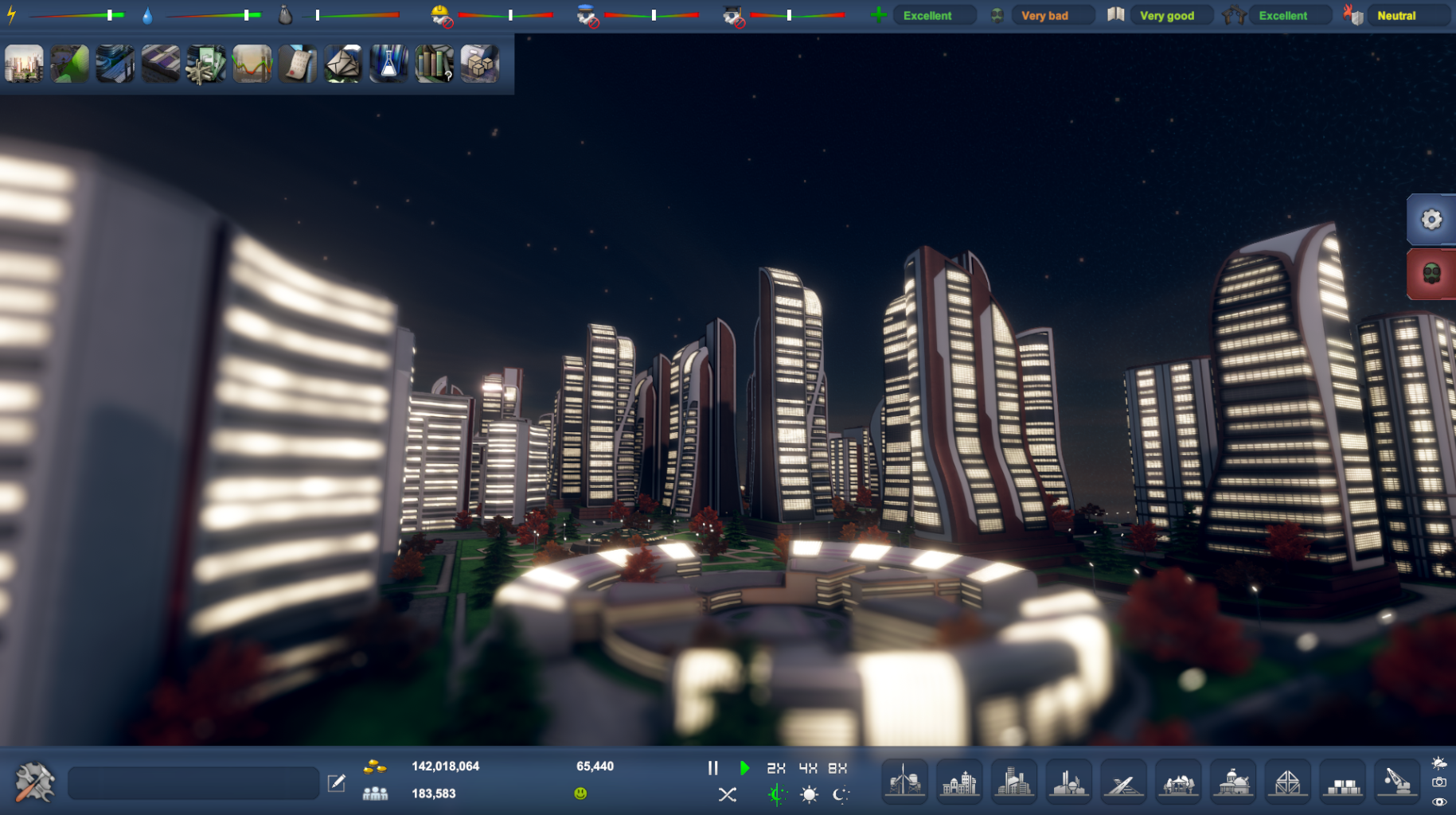 Next week, if I'm well enough that is, I'm hoping to add the coffee, cocoa, tea and processed beverages buildings. If they are added, new resources will added to the building resource demands. These drinks will be required to grow buildings from density 2 to 3 and up. Another education building will also make it in hopefully, the preschool.
There will also be a need to build additional atmoports once the city is large enough and has resources moving in and out of the city, as Atmoports will be given a max capacity.