The demo
The demo has been launched and is online for everyone to play. But after hearing some feedback i decided a tutorial is definitely needed, so i added one. Thats right the demo now has a tutorial included which will show you how to use the basic tools and create a vehicle with weapons!
Whats next
Updates thats whats next, our roadmap is filled features and ideas to take Venture to the next level, some of those features i will explain in a bit. First there is something that needs to be done, a user friendly editor.
User friendly editor
The editor is easy to use for sure but only once you figured it out, this is not how an editor should be. The next update will include a improved editor.
Shortcuts for the tools is one thing, but there will be premade vehicles aswell see it as a starter pack for your creativity! Deleting pieces no problem, right now you need to select the parameter tool and aim at blocks to delete them, thats a long way for deleting a block. Next update will include a function so you can just aim and press delete.
Missions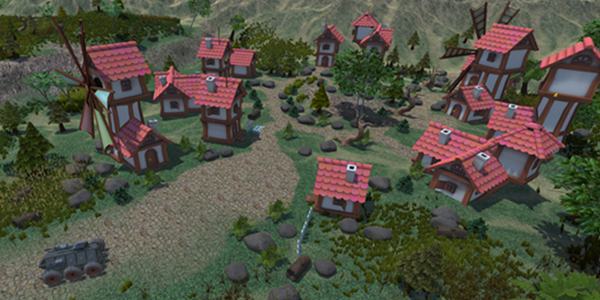 The missions combined with the mechanics is what is going to make Venture unqiue. The demo only contains a few things of Venture so you can test and try out the game mechanics. The actual missions will be very much different, one thing will stay the same and that is the defend and attack aspect. We aim at giving each planet a different feel, new enemies and missions.
One mission type will be "Liberation" this will set you in a map on the planet where you need to defend the inhabitants while destroying the enemy outposts, you need to destroy the outposts before they send out a distress signal. If they do send out a distress signal the mission is not failed, enemy reinforcements will be send for a full and final attack on the inhabitants, if you manage to take out the attacking force the mission will still be succesfull.
You will need to have different type of creations to complete these missions, some with alot of firepower to hold off the incoming enemies while you need other creations to attack the outposts.
More pieces to build with!
There are alot of pieces ready to build with ranging from thrusters to cannons but it is not enough. These are a few of the pieces that are on the roadmap and can be expected in future updates:
Hovering piece - Make your creation fly!
Rocket pod - Fire a barrage of rockets towards your enemy!
Heavy cannon - A very accurate weapon thats fires single projectiles.
Grabber - Attach and detach anything you want, dropping bombs from above? No problem!
Many more.
Fire support from space?

The ship you arrive with to the planet is not only for building and sending your creations, it can provide valuable support in finishing your missions. I dont want to give away everything about this feature yet but i can tell you a few things.
If you are in a bad spot and need help right away, you can Always count on your ship! You will be able to fire multiple types of barrages down to the planet to destroy your enemies.
You need your creations at the frontline right? Blast down some instant turrets to defend the inhabitants!
The ship has many features like barrages and instant turrets but those need to be unlocked. The same goes for the pieces you build your creations with, you do not start with every asset available, those need to be unlocked.
Unlocking pieces and ship features
Unlocking pieces and ship features can be done by purchasing them with resources, each planet which you liberate will provide you with resources. Those resources can be used to unlock pieces like weapons or ship features like instant turrets.
Each planet and mission will give you different resources as not all planets are the same, some need liberation but others are just in need of help with fighting off the local bandits or animals/monsters. A advanced civilization has also a chance of granting you free pieces and ship features this is rare and those pieces and features cannot be bought.
Demo gameplay videos
There are 2 videos available a short and long version, both showing the demo.
Help us on social media!
Thank you for reading!