Greetings Pioneers!

It's been a very busy week here at Flix, our very own John Tearle is currently in Austin Texas at SXSW Gaming, talking about Eden Star. Check out his talk yesterday on the Twitch stage:Secure.twitch.tv
Including a secret preview of the progress on the Juggernaut… :D

The rest of us have been busy getting the new inventory system ready and today we have a shiny new release for you guys! Scroll down for the patch notes.

The new Inventory system should really open up the possibilities for new expansions in materials, crafting and exploration in the future. With the new Armoury Utility, you can now create compound materials from raw materials, this creates more variety and a bit more challenge to creating advanced weaponry.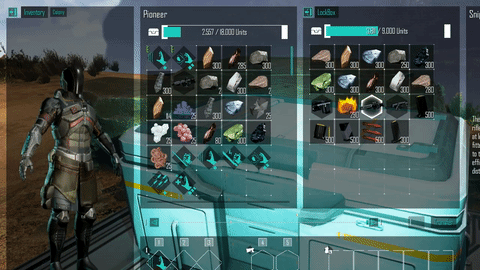 "New materials? But where will I put them??" Good news! We have a new Lockbox utility that expands the storage space available and frees up your inventory. We have also added a Drop Bag that allows players to recover any inventory items lost on death (provided you get to it in time and it's not fallen off the edge of the world).

We have changed the way Fortifications, Lights and Doors are built to make the placement of them more intuitive. Now you can hover over a structure with the modification selected and it will automatically detect the best fitting shape (no more searching for a specific fortification shape to fit).

We have also made a few tweaks to the balancing to reduce the difficulty for new players and re-added Kinetic Blast and Smash as starting abilities (because they're awesome). Let us know what you think of these changes, any feedback is invaluable.

An update to the Pioneer Survival Guide is coming very soon!

Recent Known Issues
It's difficult to access different lock boxes/armory that are in very close proximity of each other, try to avoid placing in the same cell. We aim to resolve this in the upcoming hotfix.
Currently The Armoury UI does not inform you of the amount of items produced by a Schematic. We aim to resolve this in the upcoming hotfix.
We have discovered a crash to do with DirectX 12 and Windows 10.
It sometimes difficult to enter Build Mode with Q while holding a gun. A quick workaround is to activate the Blast Module (default: "1") before pressing Q. We aim to resolve this in the upcoming hotfix.
Sometimes Enemies can damage you when they are attacking your structures from afar, we are working hard to track this one down.
For more known issues see our updated known issues list.

Important:
This update requires a wipe of save files as there has been a lot changed and we have had to re-factor what is saved for the new inventory system.
If you are hosting a server, please remember to update it to the latest version.

UI overhaul, crafting, drag and drop interface. - This new system paves the way for future expansions in enemy and environment drops, compound materials, crafting and Pioneer customisation. Also updates Crafting, Eden Kit and Equipment tabs.
Added Compound Materials - 5 new materials that can be crafted from raw materials and used in advanced weaponry crafting.
New Utility - Lockbox - For all your extra storage needs!
New Utility - Armoury - Required to craft Compound Materials, Modules, Weapons, and Ammo.
Drop bags - You can now drop multiple items for your friends to pick up and recover your inventory if you die on the battlefield. There is however no recovery if you fall off the edge of the world :( ...
New modifications system - simplified way to add Lights, Fortifications and Doors to your primitives. Simply select your modification, aim at the primitive and the appropriate variant will be selected for you!
New raw material: Plasmafire! Splintermite shards can now be absorbed in order to obtain this. Used to craft a compound material used for weapon ammunition.

Please note: all additions and balancing will be subject to change as development continues. Your feedback is massively valuable to us during this process, so please join in on the discussions across the steam forum.



MATA Modules are now considered to be items with their own individual upgrades. You can have as many modules as you can afford and carry, but their upgrades are now permanent.
Changed inventory default key from Tab to I (Tab doesn't play nicely with UMG). The colony menu is also accessed through I.
Changed Build mode from 2 to Q - Build mode is no longer a primary module and is now built into to the Tool. Primary modules are still accessed using 1,2 and 3. You can no longer access your weapons from Q and must use 4 or 5.
Laser weapon code have been changed to work the same way as bullet weapons. This should provide more consistent targeting across all weapons as well as has allowed us to fix a few hitbox issues.
Items now take a small amount of time to craft.
It once again possible to shoot through holes in damaged primitives with bullet and laser weaponry. Destruction level of primitives does not affect projectile weaponry.
Increased damage of all bullet weapons by 10%
Decreased Stalker running speed by 25%
Decreased auto and missile turret damage by 15%
Decreased Ika Vortex damage by 40%
Adjusted the calculation that determines the number of enemies that spawn when you have no defences around your Eden Kit. This should help with the excessive starting difficulty level that a lot of people have been encountering.
Falling structures now physicalise with the world.
Re-enabled Kinetic Blast as a default starting Module.
Re-enabled Smash as a default starting Upgrade.
Made structure lights brighter.
Splintermite shards stay around for longer before exploding.
For all the bug fixes check out the post on our website (it's too big a list for Steam!)

Edenstargame.com

See you in the fray!

-Team Flix