v0.013 Spell Gem Update




- Players now have 20 different equipment slots!(and I may add more lol...pants and gloves man.):
Helmet, Armor, Weapon, Shield, Boots, Belt, Ring, Bracelet, Earring, Necklace---and a gem slot for each one!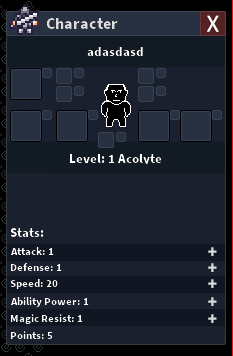 Spell Gems are going to do a few things for the player:
1. Enable spell casting of already known spells.
2.Give a nice status boost.
3. A fancy light effect depending on refinement of the gem.(3 stages) this is a way to see a characters elemental loadout at a glance also.
- Tweaked t1Air Spells some more, and added a few more. Going to leave air alone for now!((still need 3 more spell animations for it))
As you can see I added a belt to the paperdoll list, having it draw over armor(that i havent made yet). I also have a crafting station, but will get rid of that and just have players use an item in their inventory to craft. There are a few NPCs and things like drop rate that are cranked way up for testing purposes.
TODO:
- Final 2 animations for air spells.
- Complete the clucken set.
- Complete gem glow animation positioning.((just belt and helmet have it assigned for now))
- UI OVERHAUL... one of these days XD. Dunno if you saw, i did change the char menu icon. I think i prefer doing it piecemeal as the idea comes to me.