Greetings Pioneers!
Firstly, a huge thank you to all of the feedback on the last build we have received through the forum and comments.
This week we have been working hard on exciting future features as well as a hotfix to resolve some of the issues raised. Today we have a juicy development update on what the team have been working on...
John - Hive and game systems design refinement. Game progression balancing plans for multiplayer, and all things business.
Matt - This week I've been working on a new generator utility to be included with the future updates to the energy network of the Eden Kit, these units are substantially smaller than the Eden Kit itself and allow for increased capacity in energy for building new defences and other structures that require extra power.
I've also been putting together some more of our exotic interactive plant life.
Tristan - I am still working on mastering POWER (for the updated Eden Kit energy network)
Lee - After the recent release I was finally able to start putting the new Juggernaut into game and begin testing it's AI. I've also been working on some alterations to the way Hives spawn creatures in the world with the view to adding more defences to the Hives to make them more of a challenge.
Joe - Over the last few days I've been putting together a swamp water shader for our new biome area.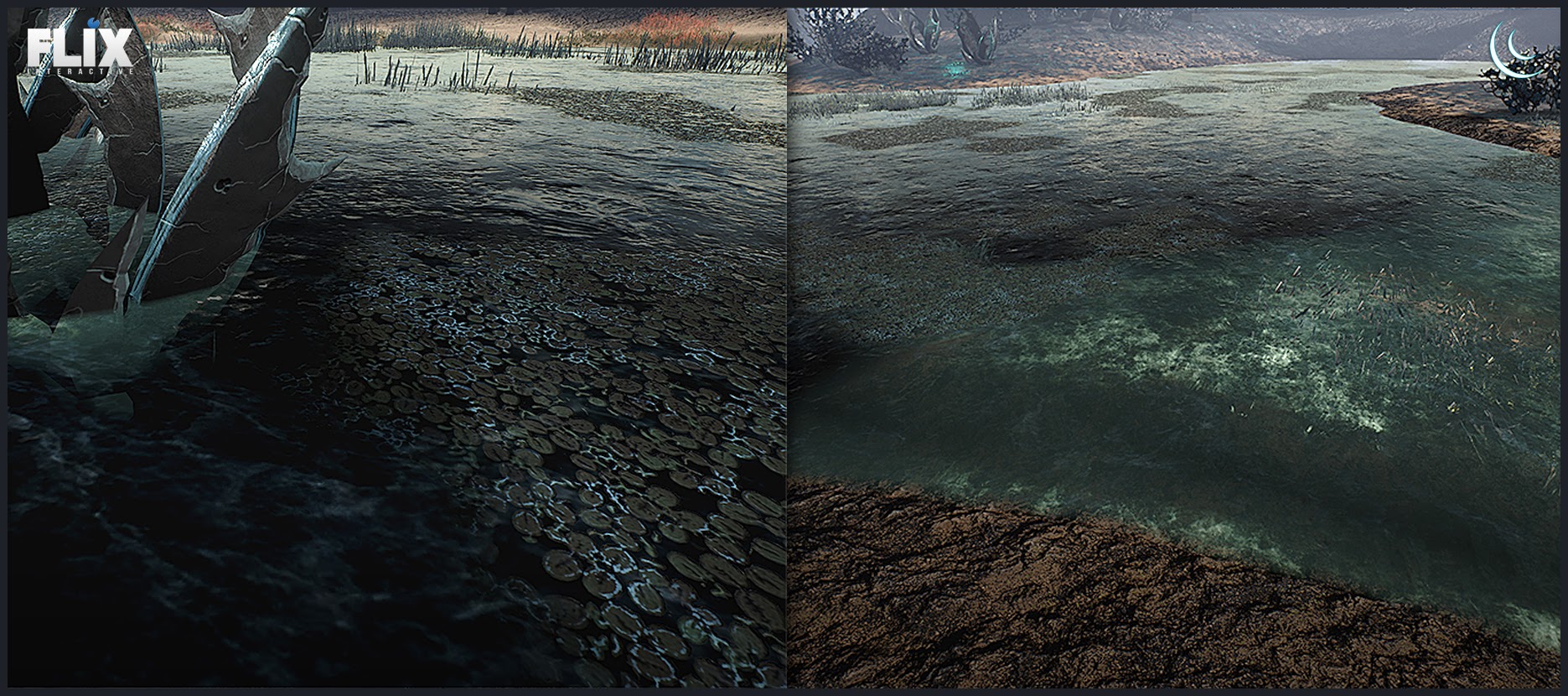 Chris - This past week I have been finishing off the swamp area. Helping improve some of the freezes between areas and the culling values. I have begun designing a new area of the world working with our concept artist to visualise the aesthetic feel of the world.
Ricky - Working on converting the UI and HUD to UMG for crisper visuals. Changing FOV and all work associated with that like re-embiggening the menus, moving the weapons etc. Also been implementing localisation work for the UI's.
Tom - I've been working on finishing up the swamp snake model!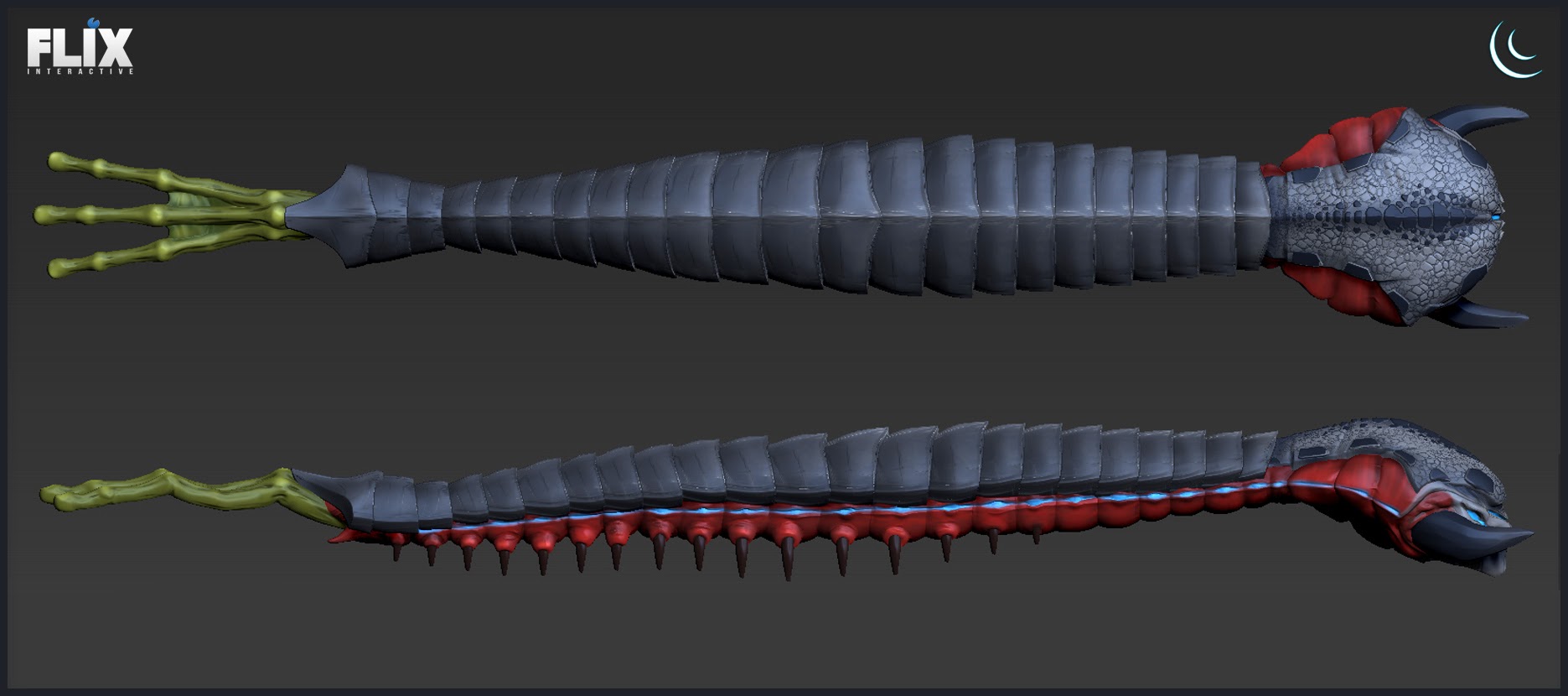 Andy - I've been all over the Steam boards logging the issues you guys had been having with v0.0.9 and working all the hours under the sun to get as many fixed as physically possible. I also got the chance to help the Devs responsible for the massively addictive Mean Greens make some video footage which was a blast.
Lauren - This week I have been working on Pioneer swimming movement in preparation for areas of deeper water in the future swamp biome environments. I have also started animation on the swamp snake, a creepy critter to lurk in the dark waters.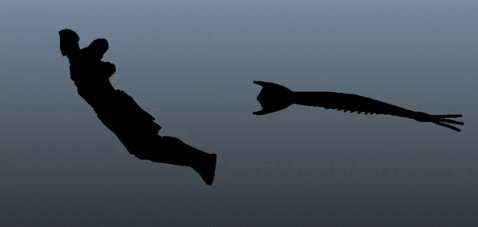 Gavin - We've been working on everything from conceptualising creepy creature features to establishing new build set materials and even building on the planet to make it KILLER. Busy busy busy - back to work!
Patch Notes Version 0.0.10 Update Changes and Balancing
Improved all culling values in the game
Tweaked the view distance values in the options menu
Increased damage caused by Vortex implosion by 50%
Bug fixes
Fixed the Anti-Aliasing not being properly applied
Fixed the flickering of apex while being fractured
Fixed some clipping issues that were occurring during crouched movement.
Stopped various player attachments from casting shadows.
Fixed one tree having floating branches when the core was destroyed.
Fixed not being able to sprint from standing when holding shift (sprint key)
Fixed wall run jumping onto the same wall which was allowing infinite wall run
Fixed respawning with starting items on death
Fixed Splintermite legs separating from body during smash
Fixed Kinetic Laser doing incorrect amount of damage
Fixed issue with Nahmar trying to fly through rocks
Fixed an issue where a turret would stay focused on a target it couldn't attack
Improvements to freezes in certain areas (please note: this is an ongoing process)
You can view the latest known issues here on our Trello boards.
Happy Hunting!
- Team Flix