Greetings! Earlier this day Magnitude Games published UpDown on IndieDB. Since this is a pre-alpha, there is a huge to-do-list to get this concept to be not only a game, but an educational and competitive game.
Since we want you to follow and read the fixes and updates I've set a to-do-list, which I under development will move to updates or fixes, like many indie game developers do. This give you insight in the development and progress of the game.
We hope there are people that are interested in this kind of game, although it is not like many other games.
Under is a preview of the game how it looks right now!
To-do-list
Implement AI: More like a twitter function, where "people" give their opinions in a stock so you can read and decide whether to buy or sell (But they aren't 100% right). This "twitter" function will most likely be under #News.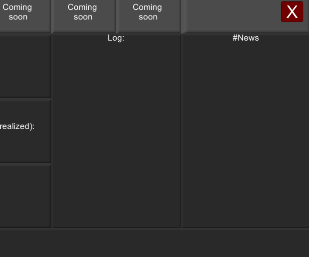 Add at least 8 more stocks: This give the player ability to have a wider portfolio, diversify and earn more profit.
Implement graphs: This is the core of the game. When implementing graphs it is much easier to see when to buy or sell because of the history to the stock.
Add bankruptcy opportunity: When stocks are going so low that they are almost on 0 stock value. This will give the player a risk taking when buy in.
Fix bugs like: Make maximum buy and sell (those green and red buttons below buy and sell, picture under) more clear and show what you can maximum buy or sell, no minus in funds, have more control in all stocks (Not +100% then +80% and back to 100%)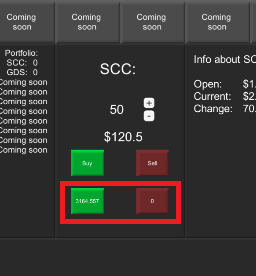 Add online multiplayer: This is what we believe would be the most fun. Giving the player ability to compete against 2-5 other friends or strangers and win depending on most profit, most risk-taking etc. This is a big task and we look forward to releasing it.
There are probably over 100 little bugs which we could list here, but in the development of the game we hope to improve many more bugs than listed!
Well, this was the first update, so now you know a little more about the project and please contact us if you have any questions!