Been a while since I've posted anything here, hasn't it? There have been several major updates and content added to the game since it launched, but first things first.
Yes, like everybody else, we're making a run for Steam. Difference being, this game is actually complete, and I already have a game on Steam, so if it gets approved it can proceed to launch fairly quickly. So please do vote for us!
Secondly, this week (May 12-18, 2013) there's a major indie games sale going on which includes Long Live The Queen for 50% off. There's a lot of other cool titles available in there too, definitely worth checking out.
Urgent information out of the way, let's talk updates! There have been a lot of free patches since the game came out, many of them fixing minor bugs (like, oh, stopping you from marrying someone that you'd already had executed, or stopping someone from grinning happily at you while blaming you for killing her mother) and some making new plot options available (want to blast annoying people with your magical powers? want to propose marriage to someone after finding out his ridiculously dark and tortured past? Okay, fine.) but the most prominent was the addition of new death graphics and a checklist for finding them all.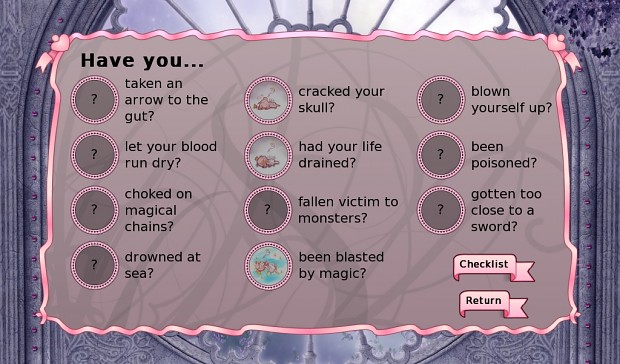 After all, you spend so much time in this game dying, you may as well be having fun while doing it, right? Isn't it far more entertaining to be strangled by eldritch abominations when you get to see cute little images of the event like:
along the way?
No? Maybe we're just weird then.
If we get past the greenlight launch threshold I am hoping to be able to add even more collectible graphics to the game. Individual achievement pictures is obvious, but there could be images for different weddings and other bits of epilogue outcome. But that all depends on you, the voting public! (Well, you and the artists.)
So far, the Greenlight response has been more positive than I expected (they're notoriously unfriendly to anything that looks like it might involve anime). It's enough to make me start thinking of the possibility of sequels... Not a direct sequel, most likely, but another game of similar premise. I have this guilty desire to make a game in which you are a fledgling SPACE EMPRESS in the style of Flash Gordon... It wouldn't be any time soon, as we are in the middle of Black Closet development right now and have a Magical Diary sequel that desperately needs writing. However, if the idea of GALAXY PRINCESS AURA (obviously we couldn't officially be Princess Aura, just getting the concept across here) tickles your fancy - or if you hate it - drop us a line in the comments! What would you like in an imperial space princess? A bit older than Elodie? A bit younger? Are you okay with playing someone who might start out as a right royal brat?
(Unlike Elodie, any space princess would get to choose a couple of starting skills. There were reasons I didn't do it in this game, but yeah, it would probably be a good idea for future ones.)