Hey everyone,
So, as anyone who has visited the downloads page for the Cosmicomics demo might have realized, the pc demo is not linked to in the downloads page, which is a problem for anyone out there with a pc who expected that they would be trying out the Cosmicomics build; it's a further problem for me, as I went out of my way to de-implement features that I didn't think were ready, or felt were not fully integrated at this stage: and then I went and kept working on it. So, I don't actually feel like I can upload a PC build to match the old Cosmicomics one. Instead, I have decided I will upload a more recent build. Although, a lot of the work I have been putting in lately has been behind the scenes polishing, tweaking, and implementing basic features without putting in the time to really develop them, so the differences between old and new builds I think will feel very minimal. Some of the changes to be aware of are: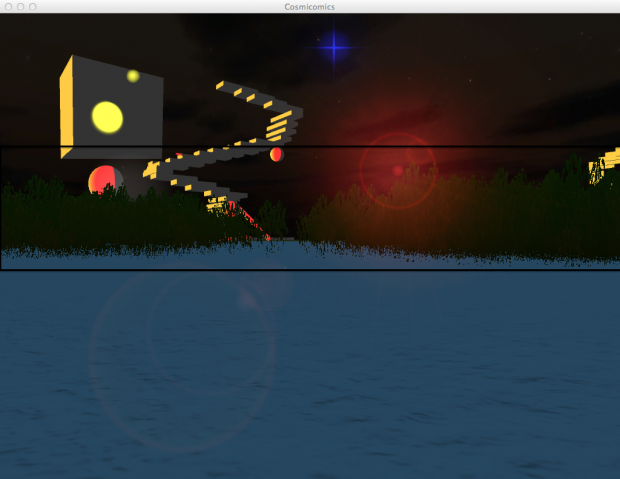 A small camera switch-up (mostly behind the scenes: all 4 pre-established cameras are still there to be toggled through, I am just switching things around towards the 1st person, which means readjusting which objects implement which scripts, and are connected to which other objects and etc.)
The terrain surface texture has been changed - I am very eager to get feedback on the current style, as I will be working more on the terrain in a little while (still focusing on coding gameplay elements when I can right now).
Localized and corrected audio (see the changelog in the download file, but in a nutshell, I eliminated specious audio sources and audio listeners that I had accidentally allowed to propagate; I also started working on the audio balance a little bit more. Finally, I added additional audio sources for the orbiting spheres with an individualized track.
... and I am sure many more, that don't spring to mind immediately.
As for the listing, I believe it will be possible for me to make a flash build of the game, and a web build, in addition to the Mac and PC builds I had originally anticipated. However, I will not be releasing these particular builds in the immediate future; I am going to focus more on refining the game before I start focusing on the new builds, so don't expect a flash build or a web build in the immediate future! Further, while I will now upload the PC and Mac OS builds, I have in no ways playtested PC builds - I am assuming that the quality of the PC build is isomorphic to that of the Mac OS build, which I have had no problems with to date.
Lastly, I would very much appreciate any feedback or criticisms that anyone in the community may have, as I am determined to make this game better - especially if anyone has experience working with the Unity engine and or asset creation, or about anything of that sort - it is all very much appreciated! For instance, starter questions I am trying to answer are:
How to increase the quality of the 3d grass ( I am using a standard grass asset from unity right now, and I am curious to know what techniques other people have used to improve the grass rendering )?

How to use GUI to make a menu ( I have not even started doing this yet though, so perhaps this is very doable )?

How to use GUI and collision functions to switch avatars, and camera perspectives, with the original avatar?
Again, thank you everyone for reading this, and for any comments, help, criticisms, and feedback you might have to offer.