So, last Friday we posted another one of our bi-weekly updates for YamaYama - as we continue our Early Access voyage towards release this fall. While there were some minor fixes here and there, the update mainly revolves around two things. A fire thruster speedboost and a game mode where you catch a rainbow riding flamingo and hold on to him to collect points.
Here above is a clear screenshot of the fire thrusters as the other players rush towards the flamingo holding player. The thruster is activated by pressing the second action button and gives you a considerable speedboost for around a second. After it deactivates it has a few second cool down, so you have to think tactically when to use the speedboost.
The game mode, Pretty In Pink, is all about getting the flamingo and holding on to him for as long as you can. While you hold on to him you collect points. For other players to snatch the flamingo off you, they have to FatSuit you into the lava - this is different from the game mode A Bad Day and Yes It's a Platypus where it's enough just to FatSuit some one. Although similar, the gameplay pans out very differently as it becomes more complicated to get the flamingo off someone and they can tactically place themselves in places where it's harder to knock them in to the lava.
Above you can see how the flamingo moves from the player - who he gets electrocuted when he hits the lava - on to the player who hit him with the FatSuit. This can also lead to a chain effect, where a player FatSuits another player, who just FatSuited the flamingo player. If both go into the lava the first FatSuiter gets the flamingo.
This can lead to chaos like seen in the picture above. The game usually moves towards the edges of the level and that's where everyone gets greedy to get the flamingo. To get a better understanding of the gameplay, below are a couple of gifs!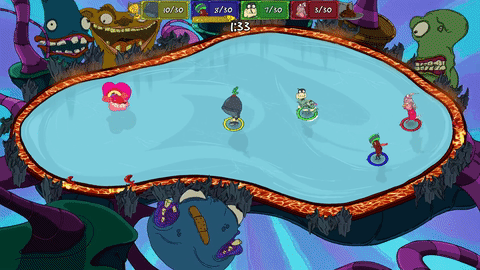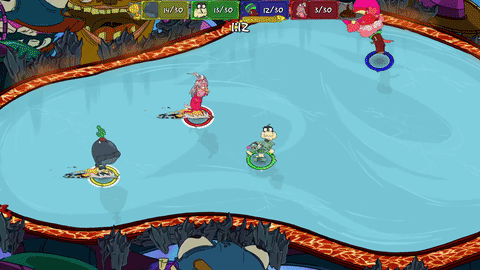 We had previously hoped to include our newest map in the update - but we hadn't gotten it to a standard we were happy with, so we decided to wait. No we're aiming to release it on Friday in an extra update. So stay tuned for it!!