Corona Celestia RPG
Corona Celestia is a classic style Space Trading, Combat And Exploration Game with deep and interconnected mechanics. It tries to update and modernise elements from classical Science Fiction RPGs such as Starflight, UrQuan Masters, Mines of Titan, Megatraveller, and more.
We invite you to explore a procedurally generated cosmos with star systems, planets, planetary landscapes, lifeforms and biomes, archeological sites and finds, astronomical phenomena, human and alien cultures, and more.
News and Updates
We have not posted about our progress in a while, so here's a list of the latest new features and updates.
If you would like to discuss the game, offer feedback and follow the progress of development, you can join us on discord.
New RPG combat system
The player may now equip their crew with armor and weapons, making them capable of resisting attacks from street thugs and pirates... but also ancient defense systems of precursor installations, as mysterious as they might be.
New look and GUI features
The player now mostly controls the ship from the main cockpit view. All immediate actions are always available on the bottom toolbar strip.
The new character sheet view offers a comprehensive display of all their features, such as skills, perks, items and medical condition.
It is now possible to leave the ship while docked at an orbital station, to access the planet's market, shops and other infrastructure.
New planetary landscapes and ancient ruin sites
Planets now have ambiental sounds, and planetary events have their corresponding sound effects.
The player will encounter rare archeological sites, at planets pointed to by rumors or ancient scripts. There, they might be able to find ancient technologial artefacts or the remains of extinct cultures.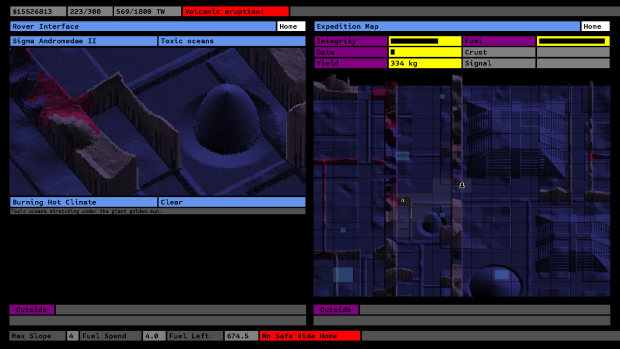 Sometimes, there might even be life on planets, with an eco system and intriguing organisms to find and study.
The Tutorial
The game begins with a tutorial that offers some information on basic gameplay elements, such as space faring and trade.
The playthrough of the tutorial is also available as a video here:
Latest Version Download
The latest prototype may be downloaded from InideDB here:
When complete, the game will be available for purchase at our store on itch.io. We invite you to check it out and take a look at our other games or sales!
You can also follow the beta testing on our twitch channel: