The team versus team update is now released and completed in the non-statistic form. Since a good test requires at least 2vs2 to 4vs4 I probably haven't fixed all the bugs yet. Also could this mode use some nice features like a warning if your base is under attack. So I highly encourage to test this in team versus team modus and report any bug you may find or you think there is a feature missing.
Team versus Team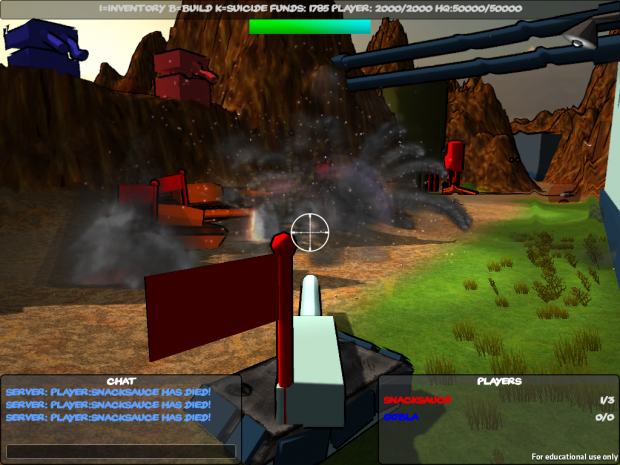 Now in detail about the team versus team functions. Both teams have a base to defend in this symmetrical map. It is your job to destroy the other base before they destroy yours. You have several ways of doing that. You can defend your base by placing turrets or defend it yourself (and your team). You could also create a wave of opponents to act like a defense. The ways of attacking are by yourself, by sending a mob of tanks, or even better: both. The map is The map has several routes and is filled with powerups. These powerups allow you to get gear and health if you are not logged in, and allow you to get health if you are logged in. Do note that enemy mobs still drop collectible drops! You will get funds over time, by killing mobs and other players and by destroying enemy turrets. The balance could use some tweaking, but I would like your opinion on it. You can spawn every mob there is in the game right now including the boss. You can recognize your team members by either a red or a blue flag.
Features of TVT
Here is a summary of the features of TVT in the current state:
New map
2 bases
2 teams
Teams from 2v2 to 4v4 players
One team wins by destroying the other base
Powerups trough level
You can build turrets to defend your base (build men)
You can build mobs to attack the other base (build menu)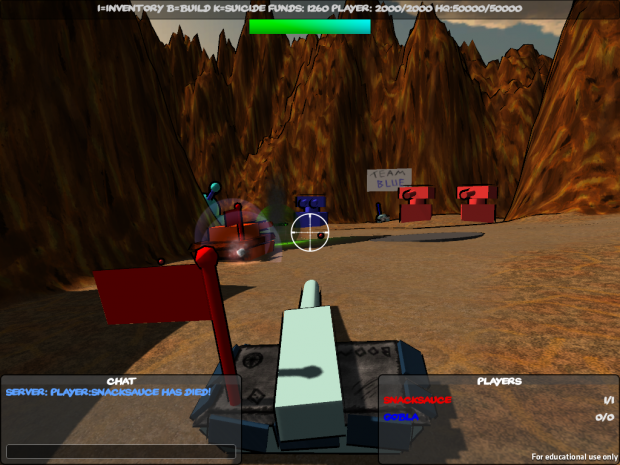 Fixes and features
There a quite a lot of other fixes that has been done. Most of them are for compatibility with Unity4. But these are at least noteworthy:
Rewritten damage detector.
Improved enemy navigation and collision.
Using shift now allows you to overdrive your tank. This makes your tank go faster, but a lot harder to steer.