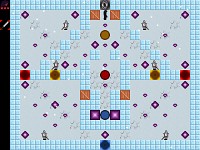 It's taken nearly a month, but an update is nearly ready for Moonlight: Mistress of Mischief. This update brings a slew of new improvements, mechanics, bug fixes, and the second castle known as the Frozen Fortress. Getting the AI to cooperate was the biggest pain in the butt. Luckily it is now working exactly as I need it to, which means I can use its code to build new kinds of enemies starting after this update.
Here's a rundown of all the changes.
Bug Fixes:
Keys can no longer be grabbed while in a box.
A bug on the main menu prevented the game from loading again (without restarting the game entirely) if you had played through and died previously. This has been fixed.
Improvements:
Enemy AI now has a separate eyesight object in addition to the enemy sprite. In addition, they are now all properly controlled as individual AI instead of as a collective.
The lives system has been abandoned in favor of a health system. You can now take up to three hits. When you hit zero health, the level resets and any gems you collected in the level are lost. An actual gem loss as punishment for dying is possible, but is not yet implemented.
Key spawners for all key types are in. In addition, the spawners can now keep track of various numbers of enemies killed, instead of just "all enemies killed," meaning a key can be withheld until any specific number of enemies have been killed, allowing for multiple spawners and multiple rooms with enemies.
Frozen Fortress
The Frozen Fortress is the second castle in Moonlight: Mistress of Mischief. While the first castle has turrets as the main environmental obstacle, The Frozen Fortress has cracked ice tiles. These tiles can be walked over once, after which the tile falls in and stepping on it again leads directly to your death. Boxes can be used to move over a fallen tile, but the box will fall in immediately after stepping off.
The Frozen Fortress will also feature Black Knights by the next update, who move vertically instead of horizontally.
Five Frozen Fortress levels will be included with the next update.
Look for this update to Moonlight: Mistress of Mischief early next week.