After renderer update FAR7 is working faster and looking even more awesome! There were more than 30 changes during last 10 days.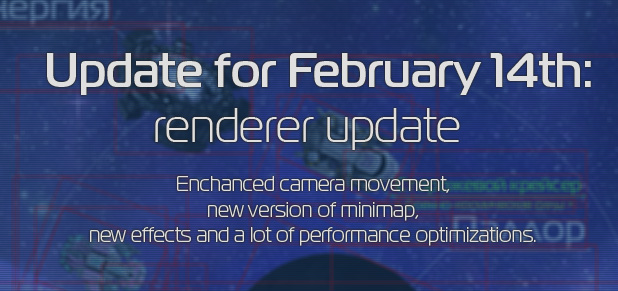 Renderer:
Now on sector rebuilding all moving objects got their animations.
Now you can move camera from ship while moving.
Button to center on player ship was added.
From now if you return camera to your ship while moving camera will follow ship.
Effect for gripper was updated.
New effect for levelup.
Ship exhaust is now really hidden for dirtyRects.
Force world redrawing added after returning to game tab.
Ship names now do not left any artifacts.
Planet titles now working fine.
Now you can switch off deep space animation.
Additional anti-aliasing settings were added.
Minimap:
New hybrid version of minimap.
Now players and NPCs ships looks different on minimap.
Active entrances to asteroid fields are now animated.
All objects from now has more accurate positioning on minimap.
Now you can drag camera using minimap.
Other:
Fixed problems with dialog window of quest getting from item.
System messages and messages recieved in one second are now sorted right in chat log.
From now if you scroll chat upwards it will not scroll down on new messages.
Color picker for you ship is not falling under windows.
Fixed problem with on-board computer cloning.
Spaces are now trimmed from username and password to avoid problems on loggin in.
Problem with text formating on on-board computer was fixed.
Now there is a protection from message duplication in on-board computer stack.
Backspace is now blocked while not in chat. New hotkeys were added: F1(center on ship), F5(sector reload), Enter(focus on chat input).
Enhanced fonts setting was added.
Settings dialog now can use inverted checkboxes.
New tooltips for sector reload button and connection box were added.
New settings were added to dialog. Buttons positioning was revisited.
From now if you send outdated token you wont get error, instead of that you would be redirected to index page.