Update 8.14. The culinary delights
---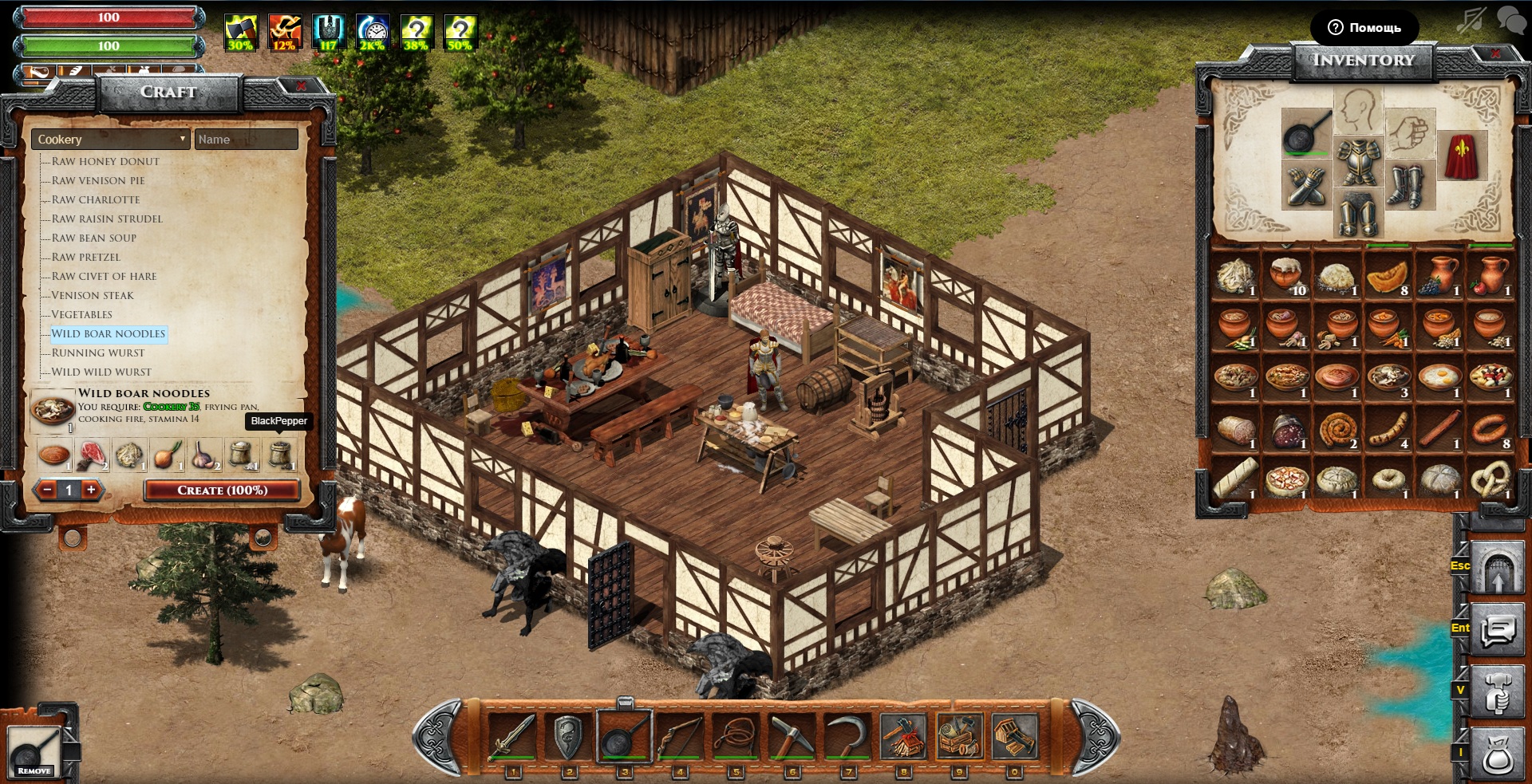 The game has been updated to the version 0.8.14. Increased speed leveling skills. Added Skill Cookery, a huge number of new dishes, beverages, structures. Various notes have become more convenient and informative. Now you can move by using WASD.
Read more below
Download the new version...
Play directly in your browser (Chrome and Opera only)
Steam-client will update automatically
Purchase access to the game at the special price
Improvements and fixes 0.8.14
Significantly increased the rate of growth of skills.
Added control with WASD keys.
When you right-click, the character is now hits or shoots at indicated direction.
Introduced Skill: Cookery. With it, you can cook different kinds of food and beverages.
Added a huge number of different dishes ranging from eggs and finishing with sausage Bregenwurst.
Added alcoholic and non-alcoholic beverages.
Added new buildings - Wine press, Barrel, Rack for drying plants and Cooking table.
Added new types of cultivated plants, cultivate them from seed.
Change the state of cultivated plants, now it require more care and can dry out if you stop to care for it.
In the forest you can now find the honey of wild bees, and in the Godsend can sometimes find salt, which are imported from overseas countries.
Indicator satiety now also displays all kinds of satiety and filling scales.
In notes for the food added information about addition of stamina and kind of satiety.
Sections in the craft and construction is now spoiled by default.
In the craft recipes now displayed the number of items produced.
Updated design of annotations when mouse over inventory items, bonuses, effects, indicators, etc.
When you load or resurrection in someone else's dominium zone is now being tested access to the doors and locks. If you don't have access, then the character will be out of dominium zone.
Now you can save the point of resurrection on dominium owner beds, if you have access to the doors and locks.
Now the godsends will disappear after a short time after they were discovered.
Added sounds while eating and drinking.
Reworked food value.
Fixed a bug with the battering ram, due to which it does not achieve to wall if it was directed downward.
Fixed a bug due to which after catching animals and birds remained bonus that prevents attacks.
Fixed a bug due to which animation of action sometimes been played with the wrong speed.