Update 8.12 on the main servers. The last day of discounts!
---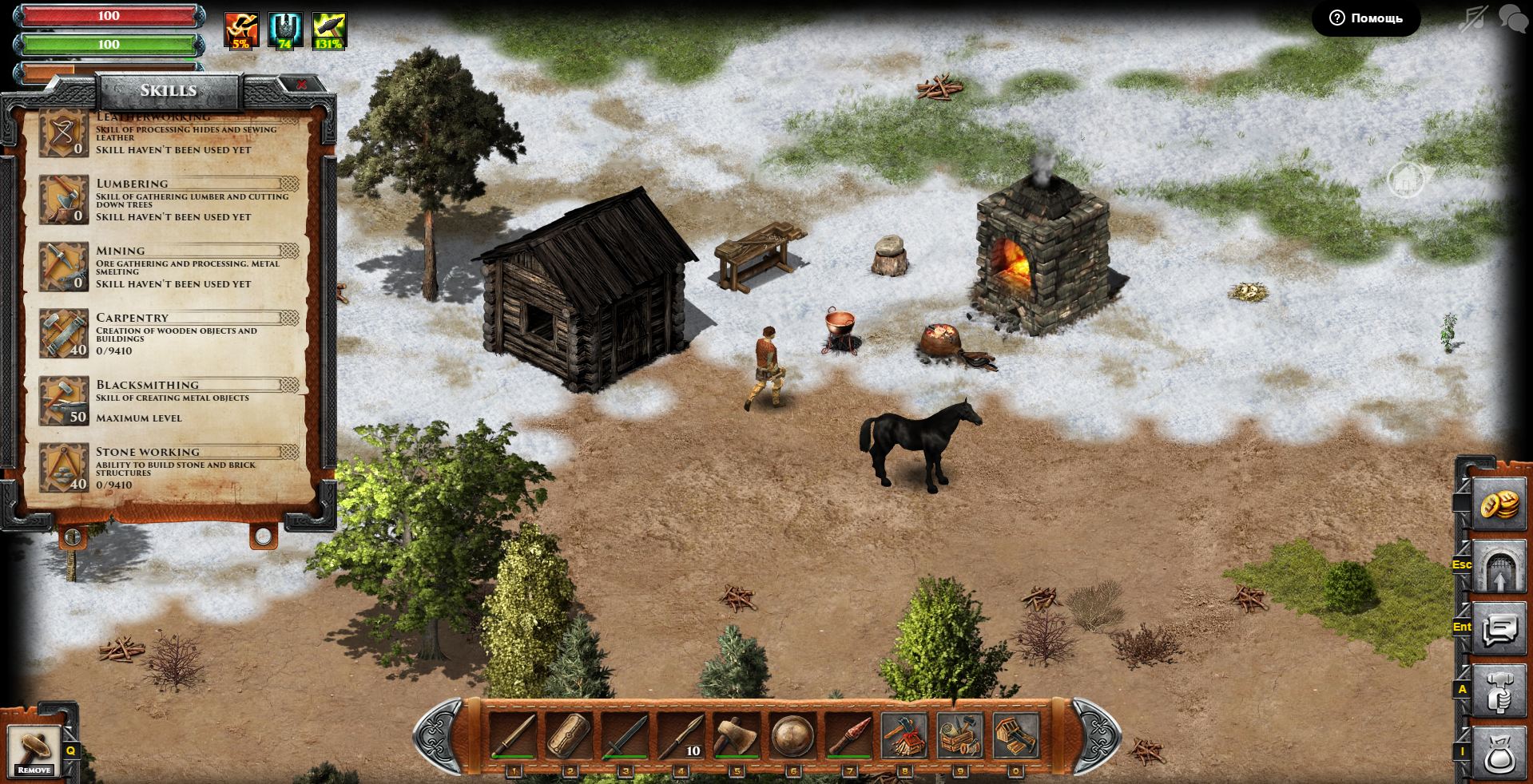 The game has been updated to the version 0.8.12. Introduced skill Stonework, expanded opportunities Leatherworking, added the Forge, skill icons, and fixed a series of errors. Read more below
Purchase access to the game at the special price (The last day of discounts - up to 70%)
Improvements and fixes 0.8.12
Introduced Stone working. It affects the construction of all the stone and brick buildings.
Installing the Dominium does not require skill, but it needs for preparing materials. We hope this will stimulate trading.
Skill Leatherworking expanded to level 50, added new materials, reworked recipes.
Added equipment of tanned skin, but now without a new graphics - artists working on it.
Now lengthen the tanning process, and passes through the stages of soaking, hair removal, softening and tanning. Added appropriate liquors and explanations to them.
Removed Glue-impregnated leather, the glue is now to be added into the boiler.
Scraps of leather is now obtained by cutting strips of leather.
appeared limestone deposits in the world. Its burning in ovens can be produced lime.
Grouse in poultry houses now leave bird droppings.
Added forge. Later it will be used for melting metal products back into ingots.
Added copper pot. It is smaller in size, but is much faster than clay and spends less fuel.
Reworked loading system, updating and cleaning map tiles around the player. Changed the size of the fragments.
Requires the careful testing, changes should affect the speed of movement and the work of the client as a whole.
Now, if you reduce the size of the game window (or zoom with Ctrl keys plus the numeric keypad), the number of downloaded pieces around is also reduced, which will speed up the game.
Fixed a problem that could cause crashes loading objects (vanishing buildings), check it.
Individual icons have been drawn for all skills.
The system of uniform load distribution on server clusters has been improved.
The button repair objects will now display the success rate of repair.
Fixed the ability to be resurrected before the appearance of the corpse on the ground, which sometimes leads to the fact that it was not visible.
Fixed an issue where chat get lost focus, the position in the list, the number of manufactured items when changing bonuses and effects.
Added the dependence of crafting speed and construction, as well as the costs of tool durability and stamina of the required level of recipe.