It's been a while, but a lot happened on the RAAR front. The game's officla Cover Art is done and looks amazing! Just check it out :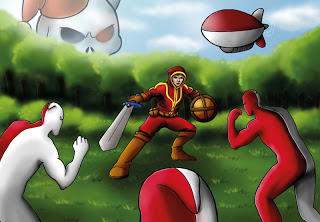 Also check out how Caro, a good friend of mine made this beautiful artwork:
The next big thing I want to announce is, that Retro Arcade Adventure Remade will not only be released on PC but also on Xbox 360. I was thinking a lot about making a Xblig port later when the PC version is finished until I realized that there is not much to change for an actual Xblig release, in fact only a few more hours of work. That is why Retro Arcade Adventure Remade will be released for PC and Xblig nearly on the same day, depending on peer review and other things.
That does not mean that the PC release is pushed back in any way, in fact 80% of the Xblig port are already done. After all it is not called Retro Arcade Adventure Legends right?
At last I got a bunch of new screenshots for you, recently released for screenshot saturday:
As you can see the game is getting in shape and new stuff is being added nearly every weekend. It won't take to long now to finish the game.
Without getting anyones hopes high I would say that there is a good chance that the game will be released in april this year.
I good some more new stuff for you later this week but this has to be enough for now.
Keep on indie-gaming, guys and girls!