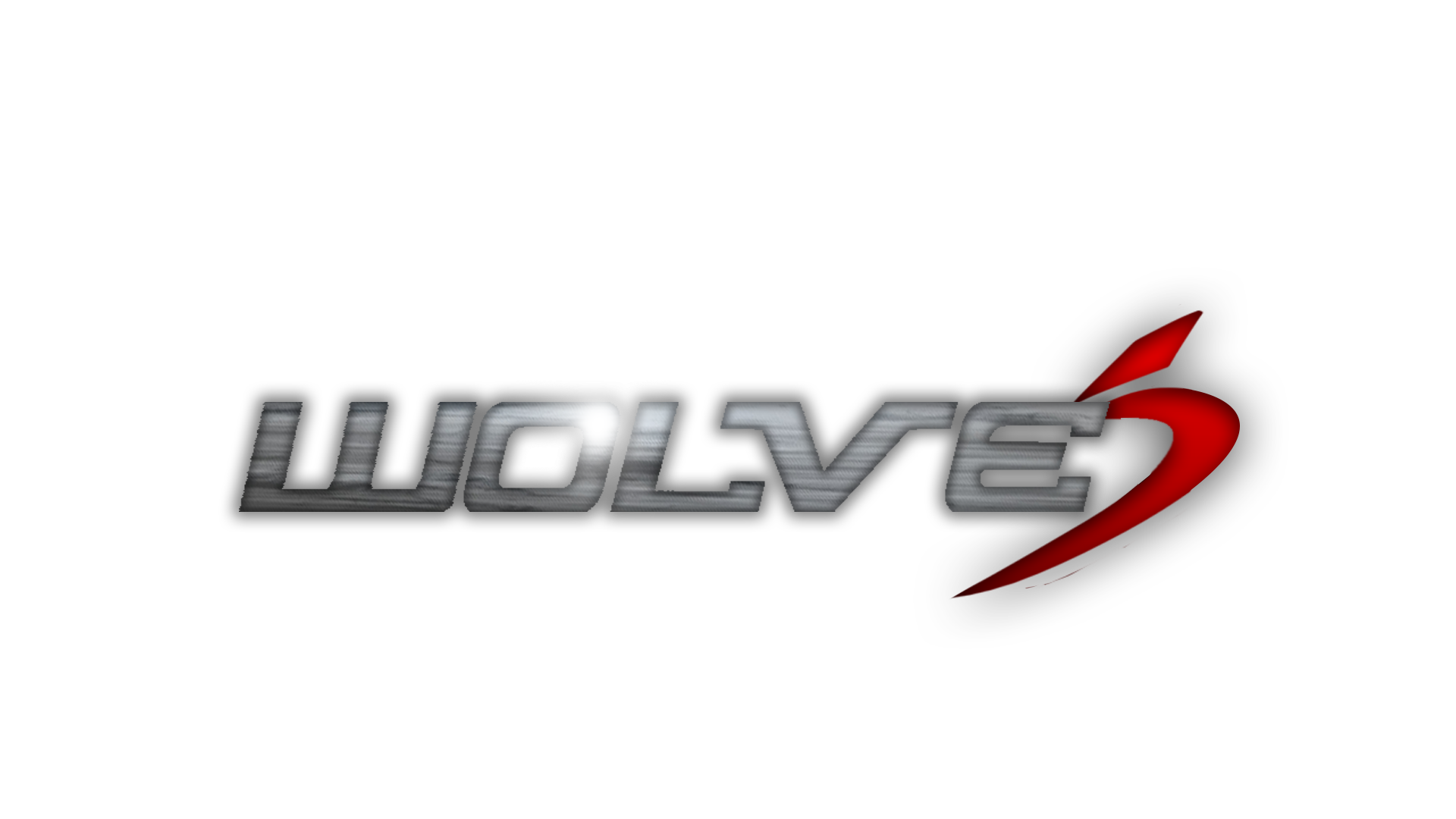 Greetings! We here at NDF hope you're staying safe amidst all the chaos 2020 has thrown our way. Hopefully this update helps to bring your spirits up, I think we could all use the morale boost.
Kept you waiting, huh?
To be honest, I really neglected updating this page, a lot has happened between new years and now. The good news is, it's tradition around here to make an off-the-cuff yearly recap on the week of May 26th- wait what? That week passed and there was no update?

Yeah... Sorry about that. Truth be told I've had some personal stuff going on at the worst possible time and I haven't been feeling like myself lately. No excuse for missing the update but I figured you guys should know that the video portion of this update is coming, albeit a little later than expected.
Like nothing you've seen...
Back during the early days of the project, I made a post on a halo forum called ForgeHub. My goal was to learn the ins and outs of map design from people who are way better than I am, even to this day, at making fun playable spaces. It was on ForgeHub that I met Blaze, a well known map designer in the Halo community who would go on to become a professional. Even working for 343 Industries themselves for a time. Anyway, he was kind enough to produce a blockout of a city map for us. It's been sitting in the project files for a couple years but I knew I would be crazy to pass up using it. So now, I have. Welcome to Terra...
Following the destruction of the industrial city of New Hamilton, the race was on for the salvage rights to the remains of the Nemesis' 'mech army as well as the flaming wreckage of the jumpship that ended a plot that lead to the domination of Terra and could have lead to the occupation of the rest of the Inner Sphere. This race has lead to many bloody battles between the factions who dare to approach the crash site. Whoever claims those 'mechs down there could become the most powerful military force the Inner Sphere has ever seen. It's the start of a new war...
We're not showing too much of this map right now but rest assured, it's the most ambitious one and I can't wait to see it come together. It's smaller than Ill Fortune. Expect tight corners, winding roads and ramps and the building destruction characteristic of the Mechassault series on a whole new scale...
3 Spooky 5 Me
The Atlas. Oh boy. I remember putting this project off for so long because I was afraid of modeling that skull. One day I finally grew a pair and just did it and I'm glad I did. It turned out way better than I ever could have hoped for. It embodies a lot of the philosophy of Wolves as a game. We're introducing flavors of the Dark Age without it being too much. Spikes and the shoulder and knees coming from welded on bits of armor. I'm really happy with it. And for the first time, I'm going to reveal the skull. I initially planned to do this in a trailer but the trailer might not happen for a bit, more on that later...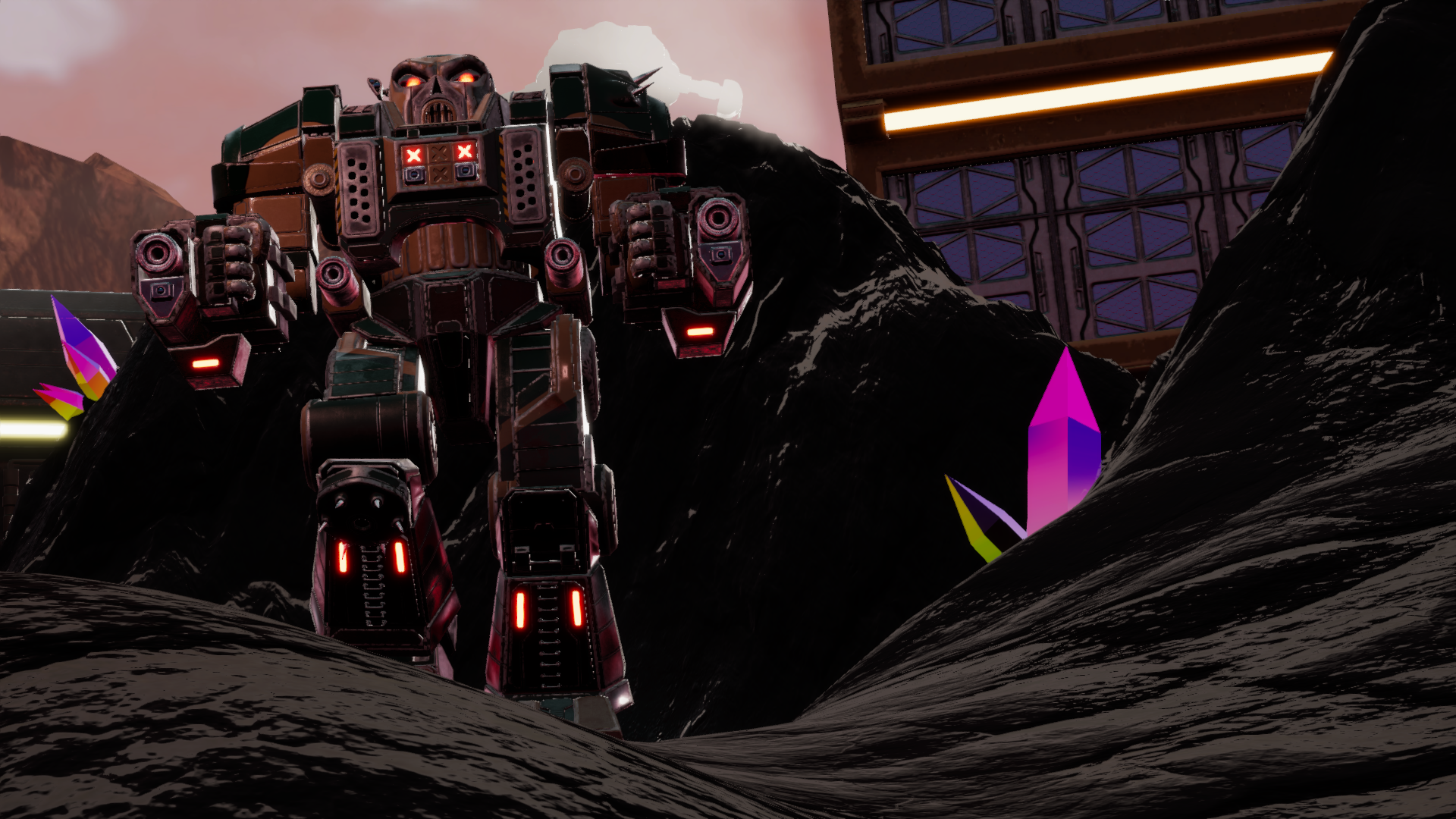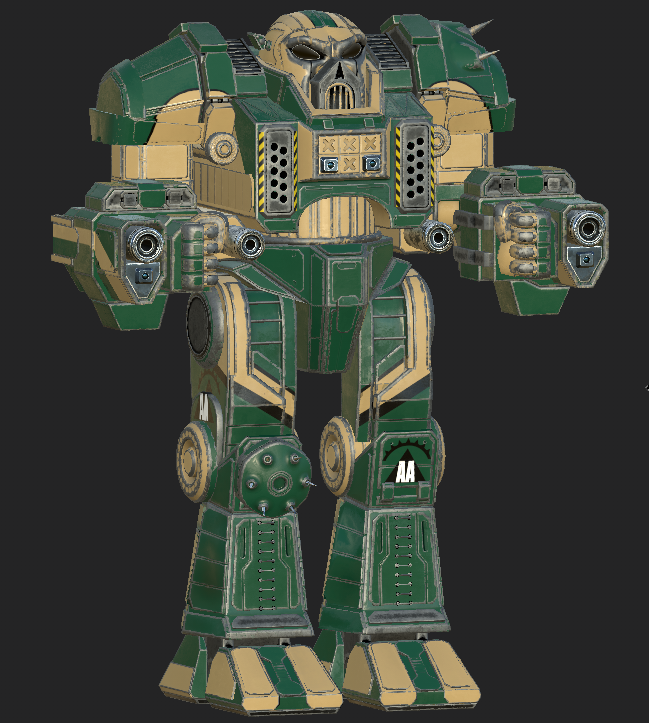 Instead of gaping black holes for the eyes, I used a refractive glass material and made dark lenses where only the red lights can shine through. Giving the Atlas a bit of mystery and giving the eyes a new level of depth.
Expect a small bit of gameplay with the anniversary video coming soon. The Wolves Atlas is kind of a monster.
It Comes In Waves...
Recently I was asked in a Youtube comment (if I remember correctly) if we would have some kind of a roadmap. I want to share a little bit of info about our plan. It's something we actually decided on pretty recently.
As far as releases go, we decided on releasing new 'mechs in waves. These waves consist of one 'mech per weight-class. We're looking at two waves a year all the way up to 2023 (if the game is successful). Personally I would like to launch a new version of the game for all of you to play after the completion of wave 2 but there is no way of predicting how stable the game will be. Just know that we're trying.
So I mentioned the trailer delay earlier, I think I want to make the Atlas trailer an entire wave 2 showcase, putting it back further.
Wave 2 will feature mostly returning 'mechs. The Raven, Raptor, Hellbringer and a brand new assault 'mech that isn't ready to share yet. Here are some progress shots:
Don't Stop Me Now.
As you can see, ya boi has a lot in the pipeline. I should really let someone else take care of PR for me... I'll think about it.
Anywho, I hope I was able to lift your spirits a bit. Thank you for 3 amazing years. Here's to many more. Remember to stay safe, keep those hands washed. The Atlas will know if you don't. >:(
-Ryan "Pajama Boy"