Closed beta in December
The closed beta is coming along but we still have a lot of stuff to do. So far we've managed to get the game up and it is a joy playing with all the new animations and watching the characters of the game come to life! We still have a lot of feedback to the user that is being polished and finalized. Next week we will deep dive into bug testing - but we're making huge steps in the right direction each and every day. But for now here is a super early video showing the direction we're heading in:
Evolve
We will introduce the closed beta through Evolve, so if you're not already using Evolve go and sign up now so that you can get in to the closed beta when we release in a couple of weeks. The details about our plans with Evolve has not been completely finalised yet, but we will soon come up with some more info on that.

More cards and Dummy animations
We've been busy adding more illustrations and monsters to the game. Check out these new cards for example: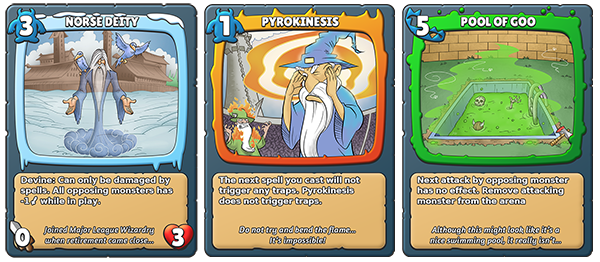 However when we launch the beta we won't have all graphic assets ready in time. This means that we will have to make use of our Dummy. This guy will take the place of all characters that have not yet been animated. And of course, we will add him as a card - and yes, he's going to be extremely overpowered, imba and unbalanced!