Multi Chat Rooms make an entrance to ESO. Pilots can join any chat room at any time. Typing /join puts you in the room, even if you're the first one creating it.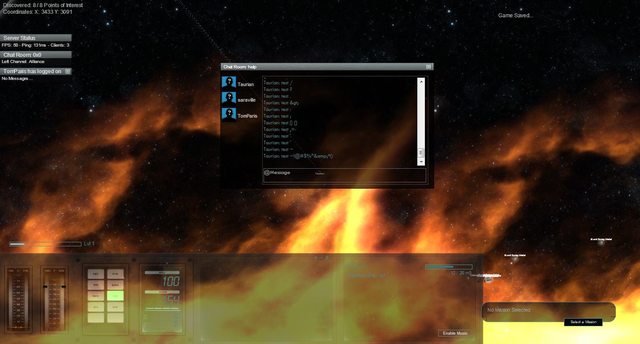 First time players will auto join the "Help" chat room. Chat rooms are also persistent, so if you disconnect while connected to a chat room, you'll rejoin it when you log back in.
Closing the chat window and the specific notification bar will have you leave the chat room.
This new feature is absolutely important to ESO's success. It creates a gathering point for all playersin the universe. The default channel being 'Help' will give players instant access to developers in case they have questions or need immediate help.
Also included in this release are the following bug fixes:
Harvester MK1 no longer appears as a Apollo on the scanner.

Required crafting ingredient calculations are now correct for the first ingredient if the pilot's HTR score is higher than level 1

A bug keeping pilots from grappling Harvesters has been fixed.
Like what we've done so far? Join us at EpicSpace.net