Update 38 – Level editor
The latest update of Galactic Crew brings you a level editor to create your own levels and several improvements and fixes to polish the rest of the game. Some of these features were requested by the community. If you have anything you want to see in Galactic Crew, feel free to send me an e-mail at support@galactic-crew.net
Level editor
A detailed description how to work with the level editor can be found here. In general, you can choose between a desert and grass type planet and add any model to your scene that is available in the game. There are also a bunch of models available in the level editor that are not part of any planetary scene or dungeon in the game.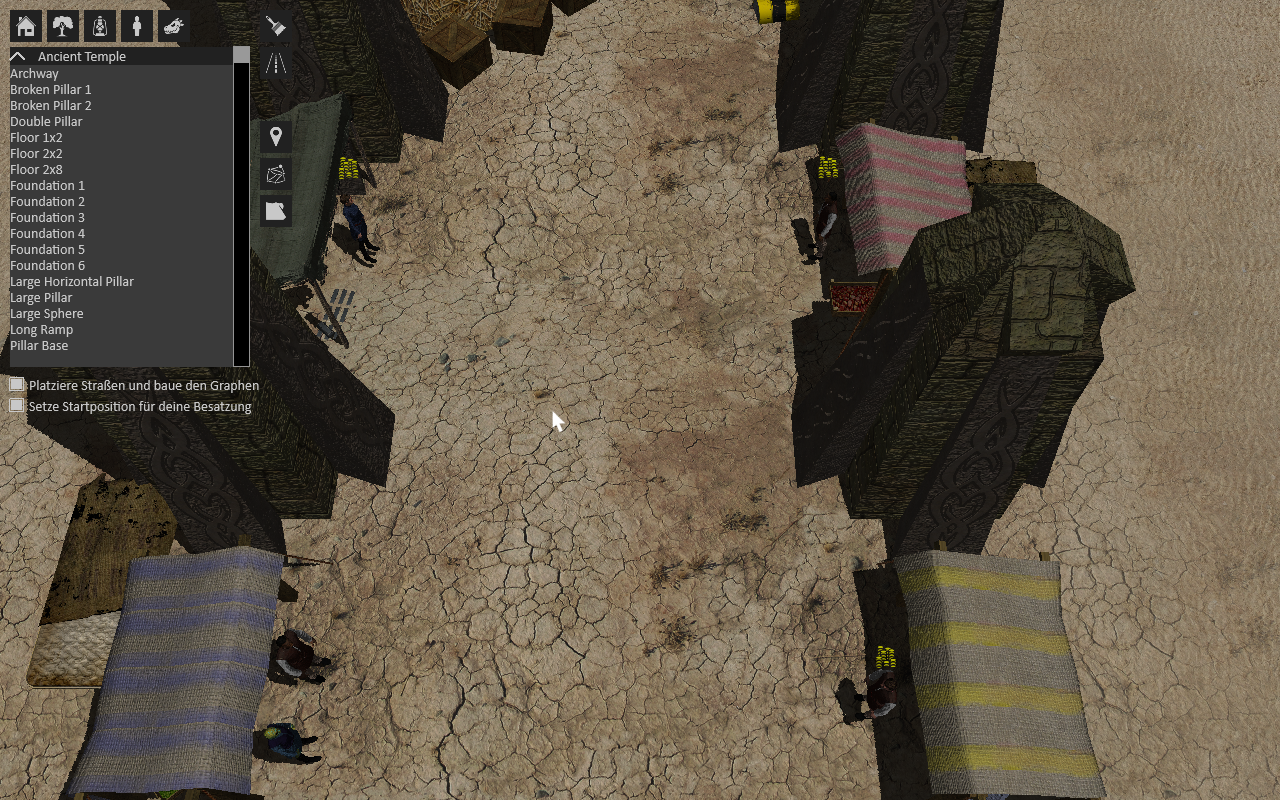 On the left side you will find a list of all objects sorted into the categories buildings, props, nature, NPCs and beasts. Simply click on an item and it is added to the center of your current screen. Select a model with a mouse click and move it around, scale or rotate it around any axis using the keyboard and mouse wheel.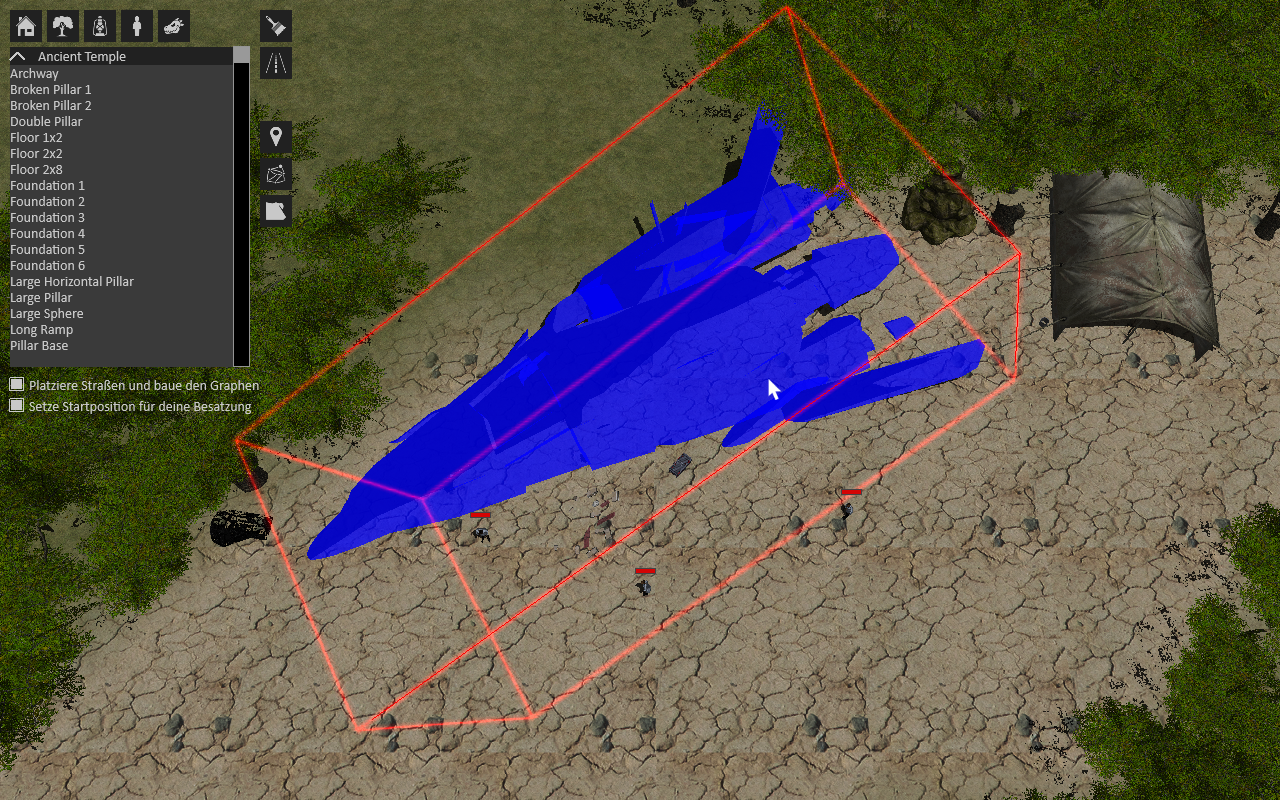 Once you are done, you can write your own quest (like you already can) and use your own level as planetary mission. You can share your files with friends or internet strangers to let them play your levels. There wasn't enough time to include support for Steam Workshop, but it will come with the next update! Feel free to send me your levels at support@galactic-crew.net, if you want. If I like them, I will add them with the next updates as official game content!
New features
The bonus card "Contractor" has been removed. Instead, its bonus was added to "Brilliant Salesman" to boosten the value of this card. The newly opened space has been filled with a new bonus card that is available from the beginning of the game called "Unpredictable Space". Normally, all fights in space are balanced. That means that your opponent always has a strength similar to yours (with Nemesis ships as an exception of course). If you use this new card, there is a certain chance to get any kind of enemy when starting a space battle. You might face a large space pirate with your start vessel or you face a small Artemis ship when flying a hulking Ebisu. It adds more variety to the gameplay, but it makes the game also more challenging in the early game!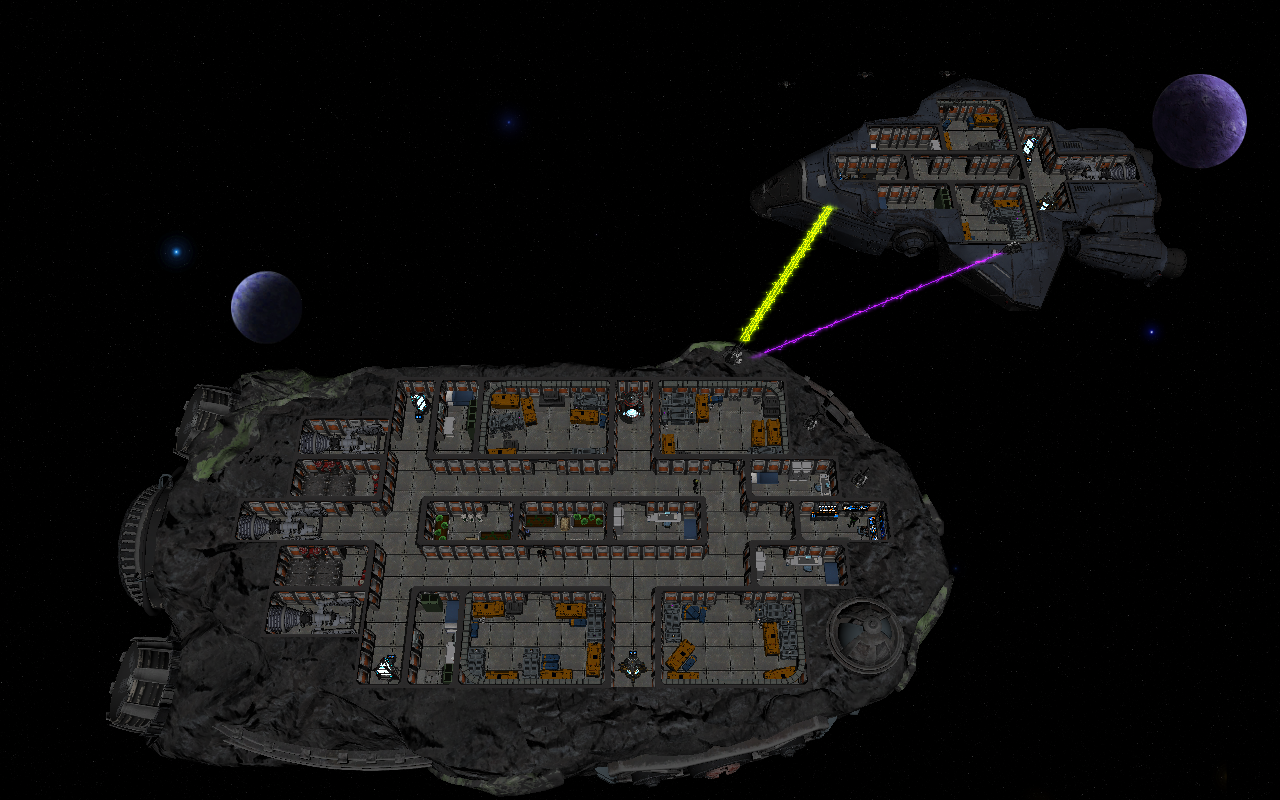 If there are any problems during the launch of the game, a message box will pop-up showing the problem and providing a link to a solution. If you don't have any troubles playing the game, you won't ever see it.
Moving the camera by moving the mouse cursor to the screen edge is now smoother than before. There are also new settings to enable or disable this camera movement for space, planets or dungeons. If you find this kind of camera control disturbing, you can simply deactive it at any time.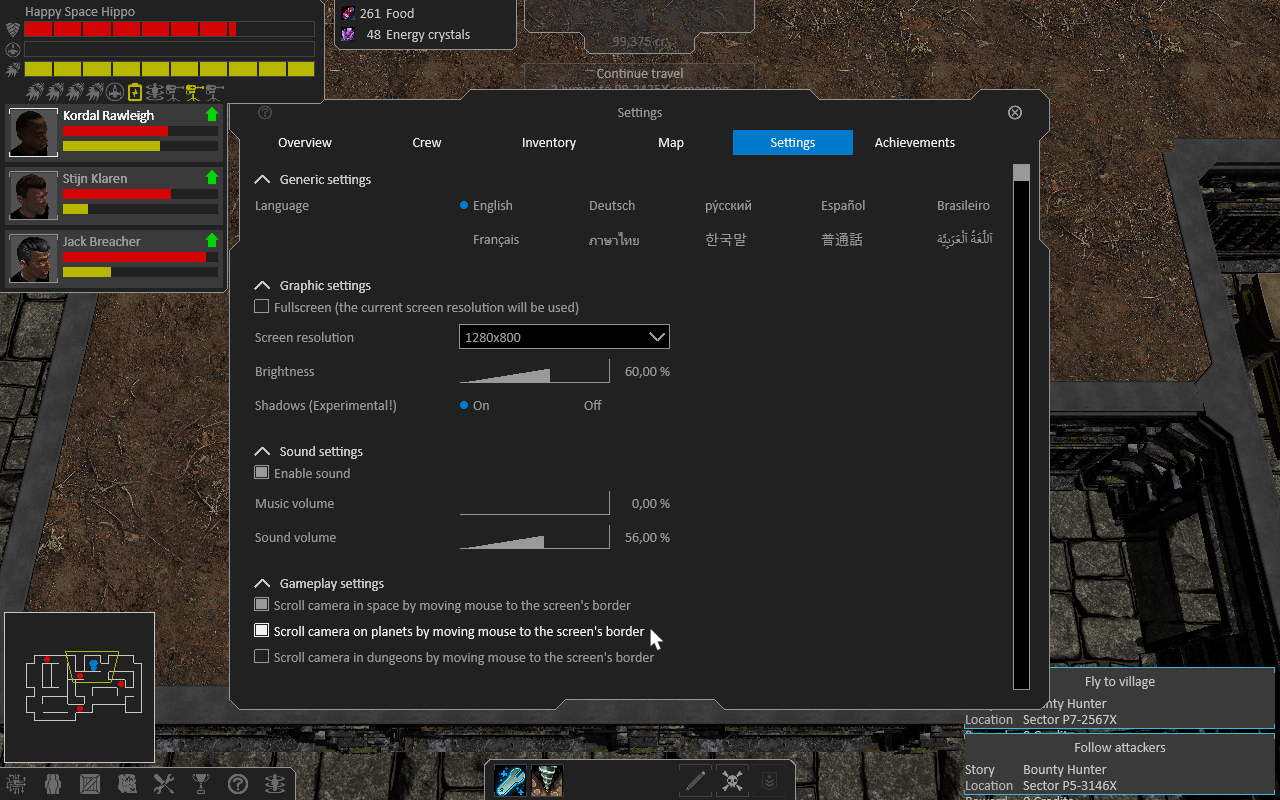 I also put some time in improving the squad behaviour. For example, when you teleport your crew into a dungeon, they won't stand in each other any more.
A similar issue has been resolved for space combat. Enemy combatants won't be stuck in walls anymore.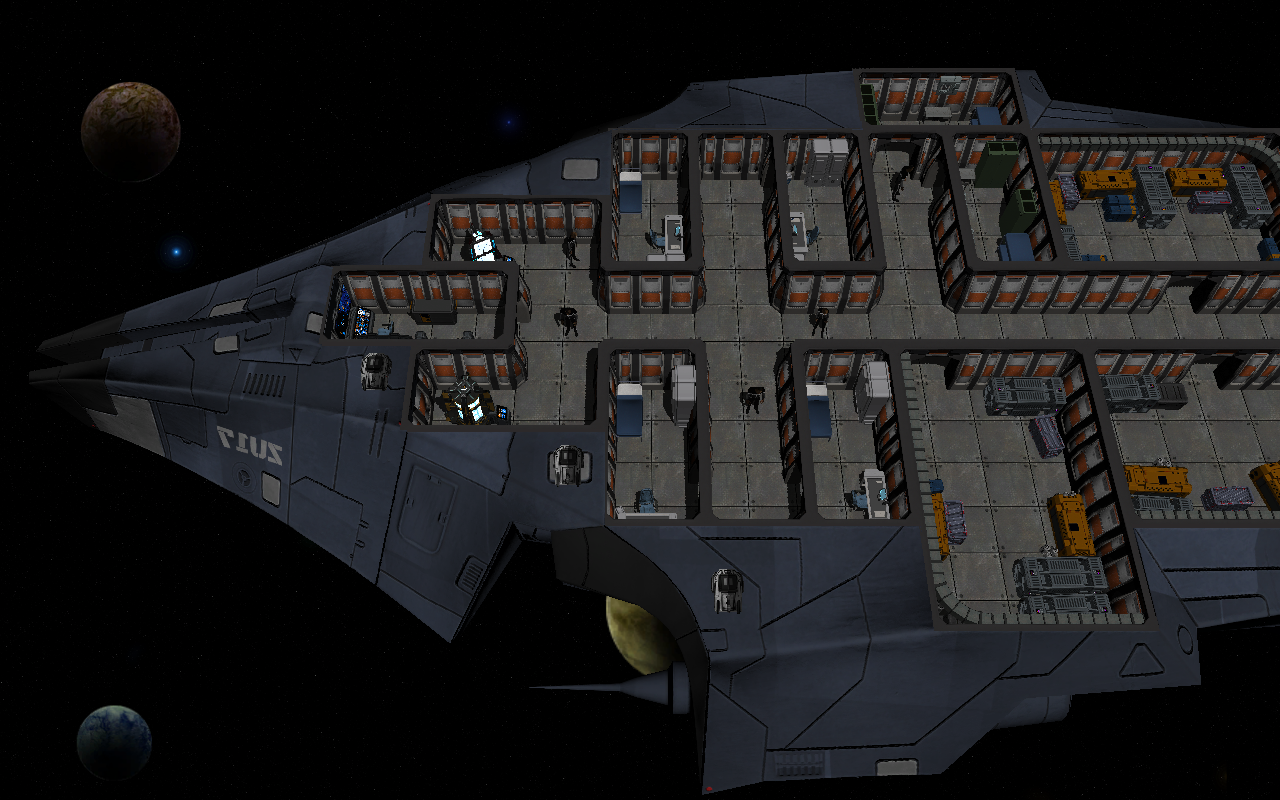 You can use Italian language using a start flag.
Gameplay improvements
When looting weapon crates in dungeons, you will get credits, if the crate did not contain any weapon or armor. This way, looting will always be rewarded.
The game no longer freezes, when you send your squad to attack enemies in large dungeons that are far away.
The background of the credit and threat display has been improved so that you can see the values better in dungeons and on planets with a bright background.
When switchting a weapon turret or drone in a SIngleplayer game, the overview won't close anymore. It still happens in Multiplayer games due to synchronization processes.
The weapon turrets sold by shipyards are now sorted according to the turret's size.
Game engine improvements
As you might know, I created my own custom game engine for Galactic Crew. I used the past weeks to improve it and as a result I was able to fix a memory leak that might cause troubles when playing very long sessions. In addition, I was able to reduce the initial loading time (when you start the game from Steam) by around 60%!
The accuracy of object highlighting was been improved.
Bug Fixes
Removed spelling error in German translation.
When you fought two Nemesis ships in the same system before leaving it, the UI elements of the first ship were still visible after travelling to a new system.
It was not possible to damage the Shield Generator II and Drone Booster II. They also were not listed in the status icon bar.
After teleporting your crew on a planet and from the planet into the dungeon, enemies from the planet might be visible in space after returning to your ship.
In two dungeons, quest NPCs were placed inside objects.
The crew of enemy ships won't be placed in walls anymore.
Resolved memory leak when loading texture packs.
The game could crash when you left the game during an encounter with a large Zombie vessel.
Fixed display errors on a few UI controls.
If you used less than four mod quests and deactivated standard quests, the game could hang up.
Corrected the tool-tip of the resource panel, if your ship does not use any energy crystals.
During the examination of two objects that were close together, both objects could be highlighted.
Crew members no longer get experience, when they are dead.
You could the Navigation skill, even if quest was shown.
Crew members could man shield generators and regenerate shields even when all generators were disabled.
When using the option "Say nothing" during a conversation with the weapon smuggler in the Story Line, a wrong tool-tip was shown.
The Galactic Map did not work after loading a quick saved game.
Scrolling the game settings with the mouse cursor did not wok.
You could "upgrade" your ship to the same ship class at a shipyard.
In the tutorial, too many buttons in the tool bar might have been unlocked.
Coming up next
The next update is planned for late January improving and polishing the game. Support for Steam Workship will be added. There will be new dungeons with new rooms and new enemies. And new content for the level editor will be added. If you have feature requests, send me an e-mail at support@galactic-crew.net