The city of "A Place for the Unwilling" is meant to be explored on foot, wandering the streets and walking to each one of your goals. Today we'd like to talk about the avatar you'll control in this mysterious city.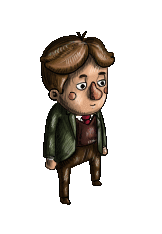 He isn't a character with a deep lore like the rest of the cast, he is just a white piece of paper waiting to be filled by the player. He is new in the city, so he doesn't know the place or the people, just like you. But the player will be able to choose a few things about the past of his/her avatar through dialogue. This is a technique that we've seen a lot lately; another character might ask you about your last summer (of which the game told you nothing about) and give you different dialogue options so you can define the background as ypu progress in the game.

We have yet to decide if the player will be able to choose a name for him. While working at the office we usually call him Henry, which is just a silly nickname and not his final name in the game, chances are each player will name it at the start



He'll have a job and a motivation that will keep you going from one place to another, after all, we need an excuse for you to explore our world ;P



We'd also like to bring up something that somebody is going to ask sooner or later, the big question, is there going to be a female version? And the answer is that we can't tell right now.

It would be awesome to give you that option. On our previous game, "Missing Translation", we added a female protagonist and we were extremely happy with the results. "A Place for the Unwilling" is quite different from that project and, at this stage of development, we don't know yet how much work would it take to add this feature, specially because it is a narrative game with lots of dialogue.

And that's all we can say for now about your avatar, the only character who will be on screen all the time and through whom you'll interact with the world of "A Place for the Unwilling".

Hope that solved some questions (though not too many of them

)

Stay tuned for more news!